Ghostly Echoes by William Ritter
Algonquin Young Reader: August 23, 2016
Genre: Young Adult; Historical Mystery
Source: Free From Publisher
I'd go there again!

Ghostly Echoes is the third historical mystery featuring Abigail Rook and Mr. Jackaby, a private investigator with an unusual specialty of the unexplained.
Abigail is a transplant from England who fell into employment with the eccentric Jackaby and with this third book it's clear that Abigail has embraced her investigations into the paranormal and has no intention of going back:
It seemed like only yesterday I had been back home in England, packing for my first term at university. Had someone told me that I would throw it all away and run off to America to commune with ghost and answer to ducks and help mad detectives solve impossible murders, I would have said they were either lying or insane. I would have sorted them on the same shelf in my mental library as those who believe in Ouija boards or sea serpents or honest politicians. That sort of foolishness was not for me. I adhered to facts and science; the impossible was for other people.
A lot can change in a few short months (p. 20).
Indeed they can. In Ghostly Echoes Abigail is comfortable with the supernatural. She's works with a duck, has a flirtation with a werewolf, and is friends with a ghost. In fact, it is Jenny the ghost that drives the plot of Ghostly Echoes. For fans of the series, it will come as no surprise that Jenny, the ghost that lives in Jackaby's house, was murdered. In this latest installment, Jenny has decided that she's ready for Jackaby and Abigail to investigate her murder. The strange thing is that Jenny's murder seems to be linked to Jackaby and Abigail's first two cases together, which readers were treated to in Jackaby and Beastly Bones.
Like the previous two books in the series, Ghostly Echoes offers readers great characters, and engaging  mystery and subtle nods to important issues like diversity and personal identity. While I do appreciate the content and craft of the novel, it's the characters that keep me interested in the series. I love Abigail as a character; her perspectives on Jackaby and his investigation are always well done. That said, I felt that Jackaby stole the show a bit in Ghostly Echoes. Readers finally learn more about Jackaby and his mysterious past and the author sets the stage for more to come in the next book. And while Jackaby's past is of immense interest, I continue to appreciate the fact that Jackaby continues to be his blunt self:
"Hello, detectives. My name is Cordelia Hoole," she said. "I got your message."
"Hello, Mrs. Hoole. My name is Jackaby," said Jackaby. "I've got the unconscious body of an unpleasant stranger. Would you mind holding the door?" (p. 141)
With lines like that, who wouldn't love Jackaby? Comedic relief aside, I really liked how Jackaby's care for his partner and those under his care (i.e. Jenny the ghost, the duck etc.) really shines in Ghostly Echoes. Jackaby's a fairly enigmatic character, but in Ghostly Echoes I felt that readers get to see a different side of him through Abigail's eyes. Character development, you are my friend.
Ghostly Echoes is another great installment in the Jackaby series; however, it does leave readers wanting more. There's not much in the way of a conclusion in Ghostly Echoes; rather, the majority of the book reads more like the setting of the stage for what I presume is the final book in the series. I didn't mind the stage being set, but I did find that it made for a more challenging read than the previous two books in the series. And finally, I think what we needed was more Charlie. Who's with me?
Similar Reads
If you enjoyed how Ghostly Echoes combined history with the fantastic, give My Lady Jane a try. My Lady Jane is a hilarious retelling of historical events with the inclusion of magic. If you like the more zany tone of Jackaby, you wont be disappointed by My Lady Jane.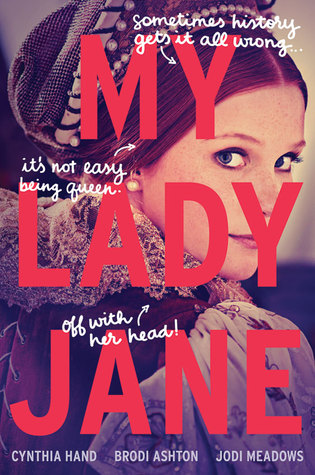 For another light historical romp that has more of an emphasis on romance, try Cindy Anstey's Love, Lies and Spies. This is a cute YA historical romance with a dash of espionage. See my full review here.