Sweet by Emmy Laybourne
Feiwel & Friends: June 2, 2015
Genre: Horror; Young Adult
Source: Free From Library
I'd go there again!

Sweet is a weirdly awesome horror tale. It's both funny and unrealistic, and the author owns that campy tone, making for an all around enjoyable read.
Over the course of six days a celebrity-filled cruise will embark on a televised experiment. Passengers on the cruise ship have been invited to try Solu, a new dietary supplement that results in dramatic weight loss. With Solu you can eat whatever you want and still lose those persistent pounds. Naturally, this drug is not quite what it claims to be, and soon the addicted passengers are ready to do anything for their next fix. Among these passengers we have two very different teens, Laurel and Tom, both of whom do not take Solu. Laurel was convinced to go on the cruise because her best friend, Viv, wanted her to join in. While Laurel is a little overweight she's content with herself and isn't unhappy when seasickness forces her to miss out on Solu, especially when she starts to see the side affects. Tom is a former child actor turned famous TV host. Tom is capturing the journey of Solu for those back home. Due to a supportive personal trainer, Tom would rather continue on with his own fitness and eating regime that try Solu. So, now we have two teens that are in the fight of their lives while they battle the zombie-like passengers who are addicted to losing weight!
Okay, yes, the premise to this book is ridiculous, but the author carries it off with such aplomb that I couldn't stop reading. There are so many moments when the author pokes fun at pop culture, those who devour it, and those who live in it. Those nudge-nudge moments are fantastic and I think once you start picking up on those, Sweet becomes a much more serious read than you would initially think. Sweet is less about a horrific cruise and terrible nutritional supplements, and more a commentary on how people see themselves and how pop culture influences that perspective. So there is a serious side to Sweet, but mainly I liked it because it was funny and ironic and had a cute romance. So sue me, I'm not always up for serious deep thinking when reading.
The romance in Sweet is predictably between Laurel and Tom. Their relationship is surprisingly adorable and filled with moments of seriousness as they meditate on appearance and fame amidst the killing rampages. Laurel is bowled over by Tom's handsomeness, but is less impressed with his need to play to the camera. Tom, for his part, is enamored of Laurel's honesty and his persistent awkward courtship is adorable. Considering the ironic ridiculousness of the rest of the book, I was expecting the same of the romance, and I'm happy to say that this wasn't the case. The romance was sweet and lovely and offered a more serious element to the otherwise campy tale.
Sweet is a strange YA novel, but a really fun one. If you like irony and a campy tone, Sweet is a must read.
Similar Reads
When I started Sweet a similar read that immediately came to mind was Libba Bray's Beauty Queens. If you liked the ironic tone and the poking fun a pop culture, Beauty Queens is an excellent follow up.
For another campy read try My Lady Jane. Lady Jane is a hilarious re-imagining of history and perfect for fans of the romance in Sweet as well as the outrageous and unrealistic premise of the book.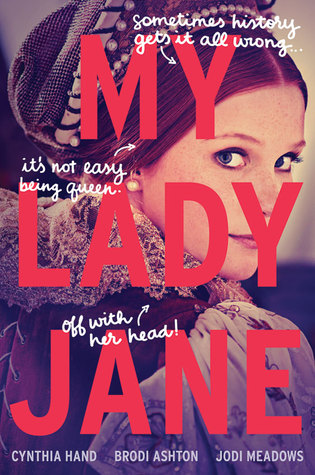 Finally, I think Sarah Rees Brennan and Justine Larbalestier's Team Human is another excellent follow-up for those that liked how Sweet poked fun at pop culture. With Team Human the same focus is applied to the vampire romance genre with hilarious results.