The Copper Promise by Jen Williams
Angry Robot: July 5, 2016
Genre: Fantasy
Source: Free From Publisher
I'd go there again!

I'm not sure exactly what I was expecting going into The Copper Promise, but whatever it was my expectations were far exceeded! The Copper Promise is a fun, fast-paced, swashbuckling adventure and I can't wait to read more about the adventures of our (mostly) heroic trio.
Wydrin of Crosshaven and Sir Sebastian are mercenaries for hire. Wydrin and Sebastian are recruited for a job by Lord Aaron Frith, a seemingly simple job: infiltrate the Citadel and snag the treasure. Of course, no job is so easy and the unforeseen consequence is that a terrible goddess has been awoken and unleashed her army. You would assume that Wydrin, Sebastian and Frith would naturally want to help defeat this terror, but you would assume wrong. Each of these characters have their own private motivations, and not all mean dealing with the scourge that they have just helped to unleashed. Yet, it's a problem that just wont go away, and the trio must reunite and figure out how they could possibly kill a seemingly unbeatable dragon and her brood army. Smooth sailing is not in the cards for our heroes.The Copper Promise is exactly what I look for in a fantasy book. Yes, there's an interesting world, but readers aren't bogged down by details concerning how this world works. An over abundance of details is something that emphatically does not work for me. Compelling characters, now, that's what I'm looking for, and in that, The Copper Promise delivers. There are three main characters in The Copper Promise, and not one of them are what I expected them to be. There's Wydrin a renowned mercenary that is known for her skill with knives. Of course, she's also freckled, funny and completely irreverent; not quite the personality that one would imagine a skilled killer to have. Then we have Wydrin's partner, Sir Sebastian, a tarnished knight. Yes, this guys honourable, but he's still human and finds himself in a heap of trouble when he doesn't ask for help. And lastly, we have the mysterious Lord Frith, who initially appears the villain only to show hidden depths.
I cannot express how much I loved the characters in The Copper Promise. Wydrin, Sebastian, and Frith all drive the story with their quirks and the way that they handle the strange circumstances that they fall into. Together, these three characters make a formidable team, or at least they do once they actually start working together. These characters are fantastic and they bring a lot of humour to this adventurous tale. Each character has a unique backstory of which I am keen to know more, especially as those pasts inform how those characters take on the present. I'm thrilled that I'll get to know more in the next two books.
Aside from the characters, I also found the style of the book to be rather appealing. The Copper Promise is separated into large chunks that take the trio on pretty separate adventures, and I believe that these chunks were initially individually published. While there is a very clear cut in the transitions between the different parts of the story, everything links to the overarching plot of the whole dragon destroying everything in it's path thing. I really liked how this story was broken up. While I think it might frustrate some readers, this compact reading experience was exactly what I was craving at the time.
If you're looking for a swashbuckling adventure, look no further than The Copper Promise. The characters shine throughout the book, but there is enough action and drama to keep even those non-character driven readers entertained. Happily, the ending leaves readers with the sense that more adventures for our trio are in store.
Similar Reads
If you're fan of Wydrin and her sassy attitude, I think you'll find a lot to like about Lila Bard in V.E. Schwab's A Darker Shade of Magic. Lila is an aspiring pirate who gets sucked into the fascinating alternate Red London. There is so much to love about Lila and this trilogy.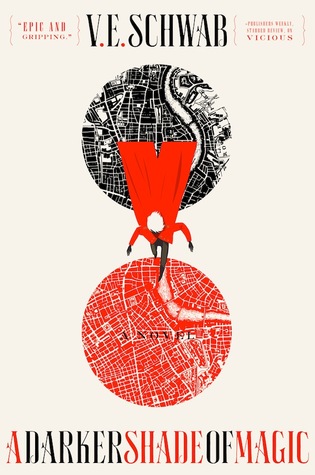 If you liked the emphasis on the character-driven plot of The Copper Promise, Erin Lindsey's Bloodbound series is a great follow-up. While I had somewhat mixed feelings about the first book in the series, book two was fantastic and it's the book that leads me to recommend the series.
My last recommendation is for Brian McClellan's Powder Mage trilogy. Not only is this one character-driven, but it's length and scale of storytelling are likely to appeal to fans of more detail-oriented fantasy. Book one was great, and book two was even better.