A Gift for Guile by Alissa Johnson
Sourcebooks Casablanca: July 5, 2016
Genre: Historical Romance
Source: Free From Publisher
Outstanding Adventure!

A Gift for Guile is the second in Johnson's Thief Takers series. As much as I enjoyed the first one, I think I have to admit that I liked A Gift for Guile just a tad bit more. Intrigued by the character of Esther Walker Bales in A Talent for Trickery, I was curious to see how the author would pull off a romance between a cunning woman and a private investigator. Let me tell you, it really, really worked.
Esther Walker has come to London to make amends. However, London is the last place she should be because of her and her family's disreputable past. Esther's father was a con artist and unbelievably as it sounds, Esther was his muscle. Despite her small stature, Esther is a wizard with knives and that was all it took for her father to put her to work as an accomplice. Now that her father is dead, Esther can move forward and away from her past, which means that she wants to meet her  biological father. The problem is that Esther is all too recognizable in London and if she's discovered she could be in big trouble especially with her father's enemies.
Sir Samuel Brass is a private investigator and years ago he and his business partners allowed the Walker family to inform for the police. Now that Esther's sister has married one of Samuel's business partners his concern for Esther is a little more personal. Tracking down Esther in London when she goes missing, Samuel insists on assisting her in her mission despite the fact that he would much rather her be safe and sound in the country. Naturally, Esther refuses to put up with Samuel's protective instincts and feels queer in his presence, after all, she's a former criminal and he's a former police officer. How could he possibly accept her more fluid approach to the law?
As a romance, I really, really enjoyed A Gift for Guile. It features a woman struggling to find herself and reconcile who she is today with who she was in the past. She's frightened of being judged and not accepted for who she is, and her clumsy suitor doesn't help matters when he can't quite explain that he does, in fact, like her for who she is. Esther's path of discovery was a highlight in A Gift for Guile. There was something about her struggle for who she is on her own when she's not responding to other's expectations that just seems so authentic. Esther's desire for affection from her father and others has led her to believe that she can't be considered a priority:
Esther was second-best. She was a filler, a stand-in until something better came along, or came back. She wasn't good enough to keep. She wasn't worth fighting for. And whatever approval and acceptance she might garner were undeserved, and temporary.
She could and would be replaced at the earliest opportunity (p. 249).
 The fact that Esther truly believes that she will never be the most important thing to anyone is tough. But, what I liked about the novel is the path that Esther takes to realize that she does deserve to be a priority. While a large part of this has to do with her relationship with Samuel, it also has a lot to do with her own introspection and consideration of her past actions. When Esther accepts her past, even those parts that she's ashamed of, she can finally see herself as someone worthwhile. It was a great journey for a reader to be part of.
While Esther is by far the more complex character in A Gift for Guile Samuel Bass was a perfect foil for her. There's a lot to like about this clumsy, bearish, over protective private investigator, most especially his willingness to let Esther do things on her own terms. Samuel doesn't always say the right thing, he doesn't exactly have a way with words, but eventually he gets where he needs to go as it concerns Esther. Ultimately, what I liked about their romance was that it was about each of them just making the effort for one another. All too often the romance genre skips over real issues and that wasn't the case in A Gift for Guile. Instead Samuel and Esther actually talk about their problems and how it impacts their relationship. It doesn't always go well, but they keep trying, which is appealing in a genre that is often flooded with the grand gesture. A big, dramatic scene between the couple is all well and good (and there is lots of drama in A Gift for Guile), but the presence of a real dialogue between the hero and heroine goes a long way in cementing the romance element of the book.
Strong characters aside, there is also a fabulous sense of humour prevalent throughout the book. Samuel and Esther do not initially start out liking each other; there's a lot of animosity between them when Esther discovers that Samuel has followed her to London and would like to dictate her investigation. That tension fuels a lot of witty barbs between these two, a particular favourite is when Samuel tries to lecture Esther on the risk she takes in coming to London:
"Heavens, I'd quite forgotten," she drawled in a voice that could only be described as sweetly caustic. "Thank goodness you are here to remind me of all the little details of my life."

God, she was infuriating. "Esther -"
"You're rather like my very own talking diary" (p. 10).
Sarcasm and Esther get along really well.
If you enjoy your historical romance filled with strong characters and more of an emphasis on the relationship building part of the romance, A Gift for Guile will not disappoint. Bring on more from Alissa Johnson!
Similar Reads
If you were a fan of the character of Samuel, you will absolutely adore Tessa Dare's Thorne in A Lady by Midnight. While Thorne's heroine is not a reformed criminal, he is certainly a character that struggles to communicate to his heroine. It's rather swoonworthy.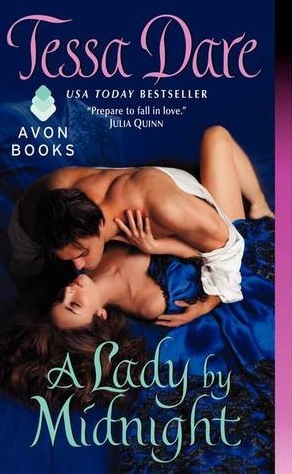 For additional historical romance featuring private detectives and/or bow street runners and the ladies that love them, there are a number of essentials. First off, Lisa Kleypas' Worth Any Price is a great romance featuring a bow street runner. It's hero, Nick, is a character with a tortured past, which kind of puts me in mind of Esther.
My second bow street runner hero to read about would be Jackson Pinter in Sabrina Jeffries' A Lady Never Surrenders. I think fans of Esther will find a lot to like in the character of Pinter's heroine, Lady Celia Sharpe, a young woman that often doubts herself.