Ms. Marvel, Vol. 1 by G. Willow Wilson & Adrian Alphona
Marvel: October 30, 2014
Genre: Graphic Novel
Source: Free From Library
I'd go there again!

I picked up Ms. Marvel on the recommendation from a friend. I'd also heard a fair bit of buzz about the series due to it's diverse main character and relatable storyline.
Kamala Khan is your average Muslim teenager living in New Jersey. She's struggling to find her identity and dealing with family and friend stuff. But then, Kamala gets superpowers!
After a mysterious fog cloaks the city, Kamala finds that she can transform into Captain Marvel, but the shift into the blonde and booted superheroine is not exactly what Kamala imagined it would be. Kamala thought she would be just like everyone else, but of course, it doesn't work that way. Most of volume one is about Kamala discovering that who she is okay and it's also okay not to have all the answers right now. The whole identity issue is a huge part of volume one and it sends a powerful message to readers. Kamala is struggling with her family's expectations and how they conflict with her own ideas and quite frankly this is a universal experience during those oh-so-fun teen years. On top of the fabulous "accept yourself as you are" message, volume one also sets up the big bad: The Inventor. When Kamala's friend Bruno's brother gets into some dangerous stuff, it's Kamala to the rescue! Those superhero powers aren't that easy to master, so the big rescue doesn't exactly go according to plan. Kamala doesn't foil The Inventor in her first outing or her last, the ending leaves readers with the message that The Inventor is still out there and he's coming for Kamala.
Ms. Marvel is the start of what promises to be a engaging and fun comic series. Kamala is a funny and relatable character and the writing is smart and sassy. I haven't read many graphic novels, but I'm convinced that Ms. Marvel is one of the best.
Similar Reads
If you liked the cutesy superhero vibe, you can't go wrong with anything by Noelle Stevenson. For the more overt exploration of what it is to be a supervillain try Nimona, an absolutely adorable read.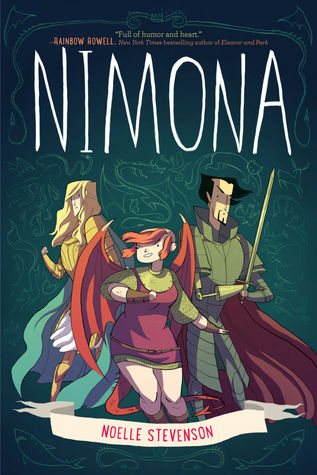 For a superhero vibe, but still in the same vein of positive messages as Ms. Marvel, try Lumberjanes. Seriously, this series is fantastic. It's hilarious and weird and really promotes the awesomeness of female friendship.