Accidentally Compromising the Duke by Stacy Reid
Entangled: May 30, 2016
Genre: Historical Romance
Source: Free From Publisher
Beach Vacation

Adeline Hays is on the verge of marriage to an odious man; this marriage is not something that she wants but something her father has arranged. To escape this unwanted marriage, Adel decides a compromising is in order, only she compromises herself with the wrong man! Instead of finding her way into the room of her preferred suitor, Adel finds herself in the arms of Edmond Rochester, the duke of Wolverton. I do love a "compromised" theme in my historical romance and Accidentally Compromising the Duke delivers just that.
While neither Adel nor Edmond thought to marry each other, after all they didn't even know each other, they both decide to make the best of the situation. For Adel, this is because her former suitor is scandalized by Adel's actions, and for Edmond, he'll take any wife since he simply needs a mother for his daughters. Unbeknownst to Adel, Edmond has no intention of making Adel his wife in truth, instead wanting theirs to be a white marriage. Sadly for Edmond, Adel has absolutely no intention of letting him off the hook, especially as she learns more about her intriguing and attraction new husband.
Accidentally Compromising the Duke is a fun historical romance featuring one of my favourite tropes. I loved the fact that Adel is initially reluctant to accept Edmond's marriage proposal because, you know, she just met the man. From there, the author spends a good deal of time allowing for Adel to get to know her new husband, which leads to a more realistic romance between them. Edmond in particular has a lot of issues with his new marriage, and it's his past with his deceased wife that adds drama to their budding romance. Edmond's first wife died in childbirth and it's not something that Edmond wants to go through again.
While Edmond's inner turmoil about his first wife's death and his attraction towards his new wife brings tension to the romance, Edmond's insistence on maintaining a specific marriage dynamic of his choosing was a little over the top. I felt that Edmond held on to his notions about what his new marriage should be like for too long. When the unexpected happens, Edmond takes off leaving Adel when she needs him most. I'm not opposed to the action, but I would have a liked a deeper exploration of the ultimate resolution between Edmond and Adel. Edmond had his reasons for maintaining his distance from Adel and it felt to me that these reasons were overcome a little too quickly and continued to be a problem for a little too long.
If you too enjoy a good old fashioned compromised tale, Accidentally Compromising the Duke is sure to appeal. The characters are appealing and the drama between the couple will keep you engaged until the very end.
Similar Reads
Rose Gordon's Her Secondhand Groom is a historical romance that immediately leaps to mind after reading Accidentally Compromising the Duke. Like Edmond, Lord Patrick Ramsey needs to take a wife to provide a mother to his children; however, he has no intention of every having more children after his first wife died in childbirth. Patrick's bride, Juliet, is none to pleased with Patrick's decree. Obviously the storyline is similar, but Gordon's romance is unique in it's own way.
For a lighter "compromised" historical romance, I suggest checking out Susanne Lord's In Search of Scandal. While there is a lot of drama in Search for Scandal, the overall tone is much lighter than Compromising the Duke. See my full review of this one to find out why you should read it.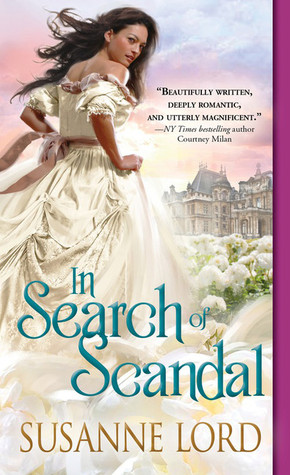 My last recommendation features another hero that is less than honest with his heroine. A lot of folks had problems with Julia Quinn's The Secrets of Sir Richard Kenworthy due to the hero's lies, but I found it quite enjoyable. If you liked the angst in the relationship between Edmond and Adel, this one is for you.