Paper Girls, Vol. 1 by Brian K. Vaughn, Cliff Chiang, & Matthew Wilson
Image Comic: April 5, 2016
Genre: Science Fiction
Source: Free From Publisher
I snapped up Paper Girls solely because I've really enjoyed Vaughn's Saga graphic novel series. I knew absolutely nothing about Paper Girls when I jumped in, but this retro read was a lot of fun.
Paper Girls features four young women who deliver papers in a suburban neighbourhood. They are the first female delivery girls. Because these ladies are harassed on their beat, they team up to get their job done and on the night in question some strange happenings occur, including an alien invasion.
Quite simply, Paper Girls is a lot of fun. I really enjoyed the rollicking adventure that is Paper Girls. In their own way the paper girls are trailblazers. They are the first of their kind as lady paper delivery persons. On the fateful night that these girls team up, they find themselves doing more than delivering the news: they're fighting back against an alien invasion! This is a tricky thing in the suburbs.
Volume one combines issues one through five, so readers get a good snapshot at the direction the series is heading. However, I personally didn't find the storytelling as rich as Vaughn's Saga series. There's humor and adventure in Paper Girls, but it wasn't as complex as Saga, which might simply be because this is a brand new series. I'm willing to continue on with the adventures of the paper girls, but at this point, it's not holding my attention in the same way as the space-set Saga. Time will tell.
The other element that I thought was great was the retro vibe that Paper Girls had going for it. Paper Girls is set in the 1980s and the artwork and the dialogue reflect that. As a result, Paper Girls has a huge dose of nostalgia running through it and I think that will appeal to many readers.
Paper Girls is a fun first installment in a retro-inspired graphic series. The characters are foul-mouthed and entertaining and for that alone, I think this series is worth the read.
Similar Reads/Views
While Lumberjanes is definitely geared towards a younger audience with its lack of violence and more innocent language, I think fans of the girl power message in Paper Girls will be interested in the feminism and emphasis on female friendship that abounds in Lumberjanes. Check out my full review here.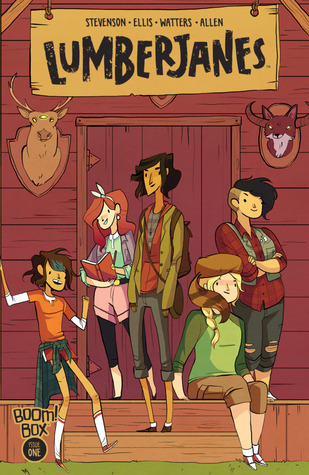 The throwback setting and the alien invasion immediately put me in mind of the 2011 movie Super 8. Super 8 was a surprise hit with me and I think it will appeal to fans of the core of the story of Paper Girls.