Flannery by Lisa Moore
Groundwood Books: May 1, 2016
Genre: Contemporary Fiction
Source: Free From Publisher
Flannery Malone is sixteen years old and she's been in love with Tyrone O'Rourke since she was a little girl. Sadly, this love is unrequited. However, things start looking up when Flannery is paired with Tyrone on their entrepreneurship assignment. Together, they have to create a product, a product that up until this point there has been no desire on the part of consumers to actually own (apparently this is the basis of being an entrepreneur). Tyrone suggests that he and Flannery make magic potions for their assignment; after all people will be willing to spend their money on a magic solution "Especially if they start to believe in it" (p. 52). The funny thing is that people do start believing in Flannery's potions. Now, if only Flannery had a magical solution to solve the problems in her own life. The premise to Flannery sounds simplistic as well as light and fluffy. Many readers would assume that this is a lighthearted romance where Flannery woos the boy of her dreams during the course of their assigned project. This couldn't be farther from the truth. Yes, Flannery is dealing with her feelings towards her homework partner, but she also has to cope with her best friend's withdrawal from her life, a scattered mother, and the inability to purchase a mandatory biology textbook. Rather than a romance, Flannery is a coming-of-age story that focuses heavily on the theme of love, whether it be romantic, familial or friendship. Not one of these types of loves can be managed with the help of a potion, which is something Flannery discovers through the course of the novel.
What resonated throughout Flannery was the awkwardness that is high school. Flannery has to navigate high school knowing that she is different from the other kids. Her mother is an artist and has raised Flannery and her young brother rather…unconventionally. Due to her mother's approach to life, Flannery often steps into the role of caretaker. This lifestyle means that Flannery is that kid who's family lives on food stamps and can't afford to buy the mandatory supplies for schools. What's great about Flannery is that she never lets the negatives get her down for long. Flannery deals with the awkward situations at school with aplomb. And despite her mother's scattered approach to parenting, Flannery actually has a positive relationship with her mother. No, the relationship with her mother and brother is not perfect, they fight and Flannery feels resentful at times, but what's notable is that Flannery and her mother actually have a dialogue about what's going on. Flannery's mother doesn't always understand Flannery's viewpoint, but she is at least discussing it with Flannery. The complexity of familial love are alive and well in Flannery.
The way that female friendship is depicted is another highlight in Flannery. Amber is Flannery's best friend; however, since finding herself a boyfriend, Amber has started to pull away from Flannery. Flannery feels hurt and confused by Amber's changed attitude towards her, but this change also allows Flannery to start to form new bonds with other people. A friendship may end, but that relationship has made an impact. For Flannery, this enduring friendship means that she can't abandon Amber when she needs her help the most. Despite the fact that they will never be friends in the way that they used to be, Flannery helps Amber when she could have simply walked away. Rather than getting revenge on a friend who has hurt her, Flannery chooses to help Amber when she needs it most.
Finally, romantic love is the last type of love explored in Flannery. For years Flannery has been convinced that Tyrone is the guy for her. But loving someone from a distance is not the same as loving that person once you get to know them. Again, Flannery is presented as a strong willed character as she learns this lesson about romance throughout the course of her entrepreneurship project. This is certainly not the most important lesson Flannery learns throughout her journey, but the realization that Tyrone is not exactly the person she thought he was is an important lesson for Flannery to learn.
Flannery was a quirky, fun, and ultimately positive coming-of-age story. This contemporary young adult novel gives readers a heroine that is easy to relate to as she goes through the growing pains that is high school. Recommended for fans of realistic fiction that's on the lighter end of the spectrum.
Similar Reads
The quirkiness of Flannery really puts me in mind of the graphic novel series, Lumberjanes. Lumberjanes follows a group of young girls who are at summer camp, but this is no ordinary summer camp, magic and mystery abounds. This is a delightful and adventurous read!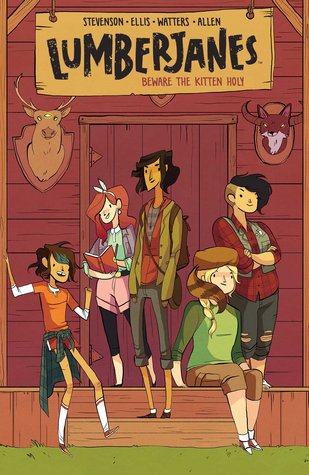 Another good follow-up read would be Andi Teran's Ana of California. This is re-telling of the classic Anne of Green Gables; however, it is also a fabulous coming-of-age story featuring a young heroine dealing with real life problems. See my full review here.
My final recommendation is for Darren Hynes' Creeps. This is another Canadian-set young adult novel. While it doesn't have the lighthearted tone that is present in Flannery, I think it will appeal to readers who appreciated Flannery's struggles with real life problems. In Creeps Wayne has to deal with an alcoholic father and bullies at school; it's a bit of heartbreaking read at times, but a book that I think it timely.