London Gambit: Tracy Grant
NYLA: May 5, 2016
Genre: Historical Mystery
Source: Free From Publisher
London Gambit is Tracy Grant's latest Suzanne and Malcolm Rannoch historical adventure. In this outing, Suzanne and Malcolm are investigating a number of things. First, Malcolm is called to the scene of the murder, only to discover that the man found dead is a former military man and found in a warehouse connected with a previous investigation. Second, Suzanne learns of potential plot to free Napoleon, which could put her and her family at risk, considering that she is a former French spy. And if that wasn't enough, it seems that the murder just might hit closer to home than Malcolm originally thought when a personal friend seems to be keeping secrets. Luckily, Malcolm and Suzanne have their trusted (and unofficial) band of investigators to help them discover the truth. Since reading Vienna Waltz, I have been a huge fan of Grant's series. I love the intersection of character driven drama and the integration of historical fact. While all of that is present in London Gambit, it is clear that this latest addition marks a shift in the series. I think the shift will prove to be a good one. It's been a long time since Malcolm and Suzanne have left London, so I am inclined to be interested where their investigations will take them considering the ending of London Gambit. I think the shift in the series will also breath some fresh air into the series. As much as I have enjoyed the previous books, it seems that Malcolm and Suzanne have been struggling with the same issues over and over again. This is the second time that I have noticed a significant shift, the first being when Malcolm discovered that Suzanne was a spy for his country's enemy. That first shift created some tension in the Rannoch's marriage and I think this latest change will also challenge the characters as well as interest readers of the series.
London Gambit also offers a closer look at some of the characters that Grant has introduced over the course of the series, most notably Malcolm best friend David and his lover Simon. The inclusion of secondary characters' perspectives is something that I have long enjoyed about Grant's writing style, and her latest book is no exception. While some could claim that the multitude of narrative points of view hamper the plot, I actually think it helps to develop the characters of Malcolm and Suzanne. Through these other characters, readers get to learn how Malcolm and Suzanne are viewed, giving readers additional information. Not to mention that these are characters that readers have come to love in their own right (Harry and Cordelia, anyone?). Over the course of this series this list of characters has grown, but if you're a longtime fan of the series, this is something that you will enjoy.
If you're a reader of Grant's series you wont want to miss out on the latest adventure featuring former spies, Malcolm and Suzanne Rannoch. If you're a historical mystery fan, I suggest that you don't jump into the series wherever. At this point in the series, there is so much that is dependent on the previous books that it's a must to start at the beginning. Luckily the author has a handy guide to her series on her website to help you get started.
Similar Reads
C.S. Harris' Sebastian St. Cyr is a must read if you enjoy the historical period that Grant explores in her series. The main character also happens to be a spy, so bonus points! Start with book one, What Angels Fear.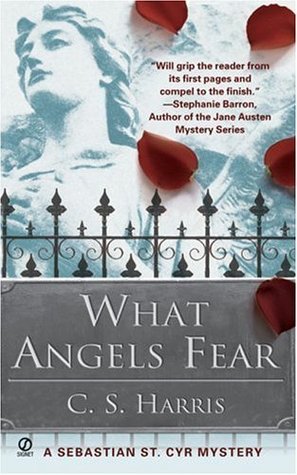 If you like Grant's style and the focus she puts on Malcolm and Suzanne's family, Deborah Crombie's contemporary series is an excellent follow-up read. The Duncan Kincaid & Gemma James series gets better with each installment, includes a large cast of characters, and strongly features the character's family just as Grant's series does. Start with book one, A Share in Death.
My last recommendation is another historical mystery set in Regency London. A Useful Woman is the first book in a new series, and I think it will appeal to fans of the historical elements of Grant's series. Darcie Wilde flawlessly includes the minutia of everyday life amongst the ton. Check out my review here.