Gunmetal Magic by Ilona Andrews
Ace: July 31, 2012
Genre: Urban Fantasy/Paranormal Romance
Source: Free from Library
It's strange and interesting to read about Kate through different eyes, and to get into her best friend Andrea's head. Andrea has her own voice, apparent from the very first page with her enthusiasm and expert knowledge about everything guns and weapons.
Andrea is a fun heroine, and a good match for Kate. She struggles with her past, with her feelings for Raphael, and with the bouda clan. Her determination for independence wars with her desire to save others. As beastkin instead of a shapeshifter, as a former Knight of the Order dismissed because she's not human, she struggles to find a place where she belongs.
The big plot is very similar to the plots in the Kate Daniels books. An ancient Egyptian god decides now is an opportune moment to take back his power and become a god again in thousands of followers' eyes. Another god opposes him and hatches his own schemes for world domination. As Andrea and Raphael, her estranged mate and the alpha male of the bouda clan, investigate the murder of several of Raphael's metal reclamation employees, they uncover both gods' plans and endanger themselves trying to prevent the slavery of thousands of people by said gods.
The reason I read the book, though, is the relationship between Andrea and Raphael. In one of the earlier Kate Daniels books, it was hinted that these two, who had such a fun and promising beginning, have hit a stopping point. Throughout this book, they work out their differences as they work together to solve the mystery and save the world. They bicker, they flirt, they cooperate and keep secrets. It's hot, emotional, and dramatic.
If you've enjoyed the Kate Daniels series, you'll likely enjoy this one, too. The romantic tension matches the romantic tension in the earlier Kate Daniels series. The wit and humor, too. All in all, it is a fast-paced, exciting, and entertaining novel. Dr. Doolittle once again nearly steals the show.
 Similar Reads
If you're interested in the magic vs. technology duality of this world, you may enjoy A Darker Shade of Magic, a fun YA novel about two people from different alternate/parallel worlds, one where magic rules and one where industry is king.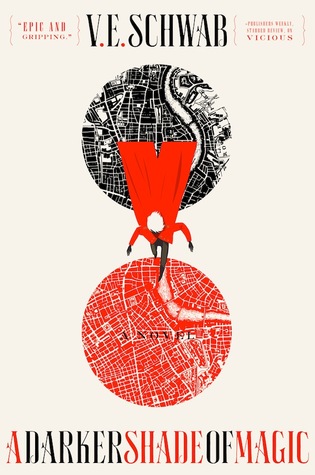 If you want to read more about heroines who don't quite fit in anywhere in a post-apocalyptic or post-war world, you may be interested in A City of Light, a novel about a biotech woman who gets involved in a search for missing children.
If you're looking for another paranormal fantasy with sniping hero and heroine, witty banter, and hot tension, you may want to check out Midnight's Daughter, about Dracula's niece and dhampir, Dorina Basarab.