The Winner's Curse by Marie Rutkoski
Farrar Straus Girou: March 4, 2014
Genre: Historical Fantasy
Source: Free From Library
So, I've finally jumped on The Winner's Curse bandwagon, only committing to read the first book in the trilogy now that I have both the second and third on hand (cliffhangers, I'm no friend of yours). For the most part, I think Winner's Curse lives up to the hype that it has received. The writing is gorgeous, and that alone will have me picking up the second book.
For those that have been living in a cave and haven't heard of this trilogy, let me summarize. Kestrel is a general's daughter, and it was her father that conquered the Herrani on behalf of his emperor. Now, ten years after the war, Kestrel is living in the city of the fallen and the Herrani serve the Valorian as slaves. When Kestrel purchases a young man at an auction, she sets off a chain of events that leads to revolution. Unbeknownst to Kestrel, the slave that she has bought is no ordinary blacksmith. Instead, Arin is acting as a spy for the Herrani rebellion. However, Arin's information gathering mission is complicated as he gets to know Kestrel. Does Kestrel deserve to suffer for a war that she had no part in?
The questions that the author poses are complicated and she does not do them a disservice by offering simplistic answers. Neither Kestrel or Arin are "good" or "bad". Both have been shaped by their histories and experiences. Kestrel feels trapped by the expectations of her father who only gives her two choice: enlist or marry. It's not that Kestrel wouldn't be able to serve in the army, it's the personal cost to herself that makes her reluctant:
Kestrel's cool calculation appalled her. This was part of what had made her resist the military: the fact that she could make decisions like this, that she did have a mind for strategy, that people could so easily become pieces in a game she was determined to win (p. 239).
In a way, I found that the first part of the book, where Kestrel's lack of true agency (despite not being a slave) is explored, to be the slowest part of the book. The depiction of Kestrel as a woman trapped by her station did slow the pacing; however, as Kestrel begins to shape her own destiny, the plot truly becomes engaging.
Unlike Kestrel, Arin is not free, yet in contrast to Kestrel's paralysis, Arin acts and makes decisions from the start. Arin is a slave and he may have to serve his masters, but that does not mean that he is not working independently from them. The contrast between Arin and Kestrel; their difference in status and agency is an interesting one, which speaks to the underlying complexity of the novel.
The Winner's Curse presents an engaging world and explores the concepts of colonization, freedom, and agency. The first book sets the stage for a strong trilogy, creating a tension between its two main characters as well as the larger world in which they inhabit. Yes, romance is a big part of the tension between Kestrel and Arin; however, the fact that they are on opposite sides a conflict have very real complications for any kind of relationship between them. How the author is going to play with this relationship will be interesting and probably heartbreaking, but the style and the fact that the author doesn't shy away from reality will have me back for more.
Similar Reads
An Ember in the Ashes is my top recommendation to fans of The Winner's Curse. Many of the same themes are explored and the dynamic between Laia and Elias is rather similar to Kestrel and Arin. I found An Ember in the Ashes to be quite a bit grimmer than The Winner's Curse, but the characters and the world are enthralling.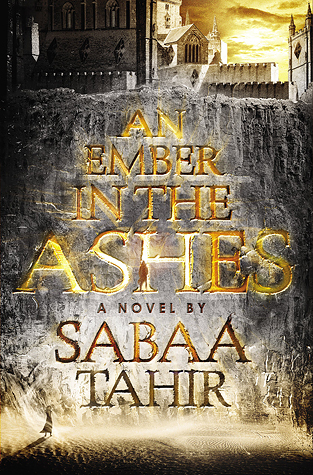 Okay, I will acknowledge that Rebel of the Sands is not an obvious choice as a similar read to The Winner's Curse, BUT I think readers will appreciate the quality of writing by Hamilton and her excellent use of themes. To find out what I'm talking about, read my review.
My final recommendation is Sara Raasch's Snow Like Ashes. This is the first in a trilogy and features a strong willed heroine that finds herself in a position of power that she had no idea she was heir to. Now, her freedom has been restrained and she has to learn to live with that. Fans of Kestrel will really enjoy Meira. See my full review here.