Dead Heat by Patricia Briggs
(Alpha & Omega #4)
Ace: Re-released March 3, 2015
Genre: Paranormal Romance/Urban Fantasy
Source: Free from Publisher
I'd go there again!

I don't often read series that follow the same romantic couple. I love this couple, and I love how their relationship is developing in each book. They're both supportive of each other, their relationship is growing stronger, and they're still ironing out some wrinkles. The dominance/submission aspect is absent, because Anna is an Omega – a werewolf who stands outside pack hierarchy, helps soothe dominant werewolves' aggression, and doesn't follow orders.
In this book, Charles and Anna are in the west looking for horses to buy and visiting an old friend of Charles, who is dying in his old age. While there, they discover a mysterious fae is stealing children, so of course they investigate. As tensions rise between werewolves, fae, vampires, and humans, the line between good and evil blurs a bit, making it even more difficult to generalize which race means well and which means mischief. As I've come to expect in this series, the resolution to the mystery is satisfying.
While I'm not ordering the fifth in the series from the library just yet, I am still more interested in how this supernatural crime-fighting duo continue than I am in the Mercy and Adam pairing. Possibly that's because for the entirety of this series, Charles and Anna have been together, whereas Mercy spends the first five books getting used to the idea of being with Adam.
If you like the Mercy series but haven't tried the Alpha and Omega novels, I recommend them. If you're on the fence about continuing with the Alpha and Omega novels, I highly recommend doing so. Fans of paranormal romance and urban fantasy, werewolves, vampires, and fae, as well as mystery fans, will no doubt enjoy this book.
Similar Reads
Marked in Flesh by Anne Bishop is another good fourth-in-a-series about werewolves, etc.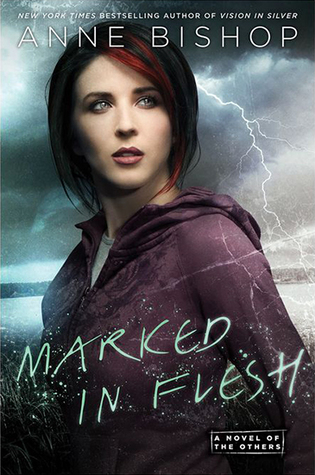 In Magic Bleeds, fourth in the Kate Daniels series by Ilona Andrews, the action and romance heat up. It's one of the most exciting of the books I've read so far.
City of Light begins a fascinating new series about a post-apocalyptic world where the heroine is the last of her kind – a kind universally despised, by humans and shapeshifters. For an unbiased summary, click the image link below. To see what we thought of the book, read our duel review.