Delilah Dirk & the Turkish Lieutenant by Tony Cliff
First Second: August 27, 2013
Genre: Adventure; Historical Fiction
Source: Free From Library
Delilah Dirk is a graphic novel that has been on my radar for a while. I loved the idea of an adventurous young woman taking her sidekick on a wild ride. The fact that Delilah Dirk is also a historical graphic novel, also very much caught my eye.
Set in 1805, Constantinople, Mr. Selim is a lieutenant in the Turkish Army, and he's arguably not a very good one, preferring calm interspersed with cups of tea. When Miss Dirk is arrested and he comes into contact with her as one of his jailers, Selim is reluctantly intrigued. When Delilah stages a explosive escape and Selim is thought to be complicit, he has no other choice but to join Delilah in her adventures despite his unadventurous spirit.
Delilah Dirk and the Turkish Lieutenant is unabashedly an adventure. Delilah and Selim crash from one altercation to another, and it's fabulous. The contrast between the adventurous Delilah and the cautious Selim is notable and it consequently leads to much humour between the pair. The fact that this mismatched pair slowly form a friendship is depicted subtly in between the bouts of fighting. Whether it's the army or an angry horde of pirates, Delilah and Selim rely on each other in unexpected ways. The friendship between these two is the main point of this first novel and it sets the foundation for a beautiful and fun partnership.
The artwork in Delilah Dirk is another fantastic aspect of the graphic novel. I'm not a huge graphic novel reader, but with this one, I found myself enthralled with the artwork, spending time really examining the pictures. The artwork enhanced the story, providing readers with a deeper look into the partnership between Delilah and Selim. In addition, the art also provided an additional vehicle for the author to showcase his sly sense of humour. The expressions on Delilah and Selim's faces were vivid, indicating to readers exactly when the characters were giving or responded to sarcasm or humour.
The first installment in Delilah Dirk and the Turkish Lieutenant is not plot heavy. Delilah and Selim jump from one place to another, leaving the focus on the pair of them as partners rather than what they are up against. So, if you're looking for an adventurous, swashbuckling tale, look no farther than Delilah Dirk. The rollicking antics of Delilah and Selim are only second to their great partnership, and readers of this first installment are left wanting to know more about their next adventure.
Similar Reads
If you looking for another swashbuckling Delilah, check out V.E. Schwab's A Darker Shade of Magic. Delilah Bard, like Delilah Dirk, is committed to a life of adventure and when she finds herself in a world she didn't even know existed, she's excited rather than afraid. See my full review here.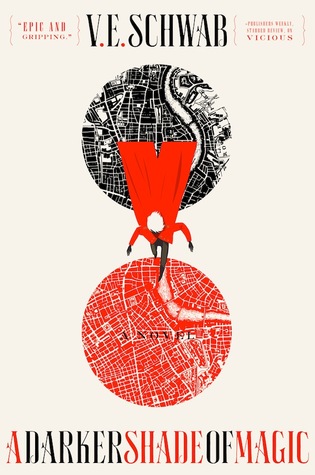 For another graphic novel, this one recommended by Stacey, try The Dreamer. Here, high school student, Bea, gets transported back in time. Adventure and romance ensue. See Stacey's full review here.