Fellside by M.R. Carey
Orbit: April 5, 2016
Genre: Thriller
Source: Free From Publisher
Jess Moulson is recovering from severe facial burns when she is transferred to Fellside, a women's prison. Jess wakes to discover that her face has been burned beyond recognition and she has been charged with murder after setting her apartment ablaze. Learning that the fire she apparent started killed the young boy that lived her building, Jess doesn't put up a fight when she is sent to Fellside, and in fact, chooses to end her own life. However, soon after arriving at Fellside Jess begins to have doubts about her guilt in killing Alex, especially when his ghost tells her that she did not kill him. But, how can Jess investigate when she has turned down the support of her lawyers and is locked away?Fellside is a book that is many things. Part mystery, part ghost story. But what I found to be most compelling about this prison drama is the way that the author connected Jess's narrative with other threads in the story. Jess is investigating the death of Alex as much as she can from within the walls of her prison, but she is also connected to larger events happening in the prison. The way that the author interweaves Jess's story with other inmates and support staff that work at the prison is masterful. One action on the part of a negligent nurse has consequences that reverberate throughout the entire novel. These connected moments is what makes Fellside something more than a mystery; it's also a novel that explores the consequences of one's actions and how those actions can impact others in ways you would never anticipant.
While the author's narrative connections are, for me, the strongest features of Fellside, I also found the ambiguity of Jess's ghostly interactions to be well done. From the start, it's clear that Jess has suffered a trauma after almost being burned alive. Jess's memories are faulty and because of that I think readers are forced to question her insistence that she is seeing Alex's ghost. However, the author skillfully continues to force the reader to consider that Jess is seeing Alex's ghost, such as including Jess's history of vivid dream walking when she was a child. Ultimately, readers are never really sure if Jess can be trusted. She doesn't remember setting fire to her apartment and she has a history of drug use. How can readers possibly trust this person's narrative? The author does a excellent job of forcing readers to really consider trusting Jess.
Fellside is not the ghost story or mystery that I was expecting, and that is a good thing. Fellside combines facets of multiple genres and bends them to creative a cohesive story that intrigues readers with its ambiguity. If you enjoy mysteries where you are left wondering the "real" truth, than Fellside is the read for you.
Similar Reads
The comparison of Fellside to Orange is the New Black is an obvious one, but if you have only seen the T.V. show and not read the memoir, I highly recommend checking out the book. Piper Kerman's account of life in the prison system is the perfect companion to Carey's fictionalized account. See my full review here.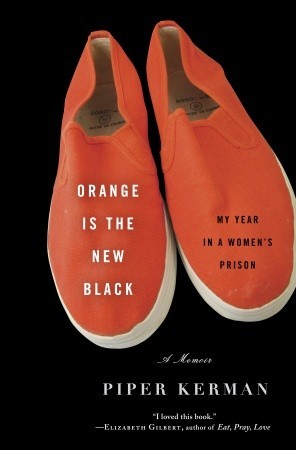 If you enjoyed Carey's more literary writing style, Cecilia Ekback's Wolf Winter is another great follow-up read. Ekback creates a fantastic atmosphere which will appeal to fans of Carey's remote prison location, and Ekback's use of multiple perspectives will also interest fans of Carey's narrative choices. See my full review here.