Love, Lies and Spies by Cindy Anstey
Swoon Reads: April 19, 2016
Genre: Historical Fiction
Source: Free From Publisher
Miss Juliana Telford is on the verge of taking her debut in society. However, Juliana is no ordinary young lady. Rather than anticipating her debut, Juliana is heading off to London with an alternative purpose: publication. You see, Juliana is a budding scientist and along with her father has been researching the lady beetle. Now, Juliana wants to get her and her father's research published, all under the guise of her societal debut. Therefore, its unfortunate that she becomes entangled with Mr. Spencer Northam.
Spencer, like Juliana, is not whom he appears to be. Rather than carousing with the other young men of his age and station, Spencer is investigating a smuggling operation as a spy for the War Office. When Spencer realizes that Juliana will be living with the family he is investigating during the Season, he cultivates a friendship with the young lady, which only becomes complicated when he develops real feelings for her. In all honesty, Love, Lies and Spies was a whirlwind of a book. There was a lot of stuff going on and a lot of secrets between the main characters. At times, the plot was bogged down by all the details. For me, there was just way too much going on. Juliana was hunting for a publisher, trying to help Spencer's friend woo another young lady, faking a supposed "romantic" relationship with Spencer, fending off the advances of a persistent young man, and attending her own events of the Season. Equally, Spencer had just as much going on what with spying on a family that could be smuggling state secrets to the French. The amount of stuff that was happening here and it was overwhelming, especially since it hampered the full development of the romance between Spencer and Juliana.
The fact that romance seemed to be the basis of Love, Lies and Spies was precisely what made me pick up the book in the first place. I was disappointed by the rather tame romance. Perhaps I'm reading too many grown up historical romances, but I didn't think there was a lot of basis for undying love between Spencer and Juliana. The author stuck with the expected conventional norms of the era and Spencer and Juliana rarely spent any time together without a chaperone. Due to these circumstances, I didn't feel that Spencer and Juliana really got to know one another and their feelings were developed based on an insta-attraction. I wanted more in the romance department from this one.
Despite my disappointment in the tepid romance, I really liked the bubbly narrative style of the author. There was something so charming about how Love, Lies and Spies was written. The author mimicked the style of the classics (think Austen) to an effective degree and imbued that style with her own sense of wit and hilarity. This charming combination created such as sense of fun in Love, Lies and Spies that you couldn't help but be won over.
So, while I do have some misgivings when it comes to the romance of Love, Lies and Spies, I did enjoy the wit and overall tone of the book. The lively writing charmed me and I certainly would read another book by the author. And, it appears I'll get my wish with Duels and Deception, which had me at kidnapping.
Similar Reads
The fact that Juliana is an unusual young woman immediately calls to mind Mary Quinn of Y.S. Lee's The Agency series. This series is set in Victorian London and features intrepid teenage sleuth Mary Quinn. Filled with mystery and romance, Lee's series is a lot of fun. Star with book one, A Spy in the House.
For a teen read that's heavier on the romance and also includes a dash of the paranormal, try Alyxandra Harvey's A Breath of Frost. The romance is more overt here and there's not the same sense of wit, but the historical atmosphere will appeal.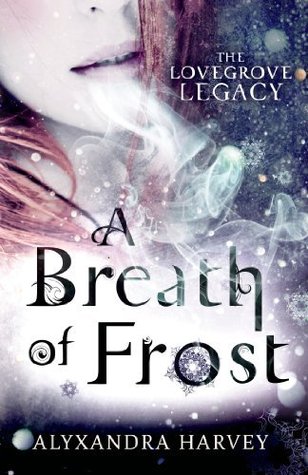 Lastly, I'll recommend Jessica Leake's Arcana as an excellent follow-up to Love, Lies and Spies. While Arcana is set in the Edwardian period, it has many of the same themes. See my full review here.