Because of Miss Bridgerton by Julia Quinn
Avon: March 29, 2016
Genre: Historical Romance
Source: Free From Publisher
Julia Quinn returns to her beloved Bridgerton family with a new series. Set in 1779, this new series focuses on the well known Bridgerton's predecessors (I suspect we're going to see the Bridgerton's parents featured at some point. Fingers crossed.).
Miss Billie Bridgerton is always getting into scrapes and she's just fine with that. However, when her latest scrape strands her on the top of a building she is dismayed to be assisted to safety by George Rokesby. George is the heir to the Rokesby family, and the one Rokesby that she doesn't get along with. That feeling of animosity is mutual; George really doesn't understand why Billie must take the risks she does, but he's honor bound to help her out. And so begins a surprising courtship.  I've been a longtime fan of Julia Quinn and her new series does not disappoint. Because of Miss Bridgerton is filled with the wit and hilarity that I have come to expect from this author. Because of Miss Bridgerton is the perfect light, fluffy read that I was looking for. That's not to say that there was no substance to Because of Miss Bridgerton; in fact, the character development was done really well. In particular, I really enjoyed the character of Billie. At first Billie comes across as one-dimensional and something of a caricature; however, the author transforms Billie into a character with substance, a character with worries and vulnerabilities. Billie is not some devil-may-care tomboy, but is in fact quite aware that she doesn't fit into the mold of a proper young lady; hence, her terror of the London Season. Billie was the perfect foil for the oh-so-proper George.
Like Billie, there was more to George than was apparent at first glance. George may be the heir to an Earldom but he chafes at the lack of freedom, especially as his younger brothers were able to enlist and serve their country. What's notable about the romance between George and Billie is that they both notice each others vulnerabilities. Those moments between George and Billie provide a satisfying emotional depth in an otherwise delightful confection.
Because of Miss Bridgerton is a wonderful opening to a brand new series from historical romance giant, Julia Quinn. If you enjoy Quinn's trademark humour you will find my to love in her latest.
Similar Reads
As a big fan of Quinn's sense of humour and fun, I highly recommend checking out Tessa Dare. Dare's likely more well known for her Spindle Cove series; however, I think Dare's Castles Ever After series is more likely to appeal to fans of Quinn's humour. Start with book one, the hilarious Romancing the Duke.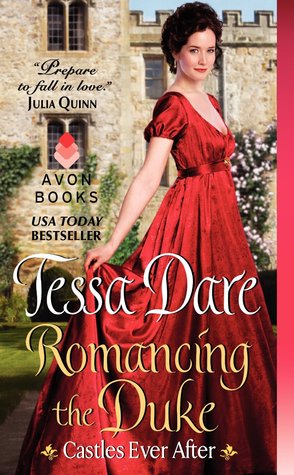 For another funny read that also features two seemingly mismatched characters try Miranda Neville's The Amorous Education of Celia Seaton. This charming on-the-road romance is a delight and features an amnesiac hero.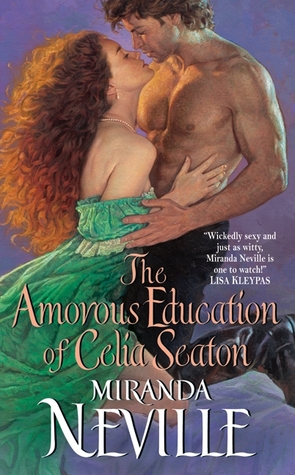 Lastly, I think Alyssa Everett's A Tryst with Trouble is another great follow-up to Because of Miss Bridgerton. A Tryst with Trouble is a much tamer romance, but it does have the same fun feel as Quinn's writing.