The Visitor by Amanda Stevens
MIRA: March 29, 2016
Genre: Mystery
Source: Free From Publisher
The wait for Steven's fourth installment of her Graveyard Queen series has been a long one. The last book was published in 2012 and it's only now, several years later that readers are treated to a new installment that follows graveyard restorer Amelia Gray. I don't know why there was such a long delay, but I can tell you that The Visitor is worth the wait. From the start readers are dropped into the highly atmospheric and haunting setting of the old South.
Amelia Gray has come a long way since her introduction in the first book in the series. Most notably she has decided to stop following her father's rules; she's no longer ignoring the ghosts that are attracted to her, and this has severe repercussions for both her personally as well as in her new relationship with John Devlin. In The Visitor Amelia is followed by a ghost that could be her identical twin, except for one thing, this ghost has gouged out her eyes. This visitor is only one of many that come to Amelia, but each of them compel her to Knoll cemetery, a place that only came to be after the violent mass death at a commune many years ago. For Amelia, there is a personal connection to that cemetery and only by listening to those ghosts that Amelia will find out what the connection is.
In The Visitor Amelia is searching for her destiny. From the moment she was "born dead to a dead mother" (p.18) Amelia has been fated to do something, but that elusive something has always been out of her reach. Now, Amelia finally seems to be coming into her power, but that power has a price. Her sanctuary, her home has been breached by something not quite human and not quite dead, leaving behind "gifts" that lead Amelia back to Knoll cemetery and the events that took place there so long ago.
The theme of fate is something that is threaded throughout The Visitor, not only for Amelia but for John Devlin too. Will fate decide to place them on opposite ends of the chessboard? It seems that the decision has already been made for Amelia and John and that sense of foreboding is only enhanced by the author's Gothic writing style and its focus on the roots of the past as they set up the fate of those living in the present. Their ancestors influence both Amelia and Devlin and The Visitor goes a long was in showing how that past will inform their future together or apart.
Compelling themes aside, the luxurious writing is something that also draws me to this series. There's something so sensational about the way the author describes the setting and the interior thoughts of Amelia. Not to mention the way that ghostly visitations are described:
Levitating outside my window, she pressed a hand against the glass and a wintry chill shot through me, a bone cold that came only from the other side. The windows rimed, a film of ice forming in the corners of the panes. Minuscule fissions fanned out from her splayed fingers as the glass crackled beneath the pressure of her brittle cold.
Why are you here? I wanted to cry out. What do you want from me?

But I already knew the answer. She wanted my essence, my life force, my humanness. She wanted what every ghost craved – to be alive. That was what made them so dangerous. That was what made them so voracious (p. 9).
There were so many horrifically creepy moments throughout The Visitor and its that sense of the paranormal that I find very compelling. Every instance of the unknown is tied to the suspense of the mystery Amelia is investigating. There is no way you can put down this book even if there are freaky things happening (i.e. bugs – shudder).
Fans of Stevens' Graveyard Queen series will not be disappointed by the author's long awaited return to the series. The atmosphere, the mystery, the horror are all back in spades. And the climax of The Visitor only leaves readers anxiously awaiting the next book in the series, The Sinner (out in September 2016).
Similar Reads
Simone St. James is a must-read if you enjoy ghostly tales. St. James' novels are set in post-WWI era and always include elements of the supernatural. The sense of atmosphere that St. James creates is amazing. All of her books to-date are fantastic, but if I had to recommend one (or two), I would suggest The Haunting of Maddy Clare or The Other Side of Midnight.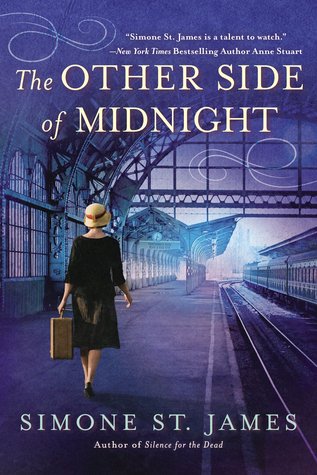 For a more modern take on the Gothic genre, I would suggest Susan Elizabeth Phillips' Heroes are My Weakness. This is not an obvious follow-up to The Visitor, but I think it will appeal to those who are drawn to Amelia Gray and her relationship with John Devlin.
My last recommendation is more traditional in its mystery roots, but I think it will appeal to those that like Steven's evocative atmosphere. Wolf Winter is a ghost story and a mystery, but this is not procedural investigation. The sense of the unknown, the spiritual is palpable in Wolf Winter.