Storm Front by Jim Butcher
ROC: April 1, 2000
Genre: Urban Fantasy
Source: Free From Library
You're a wizard, Harry. Wait, wrong wizard.
Harry Blackstone Copperfield Dresden is a wizard PI who's tight on cash and low on cases. This Harry is not a graduate of Hogwarts.
HARRY DRESDEN – WIZARD
LOST ITEMS FOUND. PARANORMAL INVESTIGATIONS. CONSULTING. ADVICE. REASONABLE RATES. NO LOVE POTIONS, ENDLESS PURSES, PARTIES, OR OTHER ENTERTAINMENT (p. 3).
Harry is summoned to the scene of a murder as part of his consulting gig for Chicago P.D. Considering the fact that Harry advertises the fact that he is a wizard, it's pretty much a sure bet that the murder is of a unusual nature. Soon Harry is neck deep in mob bosses, missing persons, magic and frog demons. This consulting case turns out to not be the easy money that Harry initially anticipated. First of all, how have I not read this series before? There are, like, fifteen book in this series and somehow the series escaped my notice all together. Well, at least I have lots to look forward to in catching up in the series. As the first in the series, Storm Front captured my attention with its offbeat and funny main character, Harry Dresden.
Harry Dresden has a bit of a lovable rogue vibe going on. The character is unintentionally charming with his old fashioned ways and seemingly careless attitude. A persona that is captured so well in audio format by James Marsters (you know, Spike from Buffy the Vampire Slayer). Having become a bit of an audiobook snob, I'm rather particular about the books that I'll listen to and I was really, really impressed with the narration in Storm Front. Marsters embodies the character of Harry with his narration, sighs and all. I certainly would have been intrigued by the character having just read the book, but I think the narration goes a long way to breathing additional life to the character of Harry. Good thing there's fourteen more books to listen to!
Narration aside, I thought Storm Front was a lot of fun. The book is an interesting genre bender combining urban fantasy with a more hard boiled detective mystery. Harry has that private investigator thing going for him, combining that with skills in wizardry and you've got yourself a unique character. The genre blend contributes to much of the fun in reading Storm Front. Yes, magic is all well and good, but when it's combined with a murder mystery, things start getting interesting.
Aside from Harry, Butcher creates other fabulous characters. A particular favourite of mine is the skull, Bob. Bob's kind of Harry's assistant, helping him to create potions and spells. And Bob has a lot of comments about Harry's personal life, of lack thereof. Surprisingly, Storm Front is funny, and a lot of the humour had to do with Bob. Lots of snickers when Bob is on scene. There's also policewoman, Karen Murphy. There's a fun dynamic between Karen and Harry in Storm Front. I'm not sure how seriously she takes Harry's claim of wizardry, but I'm rather interested to see how that plays out in future books in the series.
Storm Front is an impressive start to a series. This one introduces readers to a fun and compelling character that happens to be a wizard. The world building isn't fully fleshed out this point – I have questions about the White Council and why some people are aware of the magical world and some people are skeptical of it. But, I think the author creates a world that is explored enough to keep readers intrigued. If you want to know more about this world, it seems that you need to keep reading. And, that's exactly my plan.
Similar Reads
If you like the combination of mystery and urban fantasy, Ilona Andrews' Kate Daniels series is very similar. Like Harry, Kate is a funny character. All of Andrews' books include a mystery plot; however, it's not as recognizable as a mystery as Storm Front. Start with book one, Magic Bites.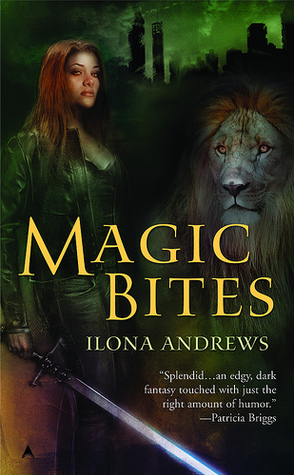 For a metafictional urban fantasy that is so much fun check out Jesse Petersen's Club Monstrosity. Frankenstein's monster, vampires, the wolfman – all those classic monster come to life. This one is sure to appeal to fans of the humour in Storm Front.