Winterwood by Jacey Bedford
DAW: February 2nd, 2016
Genre: Historical Fantasy
Source: Free from publisher
I'd go there again!

This book has so many of the elements I love in a good fantasy: pirates, fae, magic, a wolf shapeshifter, a heroine who disguises herself as a man, adventure, romance, an alternative historical setting… really, this book is just my thing.
Rossalinde (Ross) Tremayne, is introduced as she works her way to her mother's house, where her parent lays dying. Ross and her mother have had a difficult relationship for as long as Ross can remember, and she goes reluctantly. When she arrives, she discovers that her mother sent for Ross to trick her into taking up their family's heritage – a curse in the shape of a magical winterwood box. If Ross were to take up her destiny, she would restore balance to the world and in the process, drastically alter England.,
Ross lives in a magical alternate nineteenth-century England, where the captured and enslaved Rowankind serve humans. Magic is policed, and all practitioners are required to register with the government. In the ancient forests of England, different powers reign – the Green Lady and Lord, and farther away – the powerful, magical fae. These worlds collide as Ross follows the cursed box to her destiny.
At first, though, she resists. Determined not to have anything to do with it, she insists on continuing to captain her privateer vessel – the ship that was once her husband's. Her husband died three years before, and she still mourns him – to the extent that his ghost follows her around, helping her when he can and remaining her constant companion. This was the element I liked least about the book. I'm not a fan of ghosts, and while it served to add conflict to (and draw out) the romance between Ross and Corwen, the handsome wolf shapeshifter, I felt Will's ghost was distracting. The resolution of Ross' grief and the posthumous love triangle did work well, however, and it really brings out the complexities of Ross' character.
It might be expected that the first part of the plot, before Ross accepts the cursed box, would be boring. On the contrary, there is plenty of action. Ross leads her sailors in battles against other privateers and government agents as well and in the hand-to-hand combat that accompanies the battles. She intrigues with other pirates, sneaks through cities at night, and embarks on a harrowing nighttime river ride.
When Ross finally decides to restore the balance of the world, the bond between Corwen and her strengthens, she begins to focus on living, and the magic gets more dangerous. The powerful secrets of Ross' family are revealed, and we learn about the origins of the curse. The intriguing fae world becomes the setting for the climax, and the differences and relationships between the fae and the humans play a role in that.
So in this one book, we have a woman who disguises herself as a man to captain a privateer ship, whose destiny requires her to use her unique magical abilities to restore balance and entirely alter the current culture in England. An alternative England where magic is policed, the Green Lady and her Lord meddle in human affairs, and the fae live distantly but near. A dash of romance between our heroine and a wolf shapeshifter, and some kick-butt sidekicks. Lots of action, adventure, travel and danger. What more could you want? As for me, I'm happy.
Fans of historical and romantic fantasy will surely love this.
Similar Reads
Child of a Hidden Sea trades the fae in for parallel worlds. The heroine is a young woman from our Earth who ends up on a different planet with much more ocean and lots of political intrigue. Want to know more before committing? Read our review.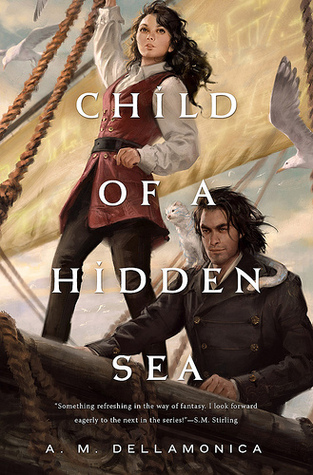 Dreamer's Pool is a more lyrical, slower-paced story about two outcasts and criminals who find their way to a new life with the "help" of a mysterious fae. Some political intrigue here, too, but there's also mystery. For more about this one, read our review.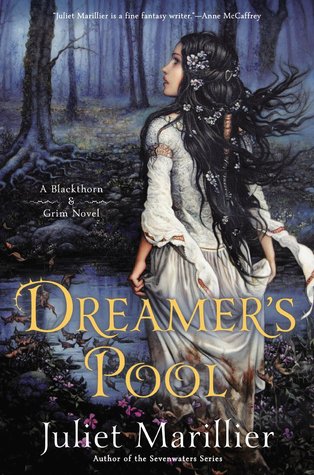 Petty Treason begins a swashbuckling trilogy set in a non-magical Regency England, where women have more freedoms, and one woman can be a private investigator, an expert swordswoman, and disguise herself as a man. This one has adventure, mystery, and light romance. (On an unrelated note, if you like the Sebastian St. Cyr mysteries by C.S. Harris, you'll definitely want to give this one a try).