Rebel of the Sands by Alwyn Hamilton
Penguin: March 8, 2016
Genre: Historical Fantasy; Young Adult
Source: Free From Publisher
I wasn't really sure what to expect with Rebel of the Sands. Basically, the whole idea of a YA novel being set in the desert hooked me as did a gun-toting young heroine. I was not disappointed.
Sixteen-year-old Amani is out of options. After overhearing her aunt and uncle discuss their marriage plans for her, Amani desperation transforms into action. When she inadvertently teams up with a handsome foreigner, Jin, Amani finds herself on the adventure of a lifetime and swept up into a rebellion.
Rebel of the Sands is everything that I love in a YA fantasy. There's adventure, magical and mythical beings, and romance. Rebel of Sands was just plain fun. There was a lot to like in Rebel of Sands, but what I think appealed to me as a reader was the theme of storytelling and its power to transform and shape the future.
Amani's life has been grounded in stories. Her mother told her tales about the city of Izman and she's grown up hearing about the First Beings; mythical creatures that have disappeared from Dustwalk. These stories influence Amani, filling her with a sense of yearning for something more than a future marriage. The adventure that Amani embarks on truly shows her the power of those words. First, there's the idea behind the story; what that story represents:
I'd never thought about whether I believed in God. I believed in the stories in the Holy Books the same way I believed in the stories of the First Mortal or Rebel Prince Ahmed. It never mattered to me if they were true. They had enough truth of greater ideas, of heroes and sacrifice and the things everybody wanted (p. 138).
This concept of story is passive. It's the interpretation of the reader who prescribes the meaning of the words that they read. For Amani those stories are inspiring because they show her "greater ideas" that she can reach for. And then there's the realization that these stories mean something to different people. What is a story to Amani is reality for the person that lived through it:
The Sultan's pretty young wife from the story. The one who was beaten to death for giving birth to Delila. She'd been a few words in the tale of the Rebel Prince to me. But she'd been flesh and blood to Ahmed (p. 204).
Now it is Amani's turn to become part of the story. Amani is no longer reader but storyteller. And considering Amani's nature, her words have power:
The second I'd forced the words out of my mouth, they were true. With Bahi's warning I'd thought it would feel different. That power would surge out of me as I felt my words rearrange the universe to make Shazad safe. But that was the danger. They were just words. They slipped out easily. Like any other words (p. 260).
The power that Amani wields with her words is without question, yet it doesn't require a powerful individual to create the story. It's interesting that the author chose to give Amani real power in words. Amani is not necessarily a master storyteller, influencing others with her words; rather, her words become truth in reality. Amani transforms from listener to storyteller, shifting from a character that has things happen to her to a character can shape not only her own future but the future of others. While Rebel of the Sands is a fast-paced adventure and a lot of fun, it is how the author played with the concept of story that made this something special and a read that stands out from the crowded YA arena.
Now that I've gotten that seriousness over with, it's time to emphasize the fun. Rebel of the Sands was an adventure. Amani and Jin are basically on the run from the get-go, trading barbs, running from the military, and dodging bullets. If you're at all a fan of adventure tales, you will adore Rebel of the Sands.
The romance was also really well done. I wouldn't say that romance is the main purpose of Rebel of the Sands; there is a rebellion happening and Amani does find herself in the middle of it. That said, the romance that is there is pretty freaking fantastic. I loved the dynamic between Amani and Jin. They had their sweet moments, but they also had their moments of hilarity and anamosity:
"You all right" Jin was watching me, clutching his side. "Amani?"
The way he said my name on a long exhale set me off like a spark in a powder keg. I swung my fist, straight for his face.
Jin grabbed my wrist before my knuckles could get flirting distance from his nose. He pulled me into him, knocking me off balance.
"Here's a tip for you." He was close to me now, close as he had been when he kissed me, or when I kissed him. "Don't try to hit a man in the face when he's looking straight into your eyes. You've got traitor eyes, Bandit."
I drove my fist into his gut hard enough that my knuckles popped. Jin doubled over, coughing. "Thanks for the tip." (p. 119).
Amani and Jin were great characters and the dynamic between them was fun and entertaining. Of course, since this story is through Amani's eyes, readers get to know her best. I loved that Amani was both naïve and unworldly and sarcastic and tough. Amani was a multi-faceted character and I can't wait to read more about her adventure. I'm ready for the next book, please.
Similar Reads
The desert and magic, well, what immediately comes to mind is Cassandra Rose Clarke's Assassin's Curse duology. If you enjoyed the setting of Rebel of the Sands as well as the fast-paced adventure, you're find Clarke's novels quite appealing. Start with book one, The Assassin's Curse and follow up with The Pirate's Wish.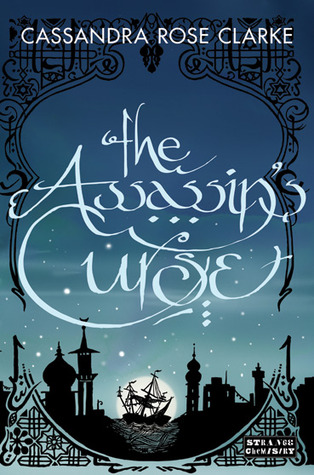 There's a scene very early in Rebel of the Sands where Amani tames a mythical horse that begins as a creature of sand. The imagery is stunning and it put me in mind of Maggie Stiefvater's The Scorpio Races, which features water horses. While The Scorpio Races is a quieter read, I think it will appeal to those that liked the world that Hamilton creates in Rebel of the Sands.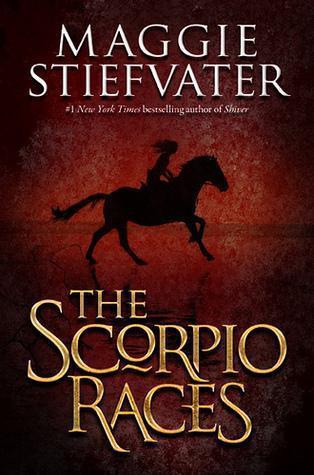 Lastly, I think Fire by Kristin Cashore is another excellent follow-up to Rebel of the Sands. The fact that creatures of magic as well as half-human descendants of those creatures are persecuted in Rebel of Sands reminded me of Fire since it's main character is a human monster. Fire is part of Cashore's Graceling trilogy, but I think it can stand alone as well.