Happily Bedded Bliss by Tracy Anne Warren
Signet: March 1, 2016
Genre: Historical Romance
Source: Free From Publisher
The view was nice, but the food was bad

Happily Bedded Bliss should have been my particular brand of historical romance catnip. The hero and heroine are forced to marry when it is discovered that the heroine has created a rather scandalous artistic picture of the hero (which is my delicate way of saying the young heroine sketched the hero naked, without his knowledge). Of course this revealing sketch is discovered and of course, everyone jumps to the wrong conclusions. Ah, a good old compromised romance; just my thing!
Unfortunately, Happily Bedded Bliss did not live up to my expectations. There were some good elements, but on the whole I didn't like it. The hero was appalling and the heroine was just too good to be true. There were too many moments where I found myself thinking that this one was more of an "old school" historical romance, and I will proudly admit that I am much more of a fan of the more modern historical romance, historical accuracy be damned.
Lady Esme Byron is barely out of the schoolroom and is nowhere near ready to settle down. She's content with her art and caring for her menagerie of rescued animals. Luckily her family has no need to push her into making an advantageous match, that is, until her scandalous sketch of Lord Northcote is discovered. For a scandalous family, the Bryon's are pretty quick to make sure that Esme makes it to the alter with Northcote.
Like Esme, Gabriel, Lord Northcote, isn't exactly thrilled about the whole marriage thing, but figures he's got to get married at some point and Esme is appealing. So, Gabriel marries Esme. Now, I didn't really by the whole forced marriage thing since Esme's family has such a scandalous reputation. If all the Bryon's are this scandalous, how could they possibly not weather the gossip of Esme's supposed "ruined" reputation? Despite the inconsistency, I could have gotten past this if it weren't for the hero. From the get-go, Gabriel was pushy, arrogant, and kind of, well, just mean.
Gabriel is in his thirties and Esme is only nineteen, you would think that he would have been a little bit more understanding of Esme's position in their relationship. These two are strangers to each other; as in they had never met before! But no, Gabriel pushes her into taking their relationship to levels of intimacy that Esme is not really excitedly anticipating. There was kind of a forced seduction thing going on that made me kind of uncomfortable. If that old-school romance vibe is your thing, that might not bother you.
Then, there's the whole fact that you would think that Gabriel is the nineteen-year-old and not Esme. I kind of expected Gabriel to be the mature party in the relationship, but instead he railroads Esme's feelings for him in favour of keeping himself safe. Not cool, Gabriel, not cool at all! For Esme's part, I liked that she had a naïveté about her when it came to relationships; this is expected considering her age and the time period. I also liked that Esme refused to easily give into Gabriel's demand for a true relationship when he's seeking her forgiveness. It was nice to see Esme progress from a character that acquiesces to her husband's demands to one that stands up for herself. If only Gabriel had a similarly believable transformation.
So, my main gripe with Happily Bedded Bliss is the hero. Gabriel just isn't great hero material. The anti-hero has his place in the romance genre, but I think there needs to be a greater exploration of the complexity that makes a character an anti-hero and I never felt that Gabriel's past really warranted the less than heroic attitudes and characteristics that he exuded. Happily Bedded Bliss was not a match made in heaven for me.
Better Reads
Esme's affinity for animals immediately put me in mind of Beatrix Hathaway of Lisa Kleypas' Love in the Afternoon. For those that also felt that Gabriel was missing a stronger characterization, I suggest that you will really, really like Beatrix's hero: Captain Christopher Phelan. The relationship between these two is both sweet and complex.
For another compromised tale, I suggest trying Susanne Lord's In Search of Scandal (you can read my review in full here). Charlotte and her dogged pursuit of her hero, Will Repton, remind me of Esme. This one is definitely lighter in tone, but a fun read.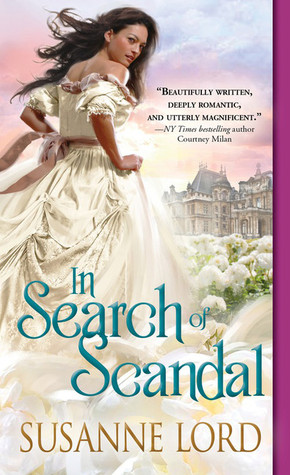 And lastly, for a hero that's kind of a jerk, yet manages to redeem himself, try Sarah MacLean's Nine Rules to Break When Romancing a Rake. Ironically, the hero of MacLean's romance is also named Gabriel and is also not always the kindest to his heroine. But, MacLean really makes this work in Nine Rules, so if you were disappointed with Gabriel of Happily Bedded, try this other Gabriel.