Swords and Scoundrels by Julia Knight
Orbit: October 6, 2015
Genre: Fantasy
Source: Free From Library
In all honesty I picked up Swords and Scoundrels because of the cover; seriously it looks badass. When I read the description I was even more intrigued. Here we have two siblings, Kacha and Vocho who are disgraced duelists, exiled from the guild for Vocho's apparent murder of a priest, whom they were supposed to be guarding. Now having taken to a life of crime, Kacha and Vocho find themselves embroiled in a larger conspiracy when they rob the wrong carriage and come to the attention of dangerous men.
What I loved about Swords and Scoundrels was the dynamic between Kacha and Vocho. Their relationship is your typical responsible older sister to the irreverent and frequently annoying younger brother. There was a lot of resentment between these two. Kacha has always envied her brother's freedom, feeling trapped in her own need to be perfect for the master of the guild. Vocho has always hated how his sister was the favourite of their father and then the master of the guild, questioning why he is always second best to Kacha. These resentments come to head in Swords and Scoundrels when larger forces at work start to manipulate Kacha and Vocho. The dynamic between these two was fantastic, and I personally would have liked a little bit more development in Kacha and Vocho's relationship. But, since these two are on the run, there wasn't a heck of a lot of time for heart-to-heart sibling chats.
The author also uses a number of "Interludes" that flashes the reader back to Kacha and Vocho's childhood and their years in the guild. I really liked how these technique was used. Not only did it give the readers a sense of how Kacha and Vocho's rilvary developed, it also showed how these two were manipulated by outside forces without their knowledge. I always love it when a book puts the reader "in the know" and the characters "in the dark". These interludes also offered new perspectives, including that of Petri Egimont, one of the men after Kacha and Vocho, who also happens to be Kacha's former lover. The inclusion of Egimont's perspective went a long way to making him a more complex character and less of a black and white villain. While I didn't think all of these characters were fully developed using this technique, I think that each of these narratives will be expanded upon in subsequent books.
So why didn't I give this one more suitcases? Well, I have to be honest, all that action and sword fighting doesn't always appeal to me. For me, I would have liked a character balance between the sword fighting and the character development (like Django Wexler's The Thousand Names). Reading about what's happening in a fight scene is never going to be my preference and since there is quite a bit of that in Swords and Scoundrels, I didn't completely love the book. That's not to say I'm not reading the next two books in the trilogy, just that I didn't love the story as much as someone who likes a lot of detail in the actions of their characters.
So, if you like your fantasy fill with action and adventure, Swords and Scoundrels is sure to appeal. Those that are more inclined to character rich fantasy should proceed with caution.
Similar Reads
For a similar swashbuckling tone, you can't go wrong with V.E. Schwab's A Darker Shade of Magic. There's lot of adventure, magic and awesome characters. See my review to see my thoughts on the awesomeness that is A Darker Shade of Magic.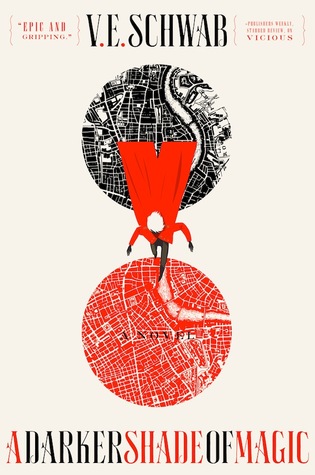 If you liked the whole sword fighting element to Swords and Scoundrels, then you might also enjoy Jennifer Roberson's Tiger & Del series. Sword fighting is a huge element in this series just as it is in Swords and Scoundrels. And if you liked the contrast between Kacha and Vocho, you'll probably enjoy Tiger and Del (even though they are definitely not brother and sister). Start with book one, Sword-Dancer.