Starflight by Melissa Landers
Disney-Hyperion: February 2, 2016
Genre: Science Fiction
Source: Free from publisher
Space adventure? Count me in!
When I heard about Melissa Lander's Starflight I was pretty darn excited. I am a huge fan of anything set in space and if there isn't an over abundance of science-y things, that makes things even better (for me, at least). Facts matter not! Starflight was a fun, space-set adventure, perfect for readers looking for something fast-paced and entertaining.
Solara Brooks is a young woman with a past. She's branded as a criminal and because of that she can't get a job. Desperate times call for desperate measures and Solara indentures herself to former classmate, Doran Spaulding, so that she can get passage aboard a ship. Doran had made Solara's high school life…not pleasant and doesn't do much better now that she's working for him (and I do mean that she works, she's doing his laundry, fetching his meals etc. I thought the whole servant thing would be more problematic than it was). Of course, the tide turns when Doran's framed for a crime he didn't commit and now has to rely on the very woman that he'd rather ignore. Space adventure gone sideways.

What I liked about Starflight is that it was exactly what it claimed to be. It was a adventurous romance. There was a lot of action, space chases, but there was equally a lot of emphasis on the romance between Solara and Doran. Now, for those who feel some trepidation about a romance between two characters where one is so obviously in a position of vulnerability (Solara is Doran's servant after all), I don't think you need to be concerned. The idea that Solara is Doran's servant and therefore bound to his authority made me a tad nervous, especially because I knew romance between them was going to be a big part of the book. There was potential for this to really, really not work. While I didn't think the potential power disparity between Solara and Doran was fully explored in Starflight, I still enjoyed the book. Doran treated Solara like crap when she was working for him, but he didn't cross the moral Rubicon. That said, I couldn't help but think of the possibilities of what could happen to someone like Solara in this situation and the potential for gross abuse if she had indentured herself to someone else. So, I think some readers might need to suspend some belief when it comes to this whole indentured servitude thing.
The thorny issue of class and unequal power aside, the romance between Solara and Doran was a lot of fun. These two hated each other and they both made it very clear. Solara even gets the chance for Doran to act as her servant, which I think helped to balance out their initial uneven status. Being forced to work together, made both Solara and Doran realize new things about each other, making them see each other in a new light. The tried and true enemies-to-lovers trope is in action and doing well in Starflight.
The only other niggle I have about Starflight is that I personally found it really long. While the action and adventure element had a lot of appeal, at times, I found it made for a lengthy read. There was a lot of stuff going on in Starflight, a lot of stuff that Solara and Doran find themselves involved them. I didn't always find this to be effective, but it will likely appeal to readers that enjoy heavy plotting. And, it sets up book two very nicely.
For a sci-fic adventure/romance, Starflight accomplishes the job. The characters were engaging, the romance was mature for a YA book, and it was all-in-all a fun read. I need more space adventures in my life!
Similar Reads
For another space-set adventure/romance, try Amie Kaufman and Megan Spooner's Starbound trilogy. While I wasn't a huge fan of the last book in the trilogy, books one and two were really good, and I think they will appeal to those that enjoy the romance in Starflight. Start with book one, These Broken Stars.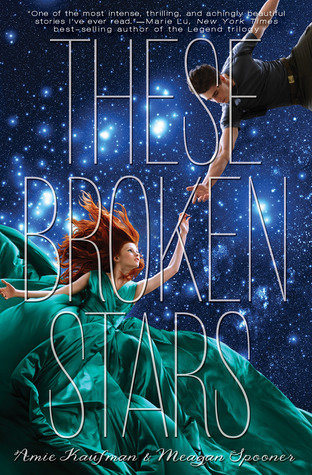 For those looking for a harder sci-fi read, try Rhonda Mason's The Empress Game. This book was a lot of fun and it had a pretty nice romance in it. Like Starflight, this one had a great balance between action and adventure and romance.