The Dark Days Club by Alison Goodman
Viking Books for Young Readers: January 26, 2016
Genre: Historical Fantasy
Review: Free from publisher.
The plane was delayed, the luggage lost, and the museums closed.

It's rare that I don't finish a book, and I'm sad to say that this was the case for The Dark Days Club. Never have I been so disappointed that I did not like a book. I should have loved Dark Days; the setting alone is my particular brand of literary catnip. Alas, there was something about Dark Days that did not jive with me; a case of "it's not you, it's me," if you will.
Lady Helen is about to make her curtsy to the queen and embark on the husband hunt in Regency London. After a maid from her uncle's household goes missing, Helen vows to investigate and learns about her own secret heritage. It turns out she's a bit of a demon hunter and some lofty Earl, Lord Carlston, is supposed to teach her what that means. Oh, and did I mention that said Earl is suspected of murdering his wife. So, not only does Lady Helen have to contend with her entrance into society but also the discovery of a whole other society hidden beneath the surface of the ton, sworn to protect the masses from the supernatural. The premise of Dark Days is freaking awesome. When I heard about this book, I was sure that I would love it. Demon hunting debutante? Um, pretty sure alternative history doesn't get more exciting. There is absolutely no question that the writing and the plotting of Dark Days is fantastic. The level of detail about the historical period and the unique aspects created for the benefit of the book were well depicted. Yet, for me, something was missing, and I'm struggling to put my finger on exactly what it is especially considering there were many things that I found compelling in Dark Days.
The specific element that I loved about Dark Days is the character of Lady Helen. Helen is an orphan and her mother has a terrible reputation as a traitor to her country. Taken in by her aunt and uncle Helen is under constant surveillance in the event that she turn out just like her mother. The repression and the sense of powerlessness that pervades Helen's character is a part of the novel that I so enjoyed exploring. Considering the fact that Helen has supernatural abilities, it is interesting that she's so powerless in so many other ways, like the fact that her uncle could decide to marry her off to a man older than her father. Helen's lack of agency is kind of terrifying, which is made even more so since I felt it is historical representative of woman in Helen's position during the Regency Era. The tension of Helen's existence is suspenseful because of her lack of agency. That said, I will admit to feeling frustrated in how long it took Helen to start making a move towards independence, and it is the slow pacing and emphasis on the details that lost me in the end.
The pacing of Dark Days is hampered by a huge emphasis on communicating details to the reader. If you're a fan of this kind of writing, you will appreciate Dark Days for that fact. Since I'm a reader that's a bigger fan of characters and their interaction with each other, I struggled with Dark Days because of that fact. Yes, Helen is a great character, but she is trapped in a role, and while that role is historically accurate, it makes the exciting paranormal adventuring a little restricted. I was hoping for more emphasis on Helen's entrance into the Dark Days Club and her interactions with the other members and what I got was a lot of emphasis on attending balls, social events, and receiving callers. For me, the emphasis on daily life bogged the narrative down and I ultimately lost interest.
While The Dark Days Club was not a good read for me, I think it will to appeal to specific readership, namely those that thrive on books filled with the minutiae. Despite not finishing Dark Days I can't say that I wont be back. Since I read the ending (naturally) after deciding that I wouldn't continue reading, I suspect things are going to change greatly for Helen. If book two moves Helen into a position of greater independence and therefore into closer interaction with characters that were previously barred to her, I think I might give the series another shot. For now, I don't have the patience for a such a detail-oriented read, but that's not to say that tastes don't change.
Similar Reads
While An Ember in the Ashes is set in a very different time period, I think fans of Lady Helen will appreciate the character of Laia. Like Helen, Laia lives in a world where her own agency is compromised and this world is brutal. There is a lot more interaction between the main characters and just a hint of romance here.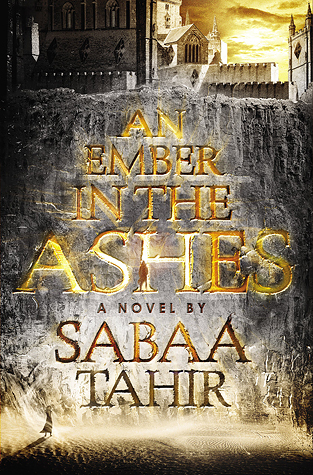 Like Dark Days, Jessica Leake's Arcana features another debutante that learns about her secret, magical heritage, and she's also attracted the attention of a mysterious young nobleman. If you were hoping for more romance between Lady Helen and Lord Carlston, you will be sure to enjoy this lighter read. See my full review here.