Vienna Waltz by Teresa Grant
Kensington: April 1, 2011
Genre: Historical Mystery
Review Source: Free from library.
Vienna Waltz is a historical mystery set at the Congress of Vienna in November 1814. Our principle investigators are married duo Malcolm and Suzanne Rannoch. Malcolm is part of the British convoy of diplomats attending the Congress with Lord Castlereagh; he's part attaché and part spy. Suzanne has her own skill set and proves to be a valuable asset when Princess Tatiana, a woman rumoured to be the mistress of some of the most powerful men at the Congress, is found murdered.
Teresa (a.k.a. Tracy) Grant has been on my radar for a long while; however, I've always been hesitant to pick up the series since it has a very strange publication order. Originally, the series began with Malcolm and Suzanne as Charles and Melanie Fraser. Later, the author changed publishers and the characters changed into their existing form. Basically what I was worried about is how exactly I should read these books. Luckily, the author has shared a handy guide on her website and gives readers a recommended reading order. It's this reading order that I've decided to go with.
Malcolm and Suzanne have been married for two years. They originally met in Spain during the war and Malcolm offered Suzanne marriage as she had lost all her family due to war (and was inconveniently pregnant and unmarried). Thus, the marriage can be seen as one of convenience; however, it's clear immediately in Vienna Waltz that there are some finer feelings between Malcolm and Suzanne, which is further complicated due to Suzanne's own mysterious past. If you want to know more about how their marriage came about, I urge you to read the prequel novella, His Spanish Bride.
In Vienna Waltz, Malcolm and Suzanne's new marriage is tested when Suzanne finds Malcolm standing over the body of Princess Tatiana. Are the rumours in Vienna true? Is Tatiana Malcolm's mistress? Exactly the kind of rumours that a new bride, who isn't entirely sure of her husband to begin with, wants to hear. Despite finding Malcolm in such a compromising position, Suzanne decides to lend her support and assists Malcolm in his government-sanctioned investigation. Soon the pair are tracking down Tatiana's blackmail victims and discovering an assassination plot. Are the two linked and can the mystery be solved without turning into an international incident? Considering that Malcolm's a spy, I think we can safely assume that he's got a few tricks up his sleeve.
Vienna Waltz turned out to be an outstanding read and I loved the even-handed balance between the mystery, historical detail, and character development. Despite being on the lengthier side, Vienna Waltz never dragged and I never felt that a piece of the puzzle was missing. All too often in the mystery genre do I find that the mystery is developed at the expense of the characters solving in. This is not the case in here. Yes, the details are sparse; Malcolm and Suzanne are both mysterious and clearly keeping many secrets from each other. If you read His Spanish Bride you will instantly know the big one about Suzanne that I'm referring to. I really liked how these two characters are still feeling each other out in their early marriage. They also have a young son, Colin, who they both dote on, but when it comes to each other they both show caution. It's a relationship that can be richly developed in a series and it stands out as the main attraction for me to keep reading. I can only assume that Malcolm and Suzanne will have their ups and downs as their secrets become revealed, and I have to say that I can't wait to find out how all of this plays out. There are some pretty heavy implications to the secrets that Suzanne in particular is keeping.
What I was also surprised to really like was the author's choice to include the perspectives of additional characters (historical and fictitious) involved in the mystery. I wouldn't have thought this would have been a smart move and it could have bogged down the narrative, but what I really liked was the focus on those characters' emotional state. For example, readers see what life for Tsarina Elisabeth is like; the mistakes of her past; her longing for a former lover. This added such an interesting and intimate quality that created an unexpected dimension to the mystery. Considering the number of suspects involved in the murder, it was useful to get an understanding of their motivations and feelings when choosing to make a specific action.
Vienna Waltz was a very good book. The historical detail was fabulous, the mystery filled with political ramifications, and the investigative duo were outstanding and complex. I'm only able to stop myself from starting the next book in the series to write a review; I doubt I'll be writing reviews for the next installments – I'll be too busy binge reading!
Similar Reads
If you're a fan of the historical setting in Vienna Waltz than C.S. Harris' Sebastian St. Cyr series is an absolute must. While this series is set primarily in London, it is during the same time frame. The main character, Sebastian is himself a veteran of the Napoleonic Wars – and he also happens to be a spy. This is another series that combines character development with a mystery really well. It's essential that you start with book one, What Angels Fear.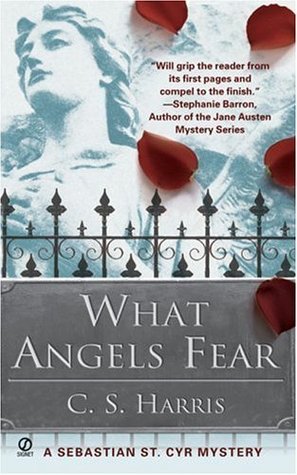 For another series that also features spies during the Napoleonic Wars, Lauren Willig's Pink Carnation series is another good follow-up. While this series is somewhat lighter than Grant's, I think it also has a lot of the same, great historical details. And, many of Willig's spies of young ladies, which will appeal if your a fan of Suzanne's character. Start with the first book in the series, The Secret History of the Pink Carnation.