The Banished of Muirwood by Jeff Wheeler
47North: August 18th, 2015
Genre: Fantasy
Source: Free from publisher
The plane was delayed, the luggage lost, and the museums closed

Maia, princess of a kingdom, is disowned and banished by her father, the king, who's gone Henry VIII-with-Anne-Boleyn on her mother. On the run with only a guide/assassin to aide her, she attempts to travel to a distant land for help. Along the way, she gets into trouble, gets rescued, forgets and remembers her earlier life, and … travels.
As a warning, my review is full of spoilers.
I wanted to like this book, I really did. Everything felt just left of center, though. The writing made Maia feel distant, Maia herself was too helpless for my tastes, and the worldbuilding confused me.  The flashbacks made it even harder for me to understand the plot and worldbuilding. At different times, the book reminded me too strongly of The Hobbit, Cinderella, and Henry VIII.
To start with the plot, Maia is possessed by a spirit who controls her memories. So when Maia is herself, she remembers nothing about certain events in her life. When the spirit takes over, she forces Maia to relive some of her past instead of being aware of the present. One of the most important plot developments (when the spirit possesses Maia) happens off-screen, and we are only told about it afterward in a flashback, as Maia pieces together her past.
The worldbuilding either had holes in it, or I wasn't paying attention (I might have been skimming). I never had a clear mental picture of the geography of the continent and the countries within it, and I never completely understood the politics.
As for Maia, I felt she was weak and not dynamic. Throughout, she leans too much on the people who appear solely to help her. She never accomplishes anything for herself, just depends on other people to save her. In minutes, she inspires loyalty from strangers, without really giving them any reason to want to follow her. I would have enjoyed this  book much more if she had been given more ownership of her own storyline, instead of tagging along behind her companions/helpers.
I would not recommend this book. We did not get along. I would, however recommend these…
Similar Reads
Uprooted has the same international magical politics, and a young heroine with a special destiny. It also has a dragon, and a bit of the Beauty and the Beast flavor. Read our joint review by clicking on the image below. We both loved it!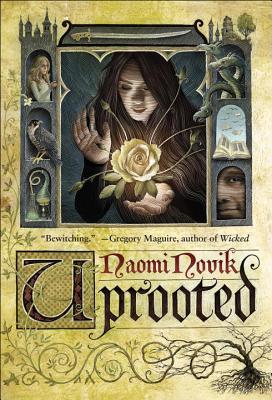 I haven't finished The Witches of Eileanan yet, but so far I'm enjoying it – a young orphaned witch, Isabeau, who has lived alone but for her forest witch mentor, is sent on a trip across the land to apprentice with a witch in the capital city. The queen hates witches and hunts them down, so Maia and Isabeau face similar dangers.