The Girls She Left Behind by Sarah Graves
Bantam: January 5, 2015
Genre: Mystery
Review Source: Free from publisher.
I'd go there again!

In The Girls She Left Behind readers return to the stark and desolate Bearkill, Maine where former Boston homicide detective, Lizzie Snow, continues to search for her missing niece. Frustrated by the lack of in her niece's case and by her complicated love life, Lizzie's decided that it might be better if she heads back to Boston. But before she makes any decisions, Lizzie's got a missing persons case to solve, and it's becoming increasingly clear that it's not a case of a teen running away, but something much more sinister.
Having really enjoyed the first book in the series, Winter at the Door, I was really looking forward to the second installment (in fact, it is one of my most highly anticipated winter reads). The character of Lizzie Snow and her incongruous fit with the rural community of Bearkill immediately had me hooked. The personal issues Lizzie's going through kept me as interested as the mystery. The second book was no different; however, I did find it more disturbing and darker than the first book and a big part of that is due to the type of case that Lizzie is investigating. There's a missing teenage girl and an escaped serial rapist and murderer on the loose (call me crazy, but this is pretty terrifying). This is a setup that immediately ratchets up the suspense and gives The Girls She Left Behind a very disturbing tone, especially when readers diverge from Lizzie's perspective.
What also makes The Girls She Left Behind an engaging read is the sense of atmosphere that the author creates. The weather in both the previous book and the latest is used to add another level of suspense. Here, it's forest fires that are complicating the efforts of Lizzie, her boss and her ex, Dylan, from rescuing a missing girl. The environment, like the villain of the mystery, is unforgiving. While this imagery isn't necessarily original, it does evoke a certain atmosphere that ultimately enhances the reading experience, especially if you're a fan of mysteries that are set in less urban locales.
I was less entranced this time round with Lizzie's love triangle with the reliable good guy, Trey, and her ex-boyfriend, Dylan. I like the personal struggles that Lizzie has going on in her life as it gives the series something to balance out the mystery, but the back and forth was a bit tiresome in The Girls She Left Behind, especially since it didn't seem to make any progress whatsoever from book one. For the next book, I'm really looking for the author to build some momentum in Lizzie's relationships.
If you're a fan of rural mysteries and not keen on a procedural tone than the Lizzie Snow series is for you. Slowly readers come to know it's main investigator and at this point, I'm not ready to let go of Lizzie. Are there some holes in the overarching mystery, heck yes, but as this is a series, I'm willing to cut the book some slack and practice some patience in waiting for the next book to reveal more. I can only hope that the mystery of Lizzie's missing niece moves to the forefront and that Lizzie makes some progression in her personal life. There's nothing worse than a series that stagnates. At it is, this is only book two, and I'm enjoying the character and setting enough to hang on to see what's next for Lizzie.
Similar Reads
For another read that also uses it's setting to ramp up suspense, J.S. Law's Tenacity is a really, really good choice. In this case, it's not the natural environment that's a threat to the investigator, but the secluded nature of being the lone female investigator on a submarine out at sea. See my full review for why you need to read this book.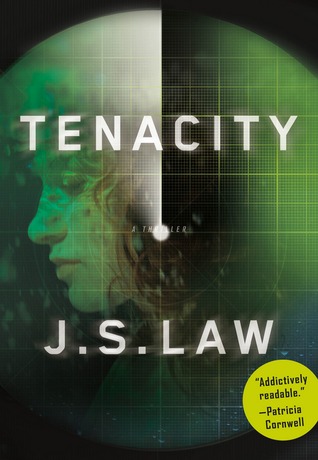 For more similar reads, check out my review of the first book, Winter at the Door.