City of Light by Keri Arthur
Signet: January 5, 2016
Genre: Urban Fantasy
Source: Free from publisher
We often agree in our assessment of books, as our reviews of  Tower of Thorns, I Spy a Duke, and Uprooted show. This time, we disagreed. Stacey loved it; Jaclyn barely finished it. We all know reading experience is personal, a relationship forged between author and reader.
Read on to find out what we loved and what we didn't. Hit the comments and let us know how you feel about it.
The Book…
In a world still recovering from a war between shifters and humans, Tiger is alone. As a déchet, a creature created by humans to balance the field against the shifters, she alone remains among her kind. Despised or hunted by all races: shifters, humans, and vampires, she hides in a destroyed bunker with the ghosts of her past. Until the night she leaves her bunker on a supplies-gathering mission and hears the cry of a child. Unable to ignore the cries and leave the child, Penny, for the vampires to eat, she unwittingly becomes entangled in an attempt to save other kidnapped children like Penny. Penny's uncle Jonas, a full shifter, and a woman named Nuri, are investigating the disappearances of these children, and need Tiger's specialized skills to succeed.
Stacey's Adventure
I really enjoyed this book. It fits in the "comfort read" category for me – which has been true for many urban fantasy novels in the past few years.
The post-war world is filled with deprivations, dissonance and racial tensions, as well as danger. The various supernatural creatures (vampires, shifters, ghosts) and the humans all have their place in the world, and everything fits well together, even the magical shifters and technologically-inclined humans. I loved that Tiger's life and surroundings were so vivid and connected to her actions and emotions.
There is a lot of buried history in this book – Tiger has been in hiding since the war ended more than 100 years ago. The night she nearly died haunts her, and she continually tries to forget it. There are hints about her work during the war, and an assignment that went terribly wrong. The people she works with to rescue the kidnapped children also have memories of the war that influence their actions and beliefs. Neither Tiger nor Nuri and Jonas want to reveal exactly who they are to the other party, which leaves a lot of their history unexplained. It saves the book from infodumps, and I hope we get to learn more about it in the sequels.
The complexity of the characters and their relationships is expressed subtly, through their actions and reactions as well as their thoughts. The alliance between Tiger and Nuri and Jonas is tenuous, and filled with wariness and distrust. As a déchet and a shifter, Tiger and Jonas are mortal enemies, which is complicated by an unusually powerful mutual attraction. Tiger fights her awareness of her attraction to Jonas, and Jonas pretends he is not attracted to her. Neither can afford to be at a disadvantage with the other as they work together. Nuri is a mystery – very powerful, very secretive, almost all-knowing. But her omniscience is complicated by her own prejudices.
Tiger was a big draw for me. Her rank among the déchet is "lure" – she is a seductress, spy, and assassin, programmed to attract and be attracted by alpha shifters. Yet, she has this amazing capacity for humanity and compassion that no other character has. Uniquely, she is the only individual not consumed by hatred or contempt for others who are different.
As the last of her universally despised race, Tiger longs for acceptance. Throughout the novel, her actions are driven by her hopes that, against her expectations and others' prejudices, the danger she puts herself in to find and rescue the children will win her acceptance, from someone, finally. Her natural inclination is to connect with others, but circumstances have taught her that to live alone is safer. Who hasn't at some point felt like an outsider, lonely and unaccepted? Many will be able to relate to Tiger's fierce desire and disappointment.
Readers will have to wait until at least book 2 to find out if her actions were convincing enough to change Jonas' and Nuri's opinions of her and get them to see her as an individual instead of a stereotype.
This book was not as gripping as some other urban fantasy series, such as Mercy Thompson or Kate Daniels, but it has an interesting, unique world and characters. Fans of those series will likely enjoy City of Light. A good, fast, pleasure to read. While I hate cliffhanger endings, this one has me hooked. Bring on book 2, and quickly! In the meantime, I'll be looking for more read-alikes.
Jaclyn's Adventure
The view was nice, but the food was bad (meh).

Unlike Stacey, I struggled to get through this book. There were some really cool concepts that I truly enjoyed, but I found that there was an emotional disconnect from the actions of the characters and what the characters were feeling when they did certain things. Considering the fact that I am a reader that gravitates towards richly developed and emotionally complex characters, I found this lack to be the big reason why I didn't like City of Light as much as I would have expected. For me, too much time was spent on detailing the actions of the characters and not enough time spent on the internal journey of the character. Personal preference raises its ugly head.
The concept that I found really intriguing in City of Light is Tiger's status as a déchet, a humanoid bio-engineered by humans. The idea of what makes someone human is a concept that I find really interesting when it is explored in science fiction. Ann Leckie's Imperial Radch trilogy is another look at what it means to be a person; however, instead of focusing on genetic modification, Leckie instead explores whether or not an artificial intelligence can be a person. Like Leckie's main character, Tiger is considered less because of how she was created. Tiger was created in a test tube and bred to serve a specific purpose as a spy during the wars. Considered by humans and shifters as essentially trash, Tiger rightfully conceals her origins from those that want her help in City of Light. Interestingly, though considered less than human or shifter, Tiger repeatedly demonstrates her capacity for "human" traits, exhibiting such characteristics as empathy, kindness, and guilt (to name a few). While others consider what Tiger is to be inhuman, it's the human characters like Nuri that exhibit more of lack of sympathy for their fellow man. The exploration of Tiger's origins was an aspect of City of Light that I truly loved and it's what I'm interested in seeing explored further in the second book considering the fact that Tiger's déchet status is now know by a much wider circle of people.
What didn't work for me was the emphasis on actions and this is where I have to chalk up my lack of enthusiasm to a personal preference. In general, I am not a fan of books that focus on what the characters are doing. I what to know what they are feeling or thinking when they are doing something. In City of Light there was a lot of emphasis on detailing what Tiger was doing: cleaning weapons, setting traps, traveling to locations etc. This is a level of detail that I am not fond of and I found that it bogged down the pace of City of Light. I think that those who enjoy a high level of world building will appreciate City of Light more than I did. The author has taken a lot of time to describe the world in which Tiger lives from the bunker where she hides to the slums where she encounters those looking for her help. If you like this kind of world building City of Light is for you.
While City of Light was not my favourite read, I do think that the ending was a bit of a saving grace for me. Finally Tiger showed some of that emotion that I was hoping for. Throughout the book the only strong emotion that Tiger exhibited was towards her little ghosts, and finally at the end Tiger shows her anger and resentment towards those that have blackmailed her into helping her all the while reviling what she is. I want to know how the other characters will react to this other side of Tiger and whether or not their opinion of the déchet will change once they get to know Tiger. And here's hoping that the romance gets ramped up; there was not near enough of a romance in City of Light, especially with a focus on all the secrets and lies amongst the characters that could potentially be involved in the romance.
Now that you know what we think, we'd love to know where you stand. Let us know in the comments!
Similar Reads
Both Patricia Brigg's Mercy Thompson series and Ilona Andrews Kate Daniels are excellent follow-up reads. Don't forget to start with the first book in each series; these books need to be read in order!
Anne Bishop's The Others series matches the apocalyptic setting with shifters, a heroine who does not fit in, and a much more dangerous world for humans. It also questions the definition of humanity.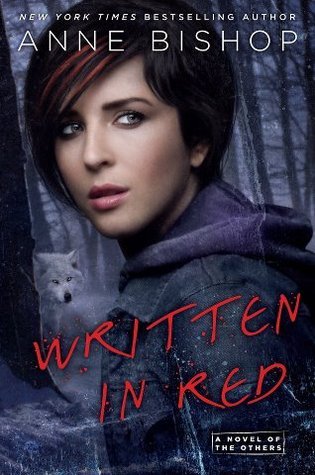 If you were hoping for more romance in City of Light, you are likely to enjoy Jennifer Ashley's Shifters Unbound series. Ashley's series is strictly paranormal romance, but if you liked how Arthur's book explored the idea that Tiger was less than human because she was a déchet, you will also like Ashely series as all shifters are considered less and kept in shiftertowns rather than being allowed to interact with the general, human population. Start with book one, Pride Mates.