Dukes Prefer Blondes by Loretta Chase
Avon: December 29, 2015
Genre: Historical Romance
Review Source: Free from publisher.
I'd go there again!

All I can say after finishing Dukes Prefer Blondes is: well, that wasn't what I was expecting. And I mean that in the best possible way. I will admit that I judged this book on it's cover and title, assuming that it would be delightfully frivolous. However, I was blown away by the writing, detailed historical facts, and by the author's examination of what it means to be a woman of the upper class. This, my friends, is exactly what I love about the romance genre. For all that it gets a bad rap for giving folks unrealistic expectations or being viewed of lowbrow reading, there's so much more behind the fluffy packaging and Dukes Prefer Blondes is a perfect example of this.
Lady Clara Fairfax has a problem; she needs to rescue a friend's younger brother, Toby Coppy, from the clutches of a criminal gang, but being a lady there's absolutely nothing in her power that she can do to help. That is, unless she recruits someone to do the job for her (with her help, of course). After bumping into Mr. Oliver "Raven" Radford, a barrister of no small reputation, Lady Clara decides he's just the man to help her discover Toby. Radford, is less inclined to assist Lady Clara, but for some inexplicable reason he just can't seem to resist…
What I loved about Dukes Prefer Blondes is the utterly hilarious sarcastic arguments that Clara and Radford have. If you're not reading closely these two can sound rather mean, but when you factor in sarcasm, their arguments become so much more. Clara might be a lady, but she has no problem sharpening her tongue on Radford, who definitely deserves it. Radford for his part soon discovers that Clara is not like the usual woman that he's used to dealing with. What's more is that with Radford, Clara is free to express how claustrophobic her own life is, even if she lives in the lap of luxury.
"You've no notion how I live in the world you call a fantasy," she went on in the same taut tone. "You've no idea what it's like to spend your life wrapped in cotton wool, with all about you protecting you, mainly from yourself, because you don't behave as they think a girl ought to do, and they believe something's wrong with you. You don't know what it's like to watch your brothers go away to school and make new friends and have adventures you'll never have, even vicariously, in books. You don't know what it's like to be scolded for reading too much and knowing too much – to be taught to hide your intelligence, because otherwise you'll frighten the gentlemen away – to stifle your opinions, because ladies aren't to have any opinions of their own, but must always defer to men." She stamped her foot. "You know nothing about me. Nothing! Nothing!" (p. 71)
The way in which Clara expresses her feeling of being trapped by her class and gender is heartbreaking. There are numerous occasions in the book when Clara has to stifle her voice or change her behaviour to fit a specific expectation. Only when she's with Radford does Clara express her true opinions, eventually only using her ability to mask her true thoughts in teasing Radford. The relationship between these two was beautifully rendered, filled with sharp words, conflicting opinion and a deep respect for the each other. So if you're looking for a romance that's witty and biting, Dukes Prefer Blondes is the romance to read.
Despite my love for the romance between Radford and Lady Clara, I did have some minor quibbles about the book, mainly the title. The title is a huge misrepresentation of the book. Radford is not a duke for the majority of the book and his devotion to Clara has nothing to do with her blonde hair. While the title doesn't really have much bearing on the content of the book, it is an aspect that really nags at me. Don't let the title fool you, this book is not about dukes nor is it about a duke who's looking for love with only a blonde woman. Instead it's about a barrister that might one day be a duke but would rather continue to practice law and the young lady who happens to have blonde hair and would happily move outside her class to marry someone of lower rank. Putting that into a catchy title, might be a tad difficult.
So, if you're looking for a historical romance that embraces historical details (like dressmaking, lawyering etc.) and involves a verbal sparring contest between its leads, look no further than Dukes Prefer Blondes. I'd also recommend shoving this one into the hands of any romance naysayers you know – this is a perfect example of why the romance genre is more than just sex.
Similar Reads
If you're intrigued by the Radford's profession of barrister, you might also be interested in Alissa Johnson's A Talent for Trickery, who's hero is a thief taker. I also really liked that the author explored some really interesting notions of class and crime and the connection between them. While it's not as witty as Dukes Prefer Blondes, I think the thoughtful exploration of crime and class will appeal to fans of the historical detail prevalent in Chase's novel.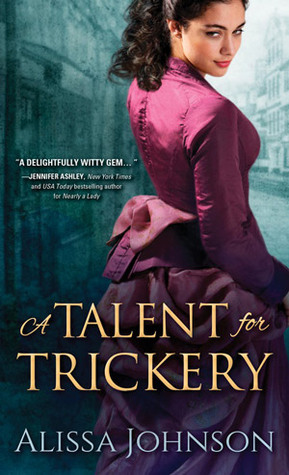 If you're a fan of the biting dialogue in Dukes Prefer Blondes, then I suggest following up with Susanna Ives' Wicked, My Love, which has some pretty fabulous and entertaining dialogue between a would-be politician and a very smart spinster. See my full review.
If you're a fan of the historical detail then you could read any book by Courtney Milan, who is always very good about incorporating historic facts into her romances. If you're looking for something similar to Dukes Prefer Blondes, then I would recommend Unraveled since it features a similarly gruff hero. It's certainly a little darker than Chase's novel, but I think fans of character-driven stories with a legal plot will enjoy this one.