Quicksand by Carolyn Baugh
Forge Books: September 29, 2015
Genre: Mystery
Review Source: Free from library.
I'd go there again!

Quicksand is a short, satisfying thriller that caught my attention for two reasons: lady investigator, and a lady investigator of Egyptian descent (i.e. diversity).
Officer Nora Khalid is part of a joint task force with the FBI in Philadelphia where their main goal is to help keep the streets safe. When a young girl is murdered in what appears to be a gang-motivated killing, Nora and her team are called to investigate. Soon after, another young woman is brutally murdered, which indicates to the team that there might be another gang operating in the area.
What I really liked about this one was the main character, Nora. Nora is of Egyptian descent, her parents having immigrated to America to raise her and her younger brother. While I appreciate the fact that this showcases diversity, I really liked how Nora's background became part of the story. Nora is conflicted because she is ambitious and loves her job, but she also wants to appease her more traditional father. Becoming a cop was a big deal for Nora and she is passionate about her job; however, this often means that she has to shield her family from some of the truths of daily life on the job. The tension between Nora's own ambitions and her father's more conventional dreams for his daughter, added a really nice human aspect to the overarching mystery of the novel. The question becomes whether or not Nora will cave to the pressure of the family that she cares for or stay true to her own path. Love this kind of inner character conflict and I think it's a very relateable experience. The exploration of this kind of personal growth is what keeps me intrigued as a reader, and it's why I liked Quicksand so much.
What I was less enthused about was the "romance" between Nora and her FBI colleague Ben. Now, I suppose I might be picky because I'm a romance reader so I expect certain things when romance crops up, but I thought in this case, it came across as a little naïve and juvenile. Now, on Nora's part I buy this feeling since she's never dated, but I didn't really expect or believe it on the part of Ben. There were a lot of deeply felt emotions for people that haven't even been on a date and who don't really spend all that much time together in the book.
What I did find really refreshing about Quicksand was the portrayal of these cops and FBI agents as normal people. In many mysteries and romantic suspense stories cops and special agents appear larger than life, almost superhuman. That wasn't the case here. Nora in particular wasn't treated as some special superstar, she was a rookie, a talented one, but a rookie nonetheless. Her boss was her mentor and this teaching relationship was a great aspect to the book. This struck me as something different than my usual reading and it was another large part of why I liked reading Quicksand so much.
If you're a mystery fan that likes human stories, Quicksand is an excellent read. The author doesn't shy away from the realities of crimes and gang violence, but it is nicely balanced out with the human side of the investigative team.
Similar Reads
Nora's difficulties in her job sometimes stem from her background. This discrimination immediately put me in mind of J.S. Law's Tenacity, a read that I thought was fabulous. Like Nora, Danielle "Dan" Lewis puts up with a lot of crap as an investigator and as a woman. While I found Tenacity to be much darker and have a higher level of suspense, I think readers will also appreciate the unique situation Dan is placed in.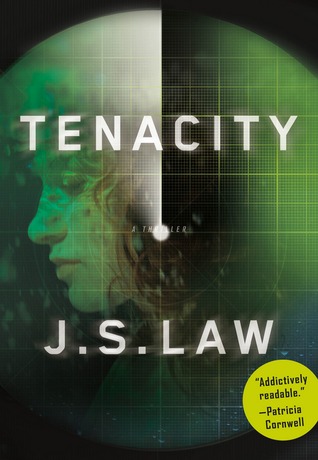 If you liked the tone and the focus on characters and their relationships with each other, you can't go wrong with Sarah Graves' Winter at the Door. There is a lot of inter-personal drama with main character, Lizzie Snow and her ex-boyfriend, of which I was a quite a fan.