Ancillary Mercy by Ann Leckie
Orbit: October 6, 2015
Genre: Science Fiction
Review Source: Free from library.
I'd go there again!

I had Ancillary Mercy sitting on my shelf for over a month before I actually picked it up to read. Not because I didn't want to read it, but because reading it means that Leckie's fantastic trilogy is at an end.
Ancillary Mercy fantastically wraps up the story arc established in the first two books while also leaving readers frustratingly unsatisfied, after all, "Every ending is an arbitrary one. Every ending is, from another angle, not really an ending" (p. 316). And that contradictory ending, which is is both satisfactory and unsatisfactory, pretty much sums up what I have enjoyed about Leckie's trilogy: she makes me think. Whether I'm thinking about the nature of language, or the nature of personhood, or the concept of citizenship, or the host of other compelling subjects tackled, I'm always deeply engrossed in this world and the cerebral nature of it. In Ancillary Mercy, Breq finally comes to the point where she can get the revenge on the ruler of the empire, Anaander Mianaai – or at least the segment of her that Breq comes into contact with. Anaander Mianaai arrives at Atheok Station soon after peaceful protests begin and Anaander promptly moves to have Fleet Captain Breq taken into custody as she is an ancillary and not actually a person capable of running a fleet. Of course, another version of Anaander put Breq into this position of power in the first place…
Confusing, I know. But, I like this confusion and the way that this is explored in theme of identity that has been threaded through all three books in the trilogy.  In Ancillary Mercy we see this notion of identity or personhood taken to the next level as Breq starts to consider her own identity as well as that of other ships (i.e. artificial intelligence). Why should Breq be the only "thing" to be considered unique and "human"?
Oh, I knew that Ship cared for me. It couldn't help caring for any captain, to some degree. But I knew, from when I had been a ship, that there was a vast difference between a captain you cared for just because she was your captain, and a favorite. And thinking that, alone here, outside the ship, in utter emptiness, I saw that I had relied on Ship's support and obedience – and, yes, its affection – without ever asking what it wanted. I had presumed much further than any human captain would have, or could have, unthinkingly demanded to be shown the crew's most intimate moments. I had behaved, in some ways, as though I were in fact a part of Ship, but had also demanded – expected, it seemed – a level of devotion that I had no right to demand or expect, and that likely Ship could not give me (p. 133-134).
This new awareness in Breq of her fellow Ships and Stations was a really important part of Ancillary Mercy. Breq is not unique in her ability to be an individual, her fellow Ships and Stations, her cousins, are just as capable of being as individual as Breq. And ultimately, it is her fellow cousins and their right to individuality that Breq ends up fighting for. And it is those cousins that fight for Breq in return. Yes, Breq is still after revenge for the wrongs done against her, but her mission expanded into something far more pervasive. And that, my friends, is why this trilogy is so important. Ancillary Mercy is more than a good story, it's a statement about many things, and it's up to you as the reader to discover these nuggets of wisdom.
Another wonderful element to Ancillary Mercy is it humour. I'm not sure if this humour passed me by in the previous two books. Perhaps when I was too busy pretending to be a serious reader who must read deeply in order to appear more serious. (Occasionally, I feel the need to be a more serious person who needs to prove their seriousness in their reading material.) At any rate, Ancillary Mercy was funny! Why this surprised me, I don't know, but it did delight me when reading. In particular, the addition of the Preseger Translator Zeiat to the cast of characters was genius in providing comic relief in the midst of rebellion. There are so many instances of Zeiat's alien nature peppered throughout this book and each serves to bring a great deal of levity to the most dire of situations:
"What's this I head?" Translator Zeiat came into the doorway. "You're going to the station, Fleet Captain? Excellent! I'll come along."
"Translator," I said, still standing in the middle of my quarters, hand still partly outstretched from giving Seven Brilliant Truths Shine like Suns to Kalr Five, "we're in teh middle of a war. Things are very unsettled on the station right now."
"Oh!" Comprehension, recognition showed on her face. "That's right, you said there was a war. A very inconvenient one, as I recall. But, you know, you're all out of fish sauce. And I don't think I've ever seen a war before!" (p. 293-294).
Translator Zeiat is just one of many wonderfully captured characters. And all these characters serve an important purpose. Even Zeiat for her unintentional hilarity serves a very important purpose in the grander scheme of things. So if you like your sci-fi character driven, you will not be disappointed with those you are introduced to in the trilogy. Really, how could you be went a central theme is identity? If that's going to be a theme, you characters certainly must be good.
If you've read the first two books in the trilogy you're certain to like this final book that wraps up many loose ends. If you haven't yet started the trilogy than I urge you to start. If you like your science fiction compelling and thought provoking, smart and witty, you absolutely can't go wrong with Leckie's trilogy. Just make sure you start with book one, Ancillary Justice.
Similar Reads
If you're looking for something similar to Leckie's trilogy but also undeniably different, you might appreciate Brian K. Vaughn's Saga graphic novel series. Reading this series has been a recent addiction for me and a tentative exploration into the graphic novel arena. It's also a read that explores some pretty heavy topics in a digestible and thought-provoking way.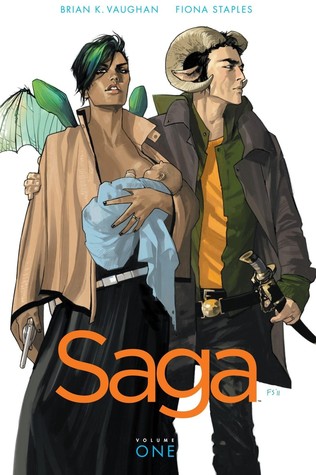 If you looking for something a little more action-packed than Ancillary Mercy, you might try Rachel Bach's Fortune's Pawn. This was a rollicking sci-fi adventure with a kick-butt heroine. It will also appeal if you were fond of the theme of rebellion throughout Leckie's trilogy.
Lastly, I think Sara Creasey's Scarabaeus duology is another great follow-up choice. Like Leckie's trilogy, Creasey explores the concept of colonization and world building. While this one is perhaps not as intellectual as Leckie's trilogy, I was a bit fan of the characters in Scarabeaeus, and hey, they was romance!