Tower of Thorns by Juliet Marillier
Roc: November 3, 2015
Genre: Historical Fantasy
Review Source: free from publisher.
Last year, Jaclyn read and loved Dreamer's Pool. Stacey was less enthralled but has always been a big fan of Marillier. When the chance to read the second title in the Blackthorn & Grim series arrived, both jumped on it. For Jaclyn, it was an outstanding and beautiful read. For Stacey…
Read on for our full thoughts on the book!
The Book…
Disillusioned healer Blackthorn and her companion, Grim, have settled in Dalriada to wait out the seven years of Blackthorn's bond to her fey mentor, hoping to avoid any dire challenges. But trouble has a way of seeking out Blackthorn and Grim.
Lady Geiléis, a noblewoman from the northern border, has asked for the prince of Dalriada's help in expelling a howling creature from an old tower on her land—one surrounded by an impenetrable hedge of thorns. Casting a blight over the entire district, and impossible to drive out by ordinary means, it threatens both the safety and the sanity of all who live nearby. With no ready solutions to offer, the prince consults Blackthorn and Grim.
As Blackthorn and Grim begin to put the pieces of this puzzle together, it's apparent that a powerful adversary is working behind the scenes. Their quest is about to become a life and death struggle—a conflict in which even the closest of friends can find themselves on opposite sides.
Jaclyn's Adventure
I absolutely loved the first book in Marillier's Blackthorn & Grim series, Dreamer's Pool, so I was thrilled to get my hands on an advance copy of its follow-up, Tower of Thorns. In fact, Tower of Thorns is one of my most anticipated reads of the fall. And let me tell you, it completely lived up to the exceedingly high expectations that I had. It's beautifully written, filled with magic, and inhabited by two fascinating characters.
What appealed to me in the first book, are the characters and Blackthorn and Grim. They are both so tortured. Blackthorn in particular is haunted by the murder of both her husband and son and burns to take revenge on the man that had them killed and her locked away. In the first book, Blackthorn had made some progress in moving away from revenge, but that quickly changes when she is confronted with a friend from her past who encourages her thoughts of revenge. In Tower of Thorns, Blackthorn seems to truly move past her revenge; it's not the only thing she desires and she starts to recognize that the new life she has been forced to create is worth living. There is one instance where she longs for her home at Winterfalls, and for me, that is the turning point in Blackthorn's character:
And I felt, for the first time, a longing to be back at Winterfalls, in the cottage, just Grim and me with the woods close by and the settlement a safe distance away across the fields – close enough so folks could reach us if they needed to, far enough so they did not often disturb our peace. "A pox on it, Grim," I said to my absent friend. "I'm turning soft, I'm becoming an old woman." (p. 264)
Unlike Grim, Blackthorn has never really been content with her new life. As soon as a person from her past arrives she's quite willing to reconsider her bargain that states she must not seek out revenge for seven long years. Blackthorn's tentative reconsideration of what is truly important is what I found so engrossing in Tower of Thorns. Character development, Marillier does it so, so well.
The other standout character is Grim. In Tower of Thorns Grim's back story is shared and readers begin to understand what drives his intense motivation to protect Blackthorn. The way Grim sees it is that he's failed so many in the past, he absolutely refuses to fail another. There's an interesting vulnerability about Grim that is incongruous with his rather fearsome appearance, but this only serves to make him a more compelling character. Grim is self conscious and uncertain about his place in Blackthorn's life, yet on every occasion Grim displays his willingness to go to bat for her. For a man that too often viewed as simple, he is one complicated dude.

Together, the characters of Blackthorn and Grim are dynamite. I love the supportive relationship between these two. Blackthorn shows a lot more consideration for Grim in Tower of Thorns; they are on a much more even playing field in their relationship. No romance between the two, but I think we can safely say that hints are dropped. My romantic heart is happy and I have high hopes for book three.
Aside from the truly fantastic characters, the story is also beautiful and sad. Like Dreamer's Pool, Tower of Thorns is also grounded in a mystery. This time round, the pair are investigating the presence of a howling monster in a tower, but all is not what it appears. The woman asking for their help is keeping secrets, which just might have disastrous consequences. The tale of the monster is the tower is interspersed with Blackthorn and Grim's narratives. It's a tale that's both sad and horrifying – the lengths that Lady Geiléis will go to solve the problem of the monster doesn't exactly endear her to the reader. At the same time, its difficult not to feel feel sympathy with Lady Geiléis and all she has suffered for one instance of youthful pride. If you like stories that have an old fashioned fairy tale feel, look no further than Tower of Thorns.
Marillier introduced two flawed and well developed in Dreamer's Pool and she continues to reveal new facets of each character while thrusting them into magical mysteries in Tower of Thorns. I can't describe how much I love these characters and the relationship they have with one another. Blackthorn and Grim are the foundation of this series and I cannot wait to see what mystery they are involved in next.
Stacey's Adventure
In contrast to Jaclyn's excitement and anticipation about this novel, I remembered Dreamer's Pool being just slightly less than an outstanding adventure (I forget precisely why). So, when I began Tower of Thorns, I knew I was in for a really engrossing, atmospheric, delightful and complex story (because it's Marillier, of course). In every novel I have ever read by her, she has provided detailed scene-setting and intricate worlds, with a gradual build-up of the plot and suspense. Tower of Thorns is no exception.
In the beginning, the most compelling factor for me was the mystery surrounding the eponymous tower.  The origin of the mystery is dropped hint by hint as she tells the tale of how the curse began every night at dusk. Blackthorn and Grim are almost frustratingly ignorant of hidden agendas and selfish motivations. For, while he lady who requests Blackthorn's help is not evil, she is single-minded and ruthless in pursuit of her goal. Do we forgive her, because her goal is to be reunited with her true love? In most stories, true love makes many things forgivable, but usually it is the hero/heroine who may cross a line or two in pursuit or defense of true love. It was a question I asked myself as I read, and certainly the way Blackthorn and Grim perceive the situation influenced my reading.
The unraveling of the curse, how exactly the tale is supposed to end, and how the pending doom can be avoided – that is why I got stuck into this story.
Little by little, though, I found myself enticed by the characters of Blackthorn and Grim. They are, without a doubt, an interesting pair. Their unspoken understandings and shared horrific experiences underpin their relationship at every turn. Their psychological need for each other as companions, without any trace of romantic feelings, makes them pretty unique in the genre (as Jaclyn says, there are hints, but up until now, things have been steadily platonic between them).
Blackthorn's experiences here mark a turning in her outlook. She clings stubbornly to her belief that it is her duty to prevent the chieftain who destroyed her life and family from destroying others, but as she gets closer to solving the mystery of the tower, she begins, almost unconsciously at first, to lose that certainty. She deals with conflicting desires throughout most of the book; she wants revenge, but she begins to look for peace.
Ultimately, I became most deeply involved in Grim's story. Even though the action mostly focuses on Blackthorn (she is, after all, the only one who can break the curse), this felt like Grim's tale. Our eyes, as readers, are opened even more to the differences between who he is and how he is perceived. And we feel for him as he confronts his most terrifying demons alone, and discovers that perhaps, after all, they are only memories. His experiences in this novel are the kind that are capable of restoring one's faith in oneself and in others.
The true beauty of this novel for me lies not in the evocative storytelling, the complex and dynamic characters, or the suspense, but in the exploration of the good and terrible sides of humanity. Blackthorn and Grim have such awful pasts, which has affected their ability to relate to and trust others. It's why they have become so close – they have this shared perception of people and the world that is so bleak. As this story unfolds, they begin to see the moments of compassion and love that make up for the pain, selfishness, and destruction.
The Verdict
We may have loved this book to differing degrees (okay, maybe half a suitcase), but we both loved it, and we agree: Readers searching for a rich, wondrous, and emotional fantasy with strong fairy tale influences and marvelous characters will find it here. Get lost in the story of Blackthorn and Grim and a centuries-old curse that tore two lovers apart.
Disclaimer: Review copy provided by the publisher via NetGalley.
Similar Reads
For another tale that is reminiscent of tales of old (just like Marillier's writing) it is a must to read Naomi Novik's Uprooted. Stacey and Jaclyn both agree: Uprooted is an amazing read.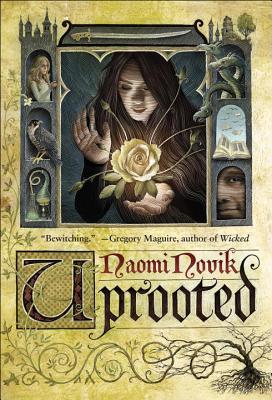 If you like Marillier's style of characterization, Katherine Addison's The Goblin Emperor is an excellent follow-up. The unexpected new emperor, Maia, is so well developed and it's his own personal journey that drives the story. Perfect for fans of character-driven fantasy. Jaclyn rated this one an Outstanding Adventure!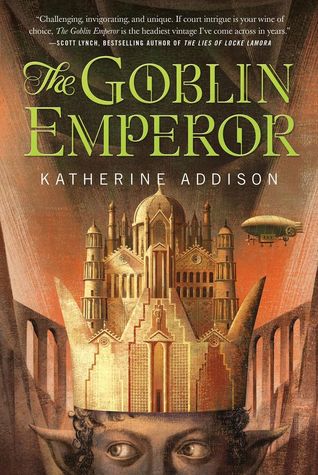 If you enjoy intricate, well-developed settings, and want to explore a variety of fantasy worlds, you may also enjoy Updraft (which Stacey rated an Outstanding Adventure), and Martha Wells' The Wizard Hunters: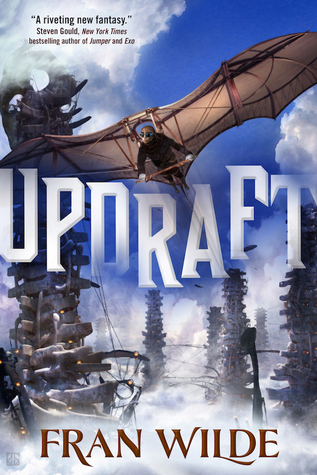 If what you want is another atmospheric and vibrant fairy tale world, we recommend Sold for Endless Rue, which tells the tale of Rapunzel through the eyes of three women. Stacey gave it 4.5 suitcases!