A Talent for Trickery by Alissa Johnson
Sourcebooks Casablanca: November 3, 2015
Genre: Historical Romance
Review Source: free from publisher.

A Talent for Trickery found itself on my reading radar because it features a heroine with a checkered, criminal past and a hero that's an investigator. I was pretty confident that this was going to be a great combination. I was not disappointed.
Owen Renderwell first encountered Charlotte Walker years ago when he worked with her criminally inclined father. However, they did not part on good terms. Charlotte has always believed that Owen took the credit that was due to her father, leaving her father to die in disgrace and necessitating the need for her and her siblings to disguise their origins. Years later, Owen has come knocking on Lottie's door to ask for her help. Needless to say, Lottie isn't exactly jumping at the chance to help Owen, and it certainly doesn't help that Owen has not a clue as to why Lottie is angry with him. Sparks will fly!
A Talent for Trickery is a really good historical romance. Not only does the author create an interesting premise (law maker vs. law breaker) there's also some real intellectual meat to the story. It's interesting that the novel explores the ideas of crime and class and how morality is for the rich, who have a number of choices available to them. For Charlotte and her siblings, helping their father with his criminal endeavors was not something they had a choice in. I was pleasantly surprised that this was not glossed over in the novel. Charlotte's conflicting attitude about her background and her initial willingness to help her father was explored much more than I would have expected, giving this romance a more serious tone. The ideas behind class and crime are also what make Owen and Charlotte's relationship more complex than many of the romances that I've read. The author spends a significant amount of time resolving the differences in both their class and their moral outlook. Charlotte has very fluid ideas of morality whereas Owen's are more rigid, for a romance to flourish those differences needed to be resolved and the author does this.
The mystery element to A Talent for Trickery is another facet that makes this a strong read. What draws Owen back into Charlotte's orbit is his need for help in breaking a cipher. This cipher may be one of Charlotte's father's and Owen needs access to his journals if he's going to crack it. However, the murder that necessitates Owen's return into Charlotte's life might also be the reason that Charlotte and her two siblings are now in danger. Like the romance, the mystery was also well executed and served a larger purpose and further developed the romance. Without the need to work together to decipher the mysterious correspondence, Charlotte and Owen would never have gotten to know one another again.
While not a steamy romance, A Talent for Trickery was a well-crafted story. Not only were the hero and heroine well developed, but so too were the secondary characters of Charlotte's siblings and Owen's fellow investigators. I can only hope that Esther (Charlotte's sister) gets her own story.
So if you're looking for a romance that has a bit of meat to it, A Talent for Trickery more than fits the bill. This one gets bonus points for featuring an unusual heroine and her unusual family. I can't wait for more in this series.
Similar Reads
If you liked the dynamic between Lottie and Owen and appreciated the fact that there was something different about A Talent for Trickery it is essential that you check out Courtney Milan's Unraveled. This one also features a hero and heroine on opposite sides of the law and its fantastic. Readers who would have liked a little more steam in Talent for Trickery will likely be pleased by Unraveled.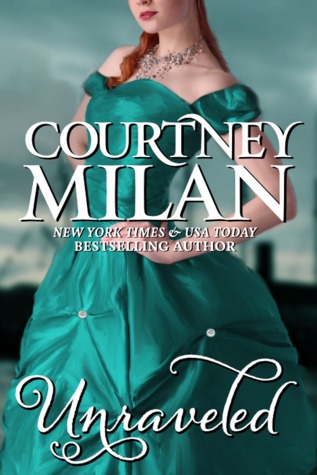 For another crooked heroine, look no further than Lorraine Heath's The Duke and the Lady in Red. While this one is more what you would expect in a romance, there is some surprising depth to its characters.
I have mixed feelings about my final recommendation, Kerrigan Byrne's The Highwayman. On one hand, it features that same opposites sides of the law trope that I liked so much in A Talent for Trickery. On the other hand, I found the hero a little troublesome. Fans of angsty romances will like this one.