Six of Crows by Leigh Bardugo
Henry Holt and Company: September 29 (Fantasy; Young Adult)
Bardugo returns to the world of the Gisha with Six of Crows, and it is a fantastic exploration of another part of this world.
In the Grisha Trilogy one nation, Ravka, suffered a civil war and readers did not move outside its borders. With Six of Crows Bardugo explores the neighboring countries that do not celebrate the Grisha and their abilities. Some want to harness that power for themselves by indenturing the Grisha and some want to eradicate them altogether. When a new drug comes on the market that amplifies Grisha abilities at the expense of the Grisha himself, it starts a power struggle. Enter the team of disreputable teenaged criminals.
Kaz – the leader and master thief.
Inej – second in command and assassin.
Jesper – the crack shot.
Nina – the Grisha.
Matthais – the traitor.
Wylan – the insurance.
Kaz is offered a great deal of money to find the inventor of the serum that amplifies the Grisha abilities. Naturally, he accepts the deal. He and his carefully selected team of criminals will need to embark on a sea voyage, cross-country trek, and then break into an impenetrable fortress, kidnap a scientist and then escape. Kaz is not one to turn down a challenge such as this.
To be perfectly honest, I don't have much of a critical review about Six of Crows. I enjoyed the book. The writing was good. The characters were complicated. There was romance. I was happy. There wasn't a whole lot of evaluation going on when I read the book, I was just enjoying the book. Sometime you just don't want to rip a book apart, you just want to read.
What I really liked about Six of Crows was the large cast of characters. It's rare that I've read a YA book that can actually carry off the multiple viewpoints that Bardugo does here. In my experience, the YA format doesn't tend to lend itself well to the inclusion of many perspectives; the books just aren't long enough. However, in Six of Crows the use of multiple characters worked really well. Not only are these characters all very different they also work to show a very different picture of other characters. Kaz and Inej play off each other as do Matthais and Nina, especially in the romance department.
In addition to the wonderfully criminal characters, I also loved the fast-paced plot. This book moved at lightening pace. And that ending! I need the next book right now! While the gang may have solved one problem, the adventure is far from over.
What can I say about Six of Crows? It was a great read, filled with great characters. It would have been a five-star read if I didn't have to wait for the next book. Not an objective way to rate a book, I know, but hey it's my rating. Fans of Bardugo's Grisha Trilogy will love this book.
Similar Reads
If you like complicated characters and the whole anti-hero thing, Marie Lu's The Young Elites is a must-read follow-up. Her heroine is filled with thoughts of revenge and she's not really a redeemable character. See my full review here.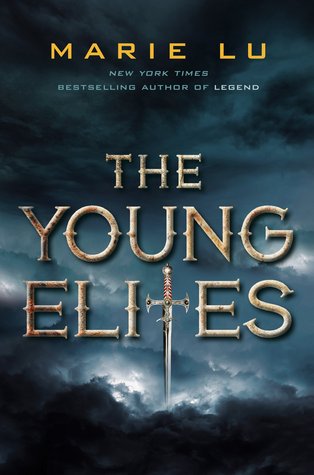 If you liked the swashbuckling tone of Six of Crows, Victoria Scwab's A Darker Shade of Magic will be sure to impress. A cross dressing woman and a man with a magical coat? It's pretty awesome. Plus it's heroine aspires to be a pirate. See my full review here.