NOVA by Margaret Fortune
DAW: June 2, 2015 (Science Fiction; Young Adult)
The view was nice, but the food was bad (meh)

I like books set in space. I like YA. I like reading about aliens. NOVA had all these things but unfortunately it did not live up to its namesake. What started out as an intriguing and mysterious read:
My name is Lia Johansen, and I was named for a prisoner of war. She lived in the Tiersten Internment Colony for two years, and when they negotiated the return of the prisoners, I was given her memories and sent back in her place.
And I am a genetically engineered human bomb (p. 10).
Turned out to be a lot disappointing.
Lia Johnansen is masquerading as a sixteen-year-old girl who's mission it is to blow up the New Sol Space Station. Lia's not sure why she's been chosen to blow up this station, but she is compelled to complete her mission. So when the countdown malfunctions Lia is left at loose ends and begins to question her ultimate purpose, which only becomes magnified when she meets Michael, a young boy who knew her when they were children. Should Lia complete her mission when she doesn't even know why? How can she decide to go ahead now that she knows the people that she is going to harm?
For a book that draws much of its suspense from the mystery surrounding Lia's true identity and real memories, I found that the narrative was strangely disconnected from any emotional response. Lia seemed to feel token emotions with regards to her situation, and for me it didn't ring true to the circumstances. This emotional disconnect isn't only true for Lia but the other people she interacts with. When the truth finally emerges and Lia shares her past and her mission with Michael, it's strange how quickly he is to take everything she's said at face value. It's bizarre how quickly Lia convinces those around her to go ahead with her plan; it came across as too simplistic to be realistic.
While I think the themes of self-discovery and purpose will resonate with readers, the lack of dimension to the characters will be a difficult hurdle for many readers to overcome. This character-driven space drama is lacking in emotional meat. It's an interesting concept, but the execution is off. Even simple atmospheric elements like the use of futuristic slang terms, "bull-slag" "you're one in a galaxy" "you glitch", came across as forced rather than contributing to the world created. Quite simply, NOVA did not work for me.
Similar (or Alternative) Reads
For a YA book that does space really well, it's imperative that you check out Cecil Castellucci's Tin Star. Some of the same themes are explored but I really liked how there was a lot more depth to the main character, Tula. See my rave review here.
If you were hoping that NOVA would have a little more drama to it, Amie Kaufman and Meagan Spooner's spacey soap/action-adventure Starbound series is for you. There's more romance, more action, and more complexity. See my full review of These Broken Stars and This Shattered World.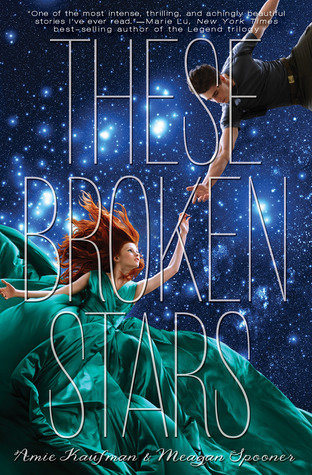 Now, I will admit that perhaps my problem with NOVA is the fact that it was YA. For me NOVA just seemed young. For those that felt the same but also were interested in the theme of identity, it is an absolute must to check out Ann Leckie's Imperial Radch trilogy. This is a trilogy that explores artificial intelligence really, really well. Start with book one, Ancillary Justice.