The Price of Valor by Django Wexler
Roc: July 7, 2015 (Military Fantasy)
The Price of Valor is the third book in Wexler's Shadow Campaigns series and it doesn't disappoint. In fact, I'm left wondering how a book that is so long (512 pages) can leave me with so many questions and have me anxiously awaiting the next book. It is absolutely masterful how the author creates and sustains an action-packed plot and balances it will truly compelling characters.
The Price of Valor picks up directly after the events of The Shadow Throne, and indeed turns it's attention to the cost of victory. While Janus may have helped to install Raesinia on the throne, the war is far from over. Now Vordan has to fight outside forces as well as dissent from within. Fighting external forces is Winter, who has been promoted to Colonel and is leading her own regiment under the leadership of Janus. Back in Vordan City, Marcus pushes back against the Deputies-General alongside the unconventional queen. Winter, Marcus and Raesinia are the focus of the book, each chapter broken down by their viewpoint.
While the world that Wexler has created is interesting and the politics play an important role concerning the momentum of the plot, what continues to stand out in this series is the fantastic characters that inhabit this world. Winter, Marcus and Raesinia are all fascinating characters who each have to deal with unique situations and repercussions of victory. Winter, in particular is a favourite of mine. She's a woman who has been disguising herself as a man for years and she finds that she has quite unexpectedly found a home for herself as a soldier, a place that she doesn't want to give up, which is why she continues to hide her gender from the majority of those that she leads.
"It's all right for the Girls' Own," she said. "They joined up because Vordan needs them, and when the war's over they'll go home. I…I haven't got anywhere to go." She tugged at the collar of her uniform. "This is who I am now, for better or worse. This is my home. After the war, maybe it will be all right for a woman to keep this on, but…maybe not."
Winter found her throat getting thick. She'd never put it that way before, never even though it so bluntly. This is my home (p. 314-315).
However, while Winter recognizes the fact that being part of the army is home for her, it leads her to personal problems with her lover, Jane. For years Winter thought Jane dead and being reunited with her in the previous book, Winter was pleased to pick things up from where they were left. Now Winter finds that perhaps she's changed in ways that Jane cannot appreciate. The fact that Winter is exploring these changes is her own outlook is masterly done, making Winter a very human character.
Like Winter, Marcus and Raesinia are equally realistic characters and Wexler excels at showing the human characteristics of leadership. In The Price of Valor readers get to know Raesinia a lot more and watching the traditional Marcus have to deal with the unconventional queen is amusing. It's these characters that keep me coming back for more and while I will continue to be a devoted fan of this series.
In terms of plot, The Price of Valor furthers the idea that Janus, the hero of Vordan, has an ulterior motive for getting involved in the war and pursuing the magical artifacts of the Thousand Names. I think readers get a sense of why Janus has recruited Winter and Marcus to his allies, they have something he lacks as he expresses to Winter:
"So I left the decision to you. You understand the…the feelings of the men and women in the ranks, in a way I do not" (p. 364).
There's no question that Janus is manipulating events for his benefit, but the question of who this is to the benefit of becomes more explicit in The Price of Valor.
The Price of Valor was an extremely strong addition to The Shadow Campaigns series. Characters develop, the plot moves in new directions and the author masterfully maintains a fast-paced plot despite the length of the book. A read that I highly recommend and a must if you were a fan of the first two books in the series.
Similar Reads
For a shorter read but one that evokes the same kind of world and compelling characters, try Joe Abercrombie's Shattered Sea trilogy. So far, I've loved the first two books, Half a King and Half the World and I am determined to crack open my copy of the final installment ASAP. These feature younger characters but just like Wexler's, these are characters you want to read more about.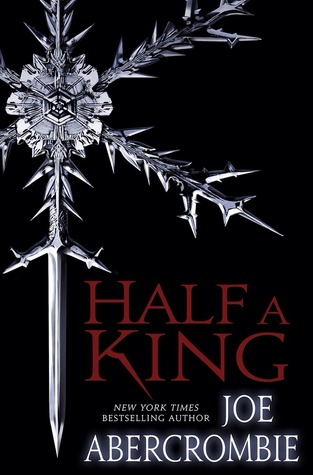 I have to admit that I have not yet read my next recommendation, but I think I should get points for the fact that a copy sits in my to-be-read pile. Guns of the Dawn seems like a natural fit for fans of Wexler's series, especially considering it features another woman soldier. I've heard it described as if Elizabeth Bennett (of Pride and Prejudice) took up a musket and went off to war. I am intrigued.