When a Scot Ties the Knot by Tessa Dare
Avon: August 25, 2015 (Historical Romance)*
It's no secret, I'm a huge Tessa Dare fan, and I'm fairly certain that When a Scot Ties the Knot is my favourite book by this author since A Week to be Wicked. This latest historical romance, was everything that I've come to expect from Dare: funny, silly, and romantic.
At the age of sixteen Miss Madeline Gracechurch was on the cusp of making her debut into society, the only thing holding her back was her paralyzing fear of crowds. Naturally, as a young woman of sixteen, Madeline makes a rather impetuous choice and invents herself a suitor in one Captain Logan MacKenzie, effectively taking away the necessity of a Season. After killing off her devoted beau years later, Maddie settles into spinsterhood in a castle that she inherited from her godfather. Maddie develops a budding career as a naturalist illustrator, until a Scottish highlander comes to call:
"I'm come home to you."
"H-Home…to me?"
"I knew it," Aunt Thea said. "It's him."
The strange man nodded. "It's me."
"It's who?" Maddie blurted out.
She didn't mean to be rude, but she'd never laid eyes on this man in her life. She was quite sure of it. His wasn't a face or figure she'd be likely to forget. He made quite an impression. More than an impression. She felt flattened by him.
"Don't you know me, mo chride?"
She shook her head. She'd had enough of this game, thank you. "Tell me your name."
The corner of his mouth tipped in a small, roguish smile. "Captain Logan MacKenzie."
Turns out that fictitious army Captain actually exists and has been receiving her absurd (and entertaining) letters for years. Coming to call, it's not romance on Logan's mind, but a plan to blackmail Maddie into marrying him. Logan's men need a place to call home, and the land that his prospective bride has inherited is just the ticket. If she disagrees, Logan will go public with her letters, not only embarrassing her, but also enlightening her family that she has lied to them for years.
While the set up for When a Scot Ties the Knot is rather absurd and unbelievable, as usual, Dare manages to pull it off in style. Logan and Maddie had chemistry right from the start, and Dare constructs a stronger romance by crafting both characters as more than a stereotype. Our hero especially is more than the typical gruff former soldier that inhabits the romance genre, and in fact has hidden depths, like an unlikely need for glasses and a penchant for a good read. From the start it's clear that Logan is nowhere near as ruthless as he would like to appear, and might just be pure "squish", which is a little too endearing for our heroine.
Maddie invented her suitor because of her crippling anxiety in crowds. While I would have liked there to be a little more exploration in why Maddie felt this way, it did serve to explain why she would bother inventing a suitor at all. After agreeing to marry Logan for convenience she is determined to keep him at arms length for the sake of heart; she is all too aware of her ability to invent stories and fears that she will ascribe much more meaning to Logan's actions that he intends. Of course, keeping this highlander at a distance proves to be quite a challenge for Maddie; a man who reads just might be her kryptonite.
The back and forth between Maddie and Logan was lovely and I enjoyed how their romance enfolded. Despite the potential for unending angst, When a Scot Ties the Knot was a lighthearted and funny read between a disillusioned former solider and a quirky heroine. While Dare's style of historical romance doesn't appeal to all, I certainly appreciate the humour and modernisms that she brings to the genre – I don't need historical accuracy all the time! In fact, Dare's humour is what brings me back to each book by her; it may not appeal to all readers, but I laugh in every one of Dare's books and When a Scot Ties the Knot is no exception:
Maddie squirmed out from under him. "I'm sorry. So sorry. I know this is supposed to be physical. Impersonal. It's only that I keep thinking of lobsters."
He flipped onto his back and lay there, blinking up at the ceiling. "Until just now, I would have said there was nothing remaining that could surprise me in bed. I was wrong."
A wedding night thwarted by lobsters! Only in a Tessa Dare book.
When a Scot Ties the Knot is another funny, unconventional romance by Tessa Dare. If you like your historicals filled with humour and quirky characters you cannot go wrong with this latest addition from Dare. Here's hoping that readers many more such novels to look forward to.
*Review copy provided by the publisher via Edelweiss.
Similar Reads
If you liked the humour of When a Scot Ties the Knot, Valerie Bowman's The Unlikely Lady is an excellent follow-up. Bowman is another historical romance author that likes to play around with rather unlikely set-ups in the historical era of choice, and while they might be unlikely, they are always entertaining. While there is more of "enemies-to-lovers" vibe in The Unlikely Lady, I think readers will really appreciate the sense of fun and the verbal sparing between the hero and heroine. Read my full review here.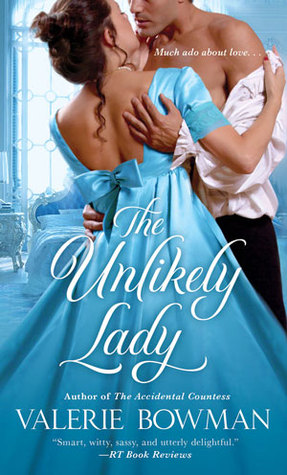 Another great follow-up is Eloisa James' Four Nights with the Duke and I think fans of Scot Ties the Knot will appreciate the "blackmailed into marriage" plot. While Four Nights is less lighthearted, there are some great flashes of humour in the excerpts from the writer heroines Gothic novels. I completely loved this one, and I can't recommend it enough!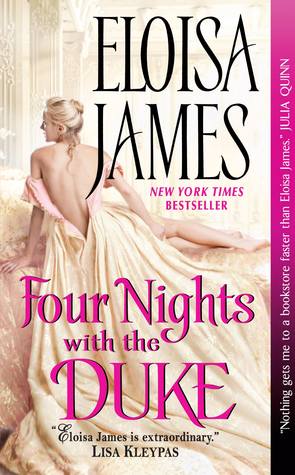 For fans of the bluestocking heroine, try Elizabeth Essex's A Scandal to Remember. Like Maddie, Jane Burke has bigger aspirations than marriage. While Jane doesn't invent a fake betrothed, she does contrive to join a seafaring expedition. A Scandal to Remember was a lovely, emotional romance.