Daughter of Dusk by Livia Blackburne
Disney-Hyperion: August 4, 2015 (Young Adult; Fantasy)*
Daughter of Dusk is the sequel to Blackburne's Midnight Thief, featuring Kyra, who is now a reformed thief. After falling in with a bad crowd in book one (yeah, training with the Assassin's Guild was probably not a good idea, especially if you're squeamish about killing people), Kyra now finds herself in an uneasy alliance with the Palace. This alliance is tense as Kyra has learned the truth about her parents. It just so happens that Kyra's related to the Demon Riders that the Palace is trying to take down. Secrets and intrigue, folks. Bonus points for a girl that changes into a cat-like creature.
Working with Kyra is Tristam, a disgraced palace guard who happens to know Kyra's secret. Of course there's a lot more going on than Kyra's secret as a cat shifter. There's politics at work and Kyra and Tristam have to make a decision about what side they are on. Will Kyra betray the Makvani or will she stand with the Palace as they try to destroy them? And just what exactly is Kyra going to do about Tristam? So many feelings!
Daughter of Dusk has all the right ingredients to make this a great YA fantasy book. There's a lot of stuff going on in Daughter of Dusk and it's the perfect read for those that like their books filled with action. However, that's not to say that the author doesn't craft great characters. In particular, I liked how Tristam undergoes this private struggle. On one hand, he's been disgraced because of the events in book one and because of that he really would like to redeem himself and continue to move up through the ranks. On the other hand, Tristam really likes Kyra, and that fact is complicated not only by the fact that she's occasionally a cat, but also due to her status as a commoner. Tristam has to deal with his residual fear of Kyra's people as well as the potential fallout if he persues a relationship with her.
Like Tristam, Kyra also struggles with her identity in Daughter of Dusk. Kyra is now more open to exploring her heritage, but she can't help but fear what she is.
Our blood could bring you strength, but instead it feeds your fear. That does not make you someone I would be proud to call my own (p. 228).
 Kyra wants to help bring about a peaceful negotiation between the Palace and the Makvani and she's uniquely positioned to do so, but embracing that part of herself is extremely difficult for Kyra. The uncertainty that grips both Kyra and Tristam was well done and I think it's a theme that will resonate with readers.
So why is this not a five-star read? At the risk of sounding like a total, stereotypical girl, I have to admit that I was really hoping for a stronger romance. In book one the romance between Kyra and Tristam didn't really get started, but in Daughter of Dusk, it seems that their relationship has progressed while readers weren't looking. For me, there wasn't enough development of the relationship between Kyra and Tristam and it appeared that these feelings appeared with very little motivation. It didn't help that Kyra and Tristam didn't interact all that much in Daughter of Dusk, the focus was firmly on larger concerns, like impending war. While I don't dispute the necessity or gravity of the events that Kyra and Tristam were dealing with, I personally felt that something was missing when it came to the romance aspect. For me, the intrigue plot came at the expense of the romance plot. But, I am a romance reader at heart, and I suspect those that are less fond of the romance genre will actually like the fact that romance was not the main focus of this book.
Daughter of Dusk was a good sequel to The Midnight Thief and I liked the theme of identity and how the author explored the ramifications of choosing a side in war. The characters were all well developed and the world that Blackburne has created was well executed. If you enjoyed the first book, I can't see how you could possibly not like Daughter of Dusk.
*Review copy provided by the publisher via NetGalley.
Similar Reads
The exploration of Kyra's identity was a theme that really appealed to me in Daughter of Dusk, and it's a theme that's appealed to me in many other YA books. A great follow-up for those that also enjoyed this theme is Leigh Bardugo's Grisha Trilogy, which offers a conflicted heroine that has to come to terms with her power in the course of the trilogy. Start with book one, Shadow & Bone.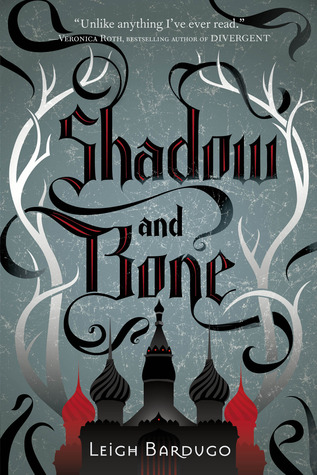 For more similar reads, see my review of The Midnight Thief.