The Uninvited by Cat Winters
William Morrow: August 11, 2015 (Historical Fiction)*
"I admit, I had seen a ghost or two."
The Univited is a ghost story set in Illonis in 1918, in the midst of the First World War as well as the Spanish Flu epidemic. Twenty-five year old Ivy Rowan wakes up one night to learn that her father and younger brother have killed a man. With the war raging, anti-German sentiments are high, and reeling from the loss of Ivy's other brother, her family seeks retribution. For Ivy it's the last straw; she leaves home. Seeking to assuage the guilt she feels for what her father and brother have done, Ivy goes to pay her respects to Daniel, the brother of the man killed. This initial meeting unravels as expected, which is to say, not well. However, that does not stop Ivy from returning or from Daniel and Ivy forming an attachment to one another.
There's no question that The Uninvited is a beautifully written and highly atmospheric read. There's a dreamlike quality to the writing that fits very well with the themes of death and guilt that are apparent throughout the novel. What I most appreciated is the exploration of the anti-German sentiments. Despite Ivy's guilt and her need to reach out to Daniel, she still experiences some fear when dealing with Daniel. Like others in her small town, she has been learning of the war second-hand and there is a group that wants to force anyone with a German background or German sympathies out of town. Seeing what this generated fear does to people isn't unsurprising, but it is devastating.
Ivy's tense relationship with Daniel is not the only moment when Ivy shows her ignorance. Ivy also finds herself an unexpected ambulance driver helping those affected by influenza. Like in her relationship with Daniel, Ivy doesn't always come across as sympathetic to those that are suffering. But, the author does a fantastic job capturing Ivy's transformation from a naïve, sheltered young woman, to one that has a much better understanding of the wider world.
Despite the strong writing and characterizations, there was something that fell flat for me in The Uninvited. From the beginning something seemed a tad off. And having finished the book, I know that there's a reason for that feeling that something was not quite right. Despite knowing why some things just didn't seem right, I spent most of the book feeling quite distanced from what was happening. I wanted there to be more of an emotional impact here and I felt tricked and unsatisfied by the ending.
The era is what caught my attention with The Uninvited, and it was one of my most anticipated reads of the summer. I was thinking this would be something similar to Simone St. James or Jennifer Robson, and while there are certainly parallels, I didn't find this one as satisfying. The Uninvited is an atmospheric and haunting read that explores a facet of what life was like for those on the home front during the First World War. If you enjoy your history with a side of romance, The Uninvited will provide you with interesting historical details and a seemingly impossible romance.
*Review copy provided by the publisher via Edelweiss.
Similar Reads
I appreciated the fact that Winters focused on a less known area of history. The Uninvited wasn't about the battlefield but the home front and the far reaching repercussions that the war had to those at home. Jennifer Robson's After the War is Over is another book that focuses on the impact of war, in the case, the impact on how this changed the lives of women. See my full review of this one.
While I didn't mention it directly in my review, Ivy also sees ghosts. This paranormal aspect might not appeal to everyone, but for those that liked it, I urge you to try anything by Simone St. James. St. James is a master at combining history with the ghost story. The Other Side of Midnight in particular may appeal to fans of The Uninvited as it features another heroine that communicates with ghosts. See my full review here.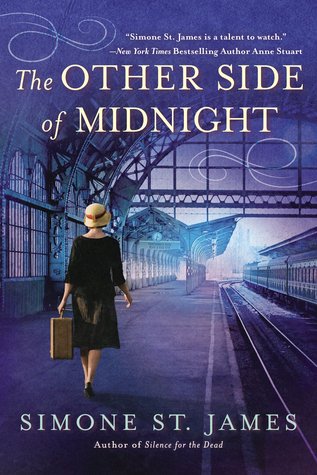 My last recommendation is probably the one that is most similar to The Uninvited, even their titles sound similar! Sadie Jones' The Uninvited Guests is set before the war, but it is also a ghost story. It was a strange little book, but I think the tone and atmosphere will appeal to fans of The Uninvited.