All the Ways to Ruin a Rogue by Sophie Jordan
Avon: July 28, 2015 (Historical Romance)*
All the Ways to Ruin a Rogue is an enemies-to-lovers historical romance, with an emphasis on the enemies part. However, animosity wasn't always the defeat mode of conversation for Lady Aurelia and Max, Viscount Camden. When she first met her brother's friend Aurelia was infatuated, at least until she stumbled upon a scene that shattered her romantic illusions at fifteen. From that point forward Aurelia and Max have been at odds, breaking into fights at family functions, trading barbs and insults, the general animosity that masks a whole heck of a lot of attraction. The premise for this one was excellent as was the initial banter between Max and Aurelia; however, I will admit to being somewhat torn in terms of what I think about this one. I like the setup between Max and Aurelia, I'm just not convinced that its hero really was hero material. I appreciate the fact that the author really went there in terms of Max and Aurelia both being cruel to one another. Their feud was not just some casual bickering; they were mean to each other. Max in particular was especially cruel to Aurelia and I would have been happy with a lot more groveling on his part.
I'm not opposed to cutting comments in a romance. People are mean, especially when they get defensive. An author that does this particularly well is Mary Balogh. Her Only a Promise and Only Enchanting feature some spectacular fights between the heroes and heroines. The anger and anguish leapt off the page. What I disliked in All the Ways was the fact that I never really got the sense that Max or Aurelia really understood how hurtful that they were to other. The ending seemed to resolve these hurts rather quickly, glossing over the pretty significant impact that their cutting remarks had on each other. For me, too much time was spent arguing and not enough time making up.
All the Ways was a solid historical romance read that would appeal to fans of the enemies-to-lovers trope. It wasn't a deep or heartfelt read to me, but it was an entertaining read despite my lack of total love for the hero. What can I say? I want a perfect hero, and Max was anything but.
*Review copy provided by the publisher via Edelweiss.
Similar Reads
If you liked the amusing bantering between Max and Aurelia following up with Valeria Bowman's The Unlikely Lady is a must. Garrett and Jane are like chalk and cheese until they have an unlikely encounter at a masquerade ball. This was such a fun, and hilarious read.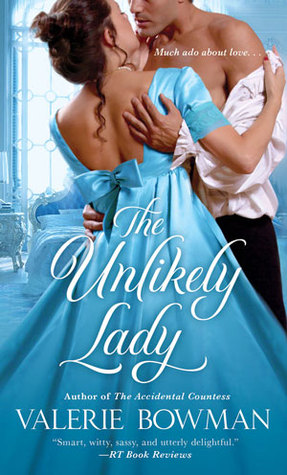 Another enemies-to-lovers read that is a must is Eloisa James' Four Nights with the Duke. Like Max and Aurelia, Mia and Vander encountered each other as young teens, of course there is an embarrassing situation that involves the reading of a poem by an infatuated young girl. Years later, Mia blackmails Vander into marriage – surely the recipe for success? This was a great romance.