Shards of Hope by Nalini Singh
Berkley: June 2, 2015 (Paranormal Romance)
I've been putting off writing this review for awhile now, as I'm not really sure how to convey in intelligible writing how much I loved Shards of Hope. This book was seriously awesome and I think it just might be my favourite book in Singh's Psy-Changeling series to date, and I can now say that with authority since after finishing this one, I went back and read each book in the series that I hadn't read.
Shards of Hope is Aden's story. Aden is the leader of the Arrows, the deadly, military arm of the Psy race. For years they were the personal assassins of Councilor Ming, and now that Silence has fallen, these men and women are now free to start new lives. Aden is at the forefront of this change. He wants something different for his family and he needs to model that for them, which is why he needs a partner. Aden's chosen partner is Zaira, a damaged woman that he's known since childhood and one of his most trusted fellow Arrows. Unlike Aden, Zaira is convinced that she is not good for Aden, seeing herself as too damaged and too reliant on Silence to actually have a real relationship with another person. And when they're not dealing with relationship woes, Aden and Zaira have to content with kidnappings (their own as well as others), a new conspiracy, and building a home for the Arrows.
Shards of Hope was a book jammed pack with stuff going on. While the romance was strong here, I think the focus on other threads was equally strong, something that Singh has excelled at balancing out in this series. If fans of the series were concerned that the fall of Silence would bring this series to an end, Singh sets those fears to rest with the new conflict that she has introduced, and I couldn't be more happy to continue to expect more Psy-Changeling books.
I also really appreciated the fact that Zaira was such a strong heroine. In so many of the books in this series the hero is the one who is all possessive and overbearing. Really, if it were real life, the heroes would be creepy, and giving stalker vibes. In the case of Shards of Hope it was Zaira that was the possessive one and I have to say, I found this a refreshing change in the series as well as when I consider the romance genre at large. In romance you don't generally see a possessive heroine, that's more likely to be the characterization of the hero's ex (i.e. a characterization of a "bad" woman). It's always okay for the hero to be possessive and I really appreciated the fact that Zaira owned her possessiveness for Aden. Her traumatic past certainly informed her need to "own" Aden and I liked how the author explored this in a female character. Very well done.
Aden was a less dramatic character. He was determined to have a relationship with Zaira but he wasn't pushy about it. In fact, Aden and Zaira's romance altogether was somewhat subdued. Shards of Hope was not as steamy as some of the other books in the series, but I really liked that the author focused more on the emerging emotions of Aden and Zaira rather than the earthier side of the romance, which makes sense considering who these characters were.
Shards of Hope really hit on everything that I like about this series. I am especially keen on the Psy race since I think the concept of Silence and how it's explored, so I was more than happy that two Psy were the focus of this latest book. I am intensely curious as to which characters Singh is going to focus on next.
Similar Reads
Anne Bishop's The Others series is a great follow-up especially if you like the Psy focus of Singh's latest book. In the first book, Written in Red, readers are introduced to Meg Corbyn, a blood prophet. Meg has escaped the controlled and sterile environment where she was forced to reveal the future. As a result, Meg is learning to experience the world, and I think her exploration of making friends and the joy of basic freedoms will really appeal to fans of Singh's series. Be warned, the romance is on the back burner for this one, but I have high hopes for it.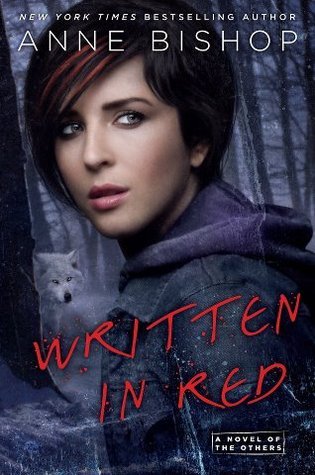 If you're more enamored with the changelings in Singh's series, then Jennifer Ashley's Shifters Unbound series would be a good follow-up. I haven't read many books in the series, but Ashley explores some of the same themes as Singh. In Ashley's series, the shifters are all collared and forced to live in specific areas that are easily governed by the humans. So far I've enjoyed Mate Bond and Wild Wolf.