Trailer Park Fae by Lilith Saintcrow
Orbit Books, June 23rd (Urban Fantasy)
Trailer Park Fae is one of the few books I've purchased recently at full price. I have a scale of preference when it comes to buying books, and buying them full-price is at the bottom. I don't regret it! This may never make it to my "keep permanently" shelf, but it's definitely on my "keep for now" shelf.
As a member of the urban fantasy club, this book fits in really well. The atmosphere is gritty, the characters troubled, the different species in conflict, and the intrigues tangled. Oh, and there's a hint of romance.
Uniquely, this book's main protagonist is male. If you read urban fantasy, you'll probably have found already that most of the heroes are of the female gender. Jeremiah Gallow is a half-fae, half-mortal ex-patriot living in the mortal world. Once, he was the Seelie Queen's Armormaster, but then he fell in love with a mortal girl. The Fae worlds come crashing back in on his dreary mortal existence five years after his wife has died, when another half-fae, Robin Ragged, leaves a magical misdirection token in the pub he's drinking in and causes a fatal bar fight. He follows her into the night because she reminds him of his dead wife, and then he kills an Unseelie Knight to save her. He and Robin end up working not-quite-together to resolve the conflict that the fairy Puck has orchestrated.
The fae worlds resemble Shakespeare's fairies in A Midsummer Night's Dream. These fae are darker, though. With a sinister Puck driving deeper wedges between the cold, unfeeling Unseelie King and manipulative, cruel Seelie Queen, this is no setting of love restored through tricks and games. Instead, it is a setting of love soured that darkens the lives of all affected by it.
I really liked the characters – hurting and stubborn but clever and resourceful. Gallow and Ragged each have their own obstacles to overcome, and their stories intertwine more and more as the events draw to a climax. The romance is subtle, more hinted at than anything else, but the tentative way they become closer felt natural for the two of them. After all, they are both still hurting from events in their past, and they cannot fully trust one another. They gradually begin to trust one another, and each begins to hope for a future amidst the chaos and danger.
The action never stops. When Ragged is not fending off Puck and figuring out how to survive the particular interest of the Unseelie King and her role as the Seelie Queen's messenger, Jeremiah is evading the Unseelie's minions and trying to track down Ragged. And then, there's Puck. The creepiest, evilest fairy I've read.
One of the most common criticisms seems to be the complicated prose. Two worlds collide in this book – the faery realm, and the mortal coil. The scenery is mostly of the mortal variety, and the prose takes from the fae world. I enjoyed the fairy-inspired language juxtaposed over the gritty realism of the setting and events. It did, however, take me forever to put together "Jeremiah" and "Gallow." Each character has several names, which are used inconsistently.
Even with the confusion caused by different names, I couldn't put this one down. I recommend it to fans of dark urban fantasy.
Similar Reads
Charming is another urban fantasy with a male protagonist. This time, not a half-mortal, half-fae warrior, but a werewolf.
If you've been following this blog for some time, you'll probably have seen me recommend this before. Moon Called begins one of my all-time favorite urban fantasy series, about a coyote shifter mechanic named Mercedes, who gets caught up in dangerous werewolf and vampire games.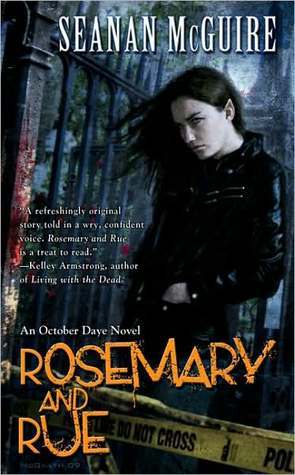 Rosemary and Rue begins another of my favorite urban fantasy series. This one, like Trailer Park Fae, only adds fae creatures to the alternate world pantheon. Toby Daye, the heroine, is a half-fae living on the border between mortal and faery worlds. She's a private investigator, so expect mysteries in addition to faery-mortal conflicts.