Full disclosure: Sometimes I don't finish books. Sometimes I put a book down to pick up another that strikes my fancy more immediately. Sometimes I begin self-improvement or skill-teaching books, with the objective of, well, improving my skills, and then never get further than the first two chapters.
And sometimes, I end up reading six different books at the same time, because my attention span won't hold for the length of a full novel.
Often, this doesn't have anything to do with how good I think the book is, or how much I'm enjoying it… I just get distracted by the next shiny cover, scintillating romance, rollicking plot, or magical world.
Does this ever happen to you?
Anyway, that's where I am today, and that's why today's post is not a review, but a reading list. I hope you enjoy it.
Fantasy
The Witches of Eileanan has been sitting on my bookshelf for a decade or thereabouts. This year, my goal is to whittle my bookshelves down to three (I'm down to three shelves and 3-5 boxes). In order to get rid of some of them, I need to read them first, to find out if I want to keep them. This one is really interesting, with a headstrong young heroine (The Chosen One), whose destiny is big and troubles many. She's just started off on her journey across the land to find a new mentor witch and begin further studies in magic.
So far: recommended.
This one could be fantasy, could be urban fantasy. It's a police procedural (cop drama) in a medieval-ish world that focuses on the heroine's struggle to fit in in male-dominated profession as she and her new partner investigate a mysterious murder of a mage. It's good, complex, and the world building is solid.
So far: recommended.
Urban Fantasy
Trailer Park Fae, which I just purchased at the bookstore because getting my library to buy books often takes ages. Already in the second chapter, the mundane vs. faery worlds are intriguing, and the main characters have some intense emotions that haven't really been explained yet. I like that the main character is a hero, instead of the more common heroine.
So far: recommended.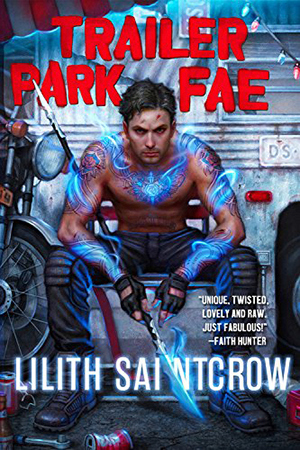 Magic Slays is a re-read, because a little while ago I started feeling the need for comfort reading. I love Kate Daniels, heroine of this series by Ilona Andrews. Curran and Kate have accepted their feelings for each other and are beginning their new cohabiting, domestic life of bliss (yeah, right), when she finally gets a client for her new private investigations firm. Of course, the case is strange and extremely dangerous…
So far: recommended.
Gaslamp Fantasy
The Shadow Revolution: Crown & Key – another urban fantasy with a male main character. This should be good, but for some reason I'm just not that interested. Playboy Simon and his friend/mentor solve magical crimes in gaslamp London.
So far: not recommended.
Historical Fiction/Romance
Without a doubt, my favorite thing about Elizabeth Bennett is her sense of humor. My other re-reading kick comes from watching Pride and Prejudice again (with Colin Firth, obviously). "Sequels" of novels written by different authors are often weird, and can the new authors really do the original characters justice? However, I have really enjoyed Elizabeth Aston's continuation of P&P. Her books have the same witty vibe, fantastic characters, and strong romances, but with a modern, independent-women twist. Also, Elizabeth and Darcy are always off in Europe, so at least I don't have to worry about them not fitting the mold. The Darcy Connection is cute, although I'm discovering this time around it has basically the same romantic plot as P&P. Sigh.
So far: recommended with reservations.
Nonfiction
One of those self-improving, skill-teaching books I sometimes tell myself to read and never finish: Ask for it. I haven't gotten very far, and I disagree with the argument that the gender wage gap exists because women don't ask for things and men do, but it has some interesting tips and it looks like the worksheets at the end will be helpful.
So far: undecided.