Dreamer's Pool by Juliet Marillier
Roc: November 4, 2014 (Fantasy)
Dreamer's Pool is the first in a new series by Juliet Marillier. I loved Marillier's Sevenwaters series as a teen, yet was not impressed with her YA trilogy. So, I went into this one with mixed anticipation. What I got was a bit of a mystery and an introduction to some broken characters, who are flawed, grumpy, and wholly understandable.
Blackthorn used to be a healer. When she dared defy the leader of her clan, she's thrown into prison. Now just days away from her court appearance, and her chance to finally speak out after years of abuse in the prison, she's told that they're just going to kill her instead. Before that can happen Blackthorn is visited by a fae who offers her a deal: for seven years she has to set aside her revenge and help anyone that asks for her assistance and if she agrees she will be set free from her prison.
Blackthorn reluctantly agrees to this deal and soon finds herself accompanied by Grim, another former prisoner. Grim's past is much more mysterious, but he wants to go with Blackthorn and protect her. Blackthorn would much rather be alone with her anger, but Grim is the first person to ask for help even if he doesn't not explicitly say anything. Over time the two start to build a home outside Dreamer's Wood. Blackthorn takes up her healer trade and helps those in the surrounding villages. Grim throws himself into repairing their cottage and making it a home. Meanwhile Prince Oran is awaiting the arrival of his betrothed, only when she does arrive she doesn't seem to be the woman that he thought she would be. Will Blackthorn be asked to help? Will she even be able to help, ignoring the drive to seek revenge that has never left her?
Despite a bit of a slow start, Dreamer's Pool ended up really impressing me. Dreamer's Pool is told in three voices: Blackthorn, Grim and Oran. At first, the presence of Oran was distracting and I found that it slowed down the momentum at the beginning of the book. As Oran's narrative and Blackthorn and Grim's started to wind together, this problem resolved itself, so for some, this might be a book that you have to stick with to really appreciate.
What I really liked about Dreamer's Pool is the characters of Blackthorn and Grim. Both have been through a lot, prison was not kind to either of them, especially Blackthorn. However, while they were locked up together, Blackthorn and Grim came to rely on one another, which gives them a foundation for a friendship. Grim in particular is almost dependent on Blackthorn; he can't even sleep in a separate building he's so traumatized. Blackthorn resents Grim's presence at first, but she slowly comes to trust him and actually acknowledge that just perhaps she'll be able to live this new life that she's been given. It's that relationship between Blackthorn and Grim that really hooked me. There's no romance between them, much of their relationship is based on overcoming what they have been through. I wouldn't be opposed to a romance developing, but it would not have worked in book one. There is something so tentative about Blackthorn and Grim's relationship; it was a really well developed exploration of friendship and how it is important for recovery.
The mystery element to Dreamer's Pool was a little bit of a surprise. The mystery seemed much more conventional and identifiable than I was expecting. In a fantasy I wasn't expecting to be able to label Dreamer's Pool as a mystery so conclusively. Since I love mysteries, I liked this element to the book and I like the idea of Blackthorn and Grim being pulled into solve mysteries reluctantly or not. The pair make an excellent duo and I found myself compelled to read more.
Dreamer's Pool was a fantastic introduction to two flawed and broken characters. I loved the fact that readers are treated to real character growth with Blackthorn and her acceptance of relationships to other people; it is beautifully executed. Marillier leaves readers anticipating for more by not revealing everything about her duo just yet, at this point we don't know anything about Grim's past but we do know that it just might challenge his hard won friendship with Blackthorn.
Similar Reads
In Dreamer's Pool the woods surrounding Blackthorn and Grim's home are almost alive (hello, magic!); for another similar lively woods, check out Naomi Novik's Uprooted. Stacey and I both LOVED this one. It's one that I'd recommend to anyone that likes a fairy tale quality to their fantasy and it will appeal to those that enjoyed the atmosphere of Dreamer's Pool.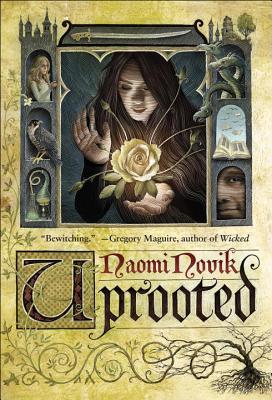 Perhaps not a conventional recommendation, but Joe Abercrombie's The Blade Itself is another read that I think just might appeal to fans of Dreamer's Pool. There's no question that The Blade Itself is a much more violent and grittier read; however, I do think it will appeal to fans of Grim's character. There's something about Logen Ninefingers that reminds me about Grim, and for that reason alone, I think this recommendation works.