Put Up Your Duke by Megan Frampton
Avon: June 30, 2015 (Historical Romance)*
Put Up Your Duke is Frampton's second book in her Dukes Behaving Badly series featuring a duke that was behaving badly until he met his match in his unexpected fiancé.
Nicholas Smithfield is living the high life when he learns that he's the new Duke of Gage, oh and thanks to an ironclad legal arrangement, he's also got a fiancé. Lady Isabella Sawford has been groomed her entire life to make a good marriage, and her parents' plans found fruition when she became engaged to the Duke of Gage. These plans were dashed when the former duke with disinherited. For an instant Isabella felt that she would finally have her freedom, only to learn that she is now engaged to the new duke. Luckily the new duke couldn't be more different from the previous one, this one actually wants to know Isabella as a person rather a possession. Of course, this rapid change in bridegroom does not make for an illustrious start to a marriage…
Confronted with an icily perfect bride, Nicholas isn't exactly sure what to do, but what he is sure of is that he's going to have to tread carefully if he has any hope of actually having a real marriage with Isabella. So Nicholas launches a courting campaign hoping to get to know the real woman behind the façade of perfection.
Put Up Your Duke was not quite what I was expecting, which is emphatically NOT a bad thing. Frampton's latest was a tender, slow moving romance that relied on relationship building rather than overt lust. Don't get me wrong, there's a lot of chemistry between Nicholas and Isabella, but it's very clear form the start that our hero is determined to get to know his bride before their relationship progresses further. Isabella was terrified on their wedding night so Nicholas makes it his mission to win her over and actually have a true relationship based on trust. So fair warning, Put Up Your Duke is a bit of a slow burn, but I think it's worth it.
What I really liked about Put Up Your Duke was the introspection on the part of both Nicholas and Isabella. Isabella in particular went through a lot of growing pains, she went from never making a decision on her own to a relationship with another person that demanded she have many independent thoughts in her head. You could feel the panic in Isabella whenever she had to make a decision or express her own independent thought. Nicholas continually encourages her to share what's on her mind:
 "Listen to me, and know this, Isabella." He paused. "Wife." He glanced down at their entwined fingers. "I want you to be who you are. Not who you think you should be, or who you think I want you to be."
 She felt the sting of tears in her eyes.
 "It might end up that we – well, that we find we don't have that much in common after all. But one thing we should have in common is that both of us should be free to be whoever we truly are."
For Isabella it was a real struggle for her to actually feel confident enough to share her desires with Nicholas. It was a completely foreign experience for her to know that someone wanted to know her and not the outward perfect woman that she appeared.
Nicholas for his part was often confused by his wife. He didn't always say the right thing or understand why she wouldn't share what was on her mind; however, he didn't give up (they're together for life after all). While the opening chapter paints Nicholas in a rakish light, he was rather kinder than I would have expected, making for a more subdued but satisfactory romance.
Put Up Your Duke is a solid historical romance that plays with the marriage of convenience trope. Frampton excels at letting her hero and heroine actually build a relationship with one another, leaving readers with an emotionally satisfying romance.
As an aside, I'd also like to mention that I would love for Nicholas' brother Griff to get his own story, he sounds like adorably awkward hero material. Fingers crossed!
*Review copy provided by the publisher via Edelweiss.
Similar Reads
For those that were fans of Nicholas' wooing campaign, try Laura Lee Guhrke's How to Lose a Duke in Ten Days. Here the hero really has to work at wooing his duchess. Something terrible happened to her before they met and as a result, she does not trust her convenient husband in the slightest. This is another great romance if you're more interested in a slow burning romance.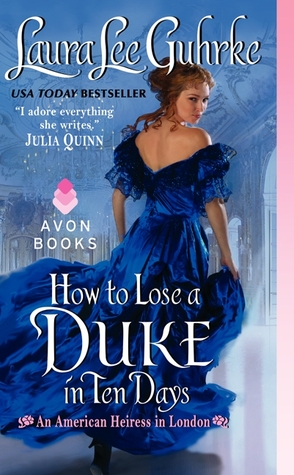 I'm a huge fan of the "marriage of convenience" trope in historicals, hence my love for Put Up Your Duke. One of my favourite "marriage of convenience" romances is Mary Balogh's The Arrangement. Balogh is the queen of creating emotional romances that focus more on the development of a marriage or relationship rather than the overt attraction between a couple. You can't go wrong with The Arrangement.
Lastly, for another new husband trying desperately to win over his new bride, try Charlotte Featherstone's Pride & Passion. This one's less of a slow burn, but would be a good choice if you were hoping for more heat in Put Up Your Duke.