Only a Promise by Mary Balogh
Signet: June 9, 2015 (Historical Romance)*
Mary Balogh's historical romances pretty much speak for themselves. Rather than cashing in on the overt and explicit relationship that readers tend to encounter in the romance genre, Balogh leverages the emotional impact in her historical romances. In Only a Promise Balogh brings her signature emotional exploration to a marriage of convenience and it was wonderful.
Ralph Stockwood has returned from the war alone; his friends having died fighting. Ralph blames himself for encouraging his friends to go with him and would rather have not survived at all. Rather than paying lip service to this emotional turmoil and survivor's guilt, it is quite clear that Ralph has been damaged. While recovering from his wounds, Ralph tried to kill himself on a couple of occasions, something that is not generally explored in the romance genre. With Ralph, Balogh brings home the more realistic impact on war, and it's done very well.
While visiting his grandparents, Ralph meets his grandmother's companion, Chloe Muirhead, whose family is steeped in scandal. Chloe's own attempts at finding a husband during the Season have not gone well and she has resigned herself to lonely spinsterhood. When Chloe overhears Ralph discussing marriage with his grandmother, she seizes the opportunity to make one last mad attempt at marriage by propositioning Ralph. Ralph claims he cannot love another person, naturally, a marriage of convenience is the best solution.
Surprisingly Chloe convinces Ralph to take a chance on her and the two marry. Of course, marriage between two virtual strangers does not equate happiness and the often painful journey towards their happily ever after is hard fought for.
As is common with Balogh's novels, much of the momentum of the plot is driven by the couple's conflict within their relationship rather than from external set backs. There's no underlying suspense plot or meddling family members trying to keep the hero and heroine apart. Instead it's the hero and heroine's individual problems that cause the drama. While this kind of drama is much quieter than the exaggerated plots common to many romance novels, it's a style of romance that I find wholly appealing. The conflict in Ralph and Chloe's relationship originates from their individual emotional state. For Ralph and Chloe, it's his sense of isolation and depression from his experiences in the war, and it's Chloe's loneliness and awkwardness, that stems from her family's scandals and the rumours surrounding her birth. These individual problems cause Ralph and Chloe to keep each other at a distance, often lashing out at the other. Most notably, Chloe reacts when Ralph ties to persuade her to acknowledge the fact that her father might not be her biological one:
"Is this how you did it when you were a boy?" she asked him. "Is this how you gathered other boys about you like slaves? Is this how you persuaded them to do whatever you wanted them to do, even against their will and their better judgment? Is this how you persuaded your friends to go to war with you?" (p. 231).
Chloe strikes at exactly the point where Ralph is most vulnerable: his guilt. While her comments are reactive and harsh, I love that they are realistic. Chloe is not a paragon of virtue and understanding, and I love that about her. She does not want to acknowledge that her identity is in question and she's willing to fight Ralph when he tries to convince her that she needs to come to terms with it.
These individual battles have a huge impact on Chloe and Ralph's relationship and by dealing with them together, their relationship becomes stronger. Ultimately, we have another well-developed relationship rather than the conventional romance in Only a Promise. Balogh goes beyond the romance and shows readers the hard work that comes after, which I always appreciate as something different in a genre that I read extensively in.
Finally, I also loved how Only a Promise ended. While some could claim that this one ends a tad abruptly, I felt that it was appropriate. Ralph isn't "cured" of his depression and his relationship with Chloe hasn't come to it's conclusion but rather he's reached a point where he can participate actively in a romantic relationship with another person. I don't think that this more ambiguous (but satisfying) ending is the norm in the romance genre, but I did think it worked really well in Only a Promise. Instead of the conventional happily-ever-after, where the hero and heroine's baggage is resolved completely, we have an ending that shows that the hero and heroine are embarking on a promising, stronger relationship with each other. Chloe and Ralph will likely struggle, but that's okay, since they've learned to overcome their obstacles and rely one another. It's a beautiful way to end a romance.
Only a Promise is another wonderful, emotional read from Balogh. If you like you romances more subdued and more realistic, Only a Promise is an excellent choice. Balogh's characters are never perfect, and I think readers can appreciate them all the more for their ordinary and relatable flaws.
*Review copy provided by the publisher via NetGalley.
Similar Reads
If you enjoyed the emotional quality of Balogh's works, I recommend Grace Burrowes. While Burrowes can be a bit of a hit-or-miss author, there's not question that she also focuses on the emotions rather than the salacious aspects of a romance. To date, my favourite Burrowes book is The Traitor. This one features a returned soldier and a spinster – it's so good!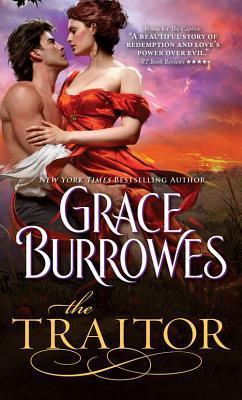 For another romance featuring a tortured war hero, try Lisa Kelypas' Love in the Afternoon. While this one turns up the heat, there's also a great balance with the character's emotional struggles. I think fans of Only a Promise will also appreciate the fact that the hero and heroine in Love in the Afternoon really have to work for their relationship and compromise with each other.
Finally, my last recommendation for a good romance featuring a war hero is Eloisa James' With This Kiss. While the hero and heroine are (and act) a good deal younger than Chloe and Ralph, I think readers will enjoy the fact palpable feeling of hurt that the hero and heroine in With This Kiss have engendered in the other.