The Witch Hunter by Virginia Boecker
Little, Brown Books for Young Reader: June 2, 2015 (Young Adult; Historical Fantasy)*
Spells, familiars, potions, herbs: It's all illegal now. There was a time when those things were tolerated, encouraged even. Magic was seen as helpful – once. Then the plague came. Started by magic, spread by magic, we were almost destroyed by magic. We warned them to stop, but they didn't stop.
The Witch Hunter is a historical fantasy set in 1558. In this alternate history magic started a plague and years ago the king allowed his uncle to persecute those who continued to practice magic. Blackwell, the Inquisitor, has outlined laws for those that practice magic and uses his witch hunters to enforce them. Elizabeth Grey is a witch hunter, one of the best. When she is caught carrying herbs that are banned, Elizabeth is branded a witch and sentenced to death. Only a mysterious visitor to her cell on the eve of her execution saves her, and transforms everything she thought she new about magic.
Nicholas Perevil, a powerful wizard and leader of the Reformists, rescues Elizabeth from prison. The Reformists are a group that support magic and want to change the laws in the kingdom that prevent those with the gift from practicing. For most of her life Elizabeth has been taught to revile magic, and coming into contact with Nicholas is her one chance to redeem herself in the eyes of Blackwell and get her sentence lifted. However, Nicholas forces Elizabeth to question everything that she thought was true, winning her over to the Reformists side. The question becomes whether or not Elizabeth can help the Reformists and keep her life.
I really liked the concept behind The Witch Hunter; however, after finishing the book, I have mixed feelings about it. The premise of an alternate history was well constructed and executed effectively and it came across as original. The plot was fast paced and full of action, it kept me turning the pages. But ultimately there is something holding me back from giving this one a five star review. Personally, I felt that the secondary characters (John, George, Fifer etc.) were a little one dimensional, and I think I was expecting more from them because they become so important to who Elizabeth became by the end of the book.
Elizabeth was a complex, contradictory character. On one hand she is a tough, strong young woman. As a witch hunter she has killed and she is more than capable of taking care of herself. However, this does not mean that Elizabeth is invulnerable, in fact, early on readers are show that Elizabeth is just as vulnerable as any other young woman. It was this contradiction that bothered me. From the start, we are told that Elizabeth has been making mistakes in her duties as a witch hunter, and only when she's caught with herbs to prevent pregnancy are readers made aware of why she has not been herself. The king has been ordering her to his bedchamber after midnight. It's disheartening to read about someone that could kill the king with her thumb being made submissive in this way. At the same time, I read this as wholly realistic; of course a person can be strong and vulnerable. But what I have a hard time with it the instances where Elizabeth seems to have sympathy for the king, Malcolm. This really bothered me when I was reading The Witch Hunter. I read it as Elizabeth having sympathy with her abuser and it made me deeply uncomfortable.
Considering Elizabeth's past relationship with the king, I also found the budding romance to be a little strange. Elizabeth seems to be able to put her past behind her almost too easily after find the perfect young man. Of course this is complicated when he realizes that she's a witch hunter, the same kind of person that burned his mother and sister. But true love overcomes all, and it's that simplicity that I just find really hard to believe. Yes, it's nice to have closure in the first book of a series, but I just think the romance plot was a little too neat and tidy when you look at the prime character's past.
What really stood out for me about Elizabeth's character was her ability to change her way of thinking. She has been aggressively trained to hate witchcraft. She doesn't understand why witches continue to practice it:
"You say Nicholas is trying to help people. But all he's doing is helping them into the pyre." John's eyes narrow, but I go on. "Magic is against the law. You know this. Your lives depend on not doing it, yet you keep on. It seems to me that if he really wanted to help you, he'd make you stop."

It's really interesting to see Elizabeth change her views on magic. It's easy to see how Elizabeth was be convinced to become a witch hunter, and I think the author does a great job of showing the reader that Elizabeth has a genuine change in perspective by the end of The Witch Hunter. This transformation is the strongest character development of the story.
Ultimately, The Witch Hunter is a promising start to a series. It's not without it's flaws, but the world is interesting and I can see this one appealing to fans of Sarah J. Maas' Throne of Glass and Kristen Cashore's Graceling. While there are some aspects that I question about the book, I do have to remind myself that this is only the first book, and because of that not everything is revealed right away. Quite possibly the questions that I have will be answered in the next installment, so of course, I will be back for more.
*Review copy provided by the publisher via Edelweiss.
Similar Reads
If you were intrigued by the complexity of Elizabeth, I highly recommend checking out Marie Lu's The Young Elites. Like Elizabeth, Adelina has been shaped by her past and it doesn't necessarily make her an admirable character. It's always refreshing to have a heroine that's more than your expected do-gooder. See my full review here.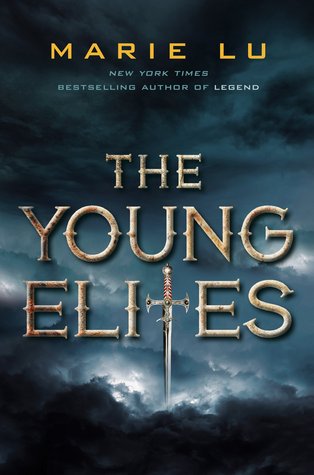 If you like the historical atmosphere of The Witch Hunter, I think Maureen Fergus' The Gypsy King trilogy is a good follow-up. Like The Witch Hunter, The Gypsy King doesn't shy away from the vulnerabilities of women; however, it does not go to the same lengths as The Witch Hunter.