Dearest Rogue by Elizabeth Hoyt
Forever: May 26, 2015 (Historical Romance)*
Dearest Rogue is the latest installment in Hoyt's Maiden Lane series; a series that I have not read. Being the eighth book in the series, I worried that I would come into this one and be completely lost, but the premise caught my attention and I decided to give it a try. While characters from the previous book make appearances, I never felt lost, and I ended up loving the book (I may even have to read the previous books in the series).
Lady Phoebe Batten is sister to a powerful duke, but because her eyesight has been slowly deteriorating since childhood, her brother would prefer to have her guarded at all times. And since kidnapping attempts ensue, that need for protection just might be warranted even if Phoebe would understandably like some freedom in her movements.
Guarding Phoebe is Captain James Trevillion, a quiet, older, former dragoon with a severe leg injury. Trevillion is dedicated to his job, but it certainly helps that his charge is young and beautiful. Even knowing that nothing can come of his attraction to Lady Phoebe, Trevillion is determined to protect her from all things. Unfortunately for Trevillion, his charge has decided that this protection business is getting in the way of living life. When the latest attempt to kidnap Phoebe is thwarted, Trevillion decides that he needs to take action, and suddenly Phoebe is aware that her guard is much more than a silent shadow.
What was so appealing about Dearest Rogue was the seemingly mismatched pairing of Trevillion and Lady Phoebe. James Trevillion is silent and grim, whereas Phoebe is optimistic and giving to rambling, and together they are quite simply adorable.
"I am not kissing you," he said with the awful finality of a judge pronouncing a death sentence.
"Why not?"
"You know very well why not."
"Nooo," she said slowly, thinking it over. "No, I can't say that I do, really. I mean I know why you think we oughtn't kiss again: you're as old as the Thames, you're below me in rank, I'm too young and frivolous, and you much too serious, et cetera, et cetera, and et cetera, but frankly I don't have any reasons not to kiss you."
From the start, Trevillion is attracted to Phoebe, but it's his own personal misgivings about a possibility of a relationship between them that holds him back. Trevillion is caught up in their difference in ages and station, but it's only when Phoebe starts to reciprocate his feelings that Trevillion starts to realize that they just might have a chance. It's Phoebe's persistence in pursuing Trevillion that made Dearest Rogue such an endearing romance.
Alongside one of the most adorable romances that I've read in awhile, is a mystery element. Who exactly is behind the attempted kidnappings? Readers are treated to that information early on, and with that, they are also introduced to the heroine of the next book in the series, Sweetest Scoundrel. Eve Dinwoody is the sister of the man that tried to kidnap Phoebe, and it's clear from the start that she has a complicated past and relationship with her brother. This "setting of the stage" worked really well for me. Not only does it have relevance to the plot in Dearest Rogue, it also captured my attention and encouraged me to add the next book to my to-read pile.
If you're a fan of fast-paced and adorable romances, you can't go wrong with Dearest Rogues. This is a romance of opposites and it was executed very well as by the end, readers are well aware that despite their differences, Trevillion and Phoebe compliment each other perfectly.
*Review copy provided by the publisher via Edelweiss.
Similar Reads
The perfect follow-up to Dearest Rogue has to be Tessa Dare's A Lady by Midnight. If you enjoyed the dynamic between the gruff Trevillion and the eternally sunny Phoebe, than you will adore Thorne and Kate's romance.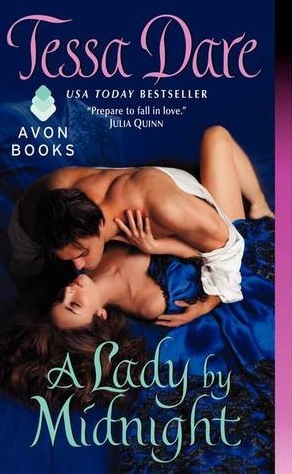 For another blind heroine, try Charlotte Featherstone's Temptation & Twilight. While this one is not particularly sweet or adorable, I think readers will appreciate the fact that it does explore the difficulties of a blind heroine. Stay clear if you're not a fan of angsty romances.