Four Nights with the Duke by Eloisa James (Desperate Duchesses #8)
Avon: March 30, 2015 (Historical Romance)*
All I can say after finishing Four Nights with a Duke is that I loved this book. As soon as I started the prologue, I knew this one was a keeper. The novel starts off when both the hero and heroine are fifteen years old, not an easy age, and James captures the awkwardness of those teen years in a way that is truly inspired. The prologue (which you can read on the author's website) caught my attention, but the remainder of the book kept my interest with it's well developed characters and delightful romance. This "enemies to lovers" romance is sure to please Eloisa James' fans and win new ones (like me!).
At fifteen, Emilia Gwendolyn Carrington already had a pretty good idea of what hell was like. Mia's governess had taught her all about Dante's nine infernal circles.

Mia's first circle had required her to make her debut at fifteen, under the aegis of a hired chaperone, because her mother was dead. Her second circle had added a far worse indignity: her charming, widowed father was conducting a flagrant affaire with a married duchess that everyone in the fashionable world knew about.

She had entered the third circle over the last year or so, when against all reason, she had fallen desperately in love with the same duchess' son, Vander (p. 10).
It can't be easy to fall in love with your father's mistress's son, especially when you're fifteen. And especially when the object of your affections finds that poem (appropriately titled The Love Song of E. Septimus Brody) that you wrote about him and proceeds to show his friends…
After the humiliation that Vander heaps upon her with the reading of her admittedly bad poetry, Mia quickly falls out of love with him, at least, until she blackmails the man into a marriage of convenience thirteen years later. The blackmail isn't about revenge, but you can't help but cheer that Mia's getting the duke back all these years later.
Having no other choice but to marry in order to become the guardian of her nephew, Mia resorts to desperate measures to make this happen. She's been jilted so she has very few choices, and while she would rather not resort to blackmail, it's her only choice. Vander is predictably not impressed with the blackmail scheme. His family has endured its share of scandal and he'd rather avoid having his father labeled treasonous. Reluctantly, Vander agrees to Mia's scheme with some conditions of his own.
Four Nights with a Duke was a delightful romance. For me, what stood out strongest was the character of Mia (the duke was a tad overshadowed by how awesome she was). Mia is a successful anonymous author, but she still has her insecurities, especially regarding her appearance. I loved how being insecure characterized Mia; it was not something that author just stated, you really understood how and why Mia felt the way that she did. And the duke certainly did not help matters:
"As we have discussed, you are not who I would have chosen for myself," he continued, his gaze drifting from her fact to her shabby dress. "But there was always the chance that I would have made my father's mistake, and married a beautiful woman who could collect loves the way squirrels gather nuts."

Mia could feel her face growing hot. There was part of her, the part that wrote love stories, that wanted to believe that not every man found her unlovely. The shallow, naïve side of her (p. 80).
Initially, Vander seems quite the cruel hero. He doesn't mince words with Mia and contributes to her continued feelings of inadequacy. But thankfully the readers are treated to Vander's point of view and are aware that the hero's thoughts do not match his words. Our hero is not one to think before speaking, which is endearing in it's own way, especially when readers are aware of that fact.
Mia and Vander have a very rocky start to their marriage. He believes she's infatuated with him and is not at all impressed that he's merely convenient. In fact, Mia considers the marriage to be temporary. Vander has other thoughts on the matter, and that's when things start to get interesting. Both Vander and Mia start to learn about the other. Vander slowly comes to realize that Mia is very sensitive about certain things and because of that he's going to have to make some alterations to his behaviour. In turn, Mia comes to realize that despite his ill considered comments, Vander actually does respect her and considers her a competent woman, something that she never received from her father and brother. Just as the romance seems to be moving into serious territory, Mia's erstwhile fiancé returns, forcing both Mia and Vander to really consider their future together, or not, as the case may be.
I really can't recommend this one enough. Four Nights with a Duke was a lovely romance between two convenient characters and the author spins a tale that shows readers that this romance is not convenient, it's meant to be. The heroine, insecurities and all, has to be one of my favourite in quite a while. She's strong and vulnerable and I think her actions and thoughts will resonate with a lot of readers. So, if you're looking for a fun read, steamy romance with great characters, give Four Nights with a Duke a try. It's certainly made me consider checking out more of the author's older books.
*Review copy provided by the publisher via Edelweiss.
Similar Reads
The fact that Mia was a Gothic novelist was a great element of Four Nights with a Duke. The excerpts from Mia's notes on her plot were entertaining and fun to read. For another lady novelist I'd recommend Sabrina Jeffries How to Woo a Reluctant Lady. I also liked how the heroine's, Minerva, writing was a career; she never backed down on how important it was to her.
For another lady writer, I also recommend Julia Quinn's Romancing Mr. Bridgerton. Penelope doesn't write Gothic novels but an anonymous gossip column instead. But what really brings it to mind is how similar the heroines in both are. Like Mia, Penelope is insecure about her looks and the reader gets to watch as she becomes more confident and secure about herself through the course of the book.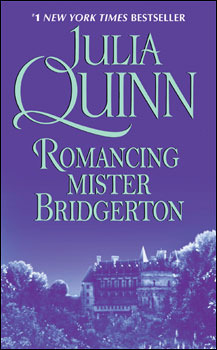 For a sillier, but fun read, I also recommend Miranda Neville's The Amorous Education of Celia Seaton
for those who like the tried and true "enemies to lovers" trope. While Celia doesn't blackmail Tarquin, she certainly takes advantage of a case of amnesia, only there's hell to pay when he finds out. This one isn't a serious read, but it's a lot of fun!