Half the World by Joe Abercrombie
Del Rey: February 17, 2015 (Fantasy; Young Adult)
For the second installment of Abercrombie's Shattered Sea trilogy, readers are introduced to a new and formidable character, Thorn Bathu. Thorn is the only young woman training to become a warrior, hoping to avenge the death of her father. When she accidentally kills a man during training, her death appears imminent. However, Father Yarvi swoops in and saves the day, but not without his own ulterior motives. Anyone who's read book one will remember that Yarvi is a manipulative young man, and that certainly hasn't changed in book two.
Accompanying Thorn on her travels with Father Yarvi is Brand, a young warrior that was left behind for speaking out. Of course, like Thorn, Brand also has his uses in Yarvi's plans…
Half the World is the middle book of a trilogy and while it certainly sets the stage for the final battle, this one stands strongly on its own. What makes this one work so well is that it introduces readers to new characters. Thorn and Brand are both caught up in Father Yarvi's schemes but this only plays a small part in Half the World. Rather, with Thorn and Brand we dive into the murky waters of what makes a hero. Like Abercrombie's other novels, using such labels as "heroic" are quickly muddied since to be a hero means many things. As always, this look at the harsh reality of violence is much appreciated.
Both Thorn and Brand were interesting characters. Thorn was the strong, violent warrior and it's Brand that's ruled more by his conscious. However, both characters are more than they appear. Thorn for all her outward confidence and bloodthirsty nature, is just as vulnerable as others:
She was a killer, that there was no denying.
She hunched over as if she'd been punched in the guts and coughed thin puke into the grass, straightened shivering, and staring, with the world too bright and her knees all a-wobble and her eyes swimming.
She was a killer. And she wanted her mother (p. 155).
And Brand, for all his outward weaknesses, fears and seeming dullness, was strong in his convictions. He didn't always do the right thing, but when push came to shove, he refused to back down.
The contrast between Thorn and Brand was obvious, and it added to the exploration of what it means to be a hero, a question that was asked throughout the book. Thorn and Brand both offer different aspects of the heroic, neither are conventional but it makes for an engaging and compelling story.
What I also thought was well executed was the use of multiple perspectives in Half the World. Instead of focusing on Yarvi, the central character of book one, readers are given two new characters: Thorn and Brand. The use of new characters added so much more to this trilogy, adding layers to an already complex world. Abercrombie excels at using multiple perspectives and this is no different in Half the World. In some fantasy books the use of a slew of characters can be confusing, but I thought this was handled extremely well in Half a World. Thorn and Brand offered up different parts of the story, making for a richer exploration of the larger conflict that is happening in Abercrombie's world.
Half the World was an excellent book on it's own and outstanding middle book to a trilogy. So often the middle book to a trilogy falls flat and this was not the cause in Half the World. I think I might even like Half the World better than the first, in part, due to the fact that it focused more on the characters than the larger conflict. I can only assume that the strong writing and characterization continues in the final book.
Similar Reads
For fans of Thorn's thorny attitude, The Assassin's Curse is a good follow up. It's definitely on the lighter side; not as much bloodthirsty killing as in Half the World, but I think Ananna will appeal to fans of Thorn. The romance in The Assassin's Curse also plays a much stronger role than it does in Half the World.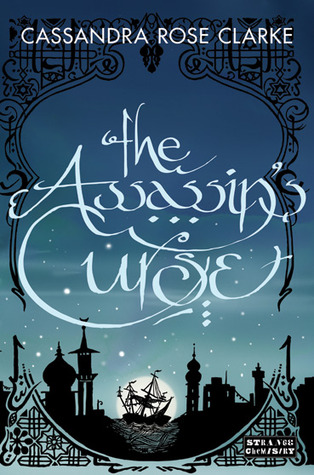 For another strong warrior woman, you can't go wrong with Jennifer Roberson's Tiger and Del series. It's excellent fantasy and although it's not told in the heroine's point of view, her strong personality shines through. I highly recommend this series, and make sure that you start with book one, Sword-Dancer.
Lastly, for another series that also focuses firmly on military battles and maneuvers, give Django Wexler's The Shadow Campaigns a try. I would say that this one isn't as violent as Abercombie's book, but it's a really good read, filled with compelling and complex characters that I think will appeal to fans of Abercrombie. Bonus: we get a woman disguising herself as a man, I think Thorn would be proud. Start with book one, The Thousand Names.